2019 was a year of warnings from hoteliers in Pattaya, Phuket and Chiang Mai about low occupancy rates. Many hotel insiders remain sceptical about not only 2019 but also 2020. However, the detailed figures from Thailand's tourism authority compiled from immigration bureau data send a clear message. Numbers are up but western visitors are a permanently shrinking proportion as the Thai tourism behemoth continues to forge markets in Asia.
Thailand's tourism authority published data this week which showed that the number of tourists for the first 9 months was up by 3.5%. The figures came as a surprise to many expats and hoteliers in Thailand who see 2019 as the watershed year when Thailand's tourism industry dipped.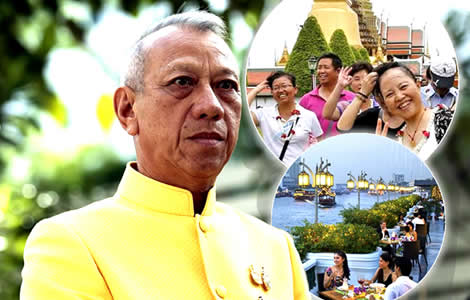 This week, the Thai tourism authority published its latest data showing that tourist numbers for the kingdom for the period ending September 30th are up by 3.5% on last year with a 3.45% increase in expenditure.
Figures perhaps make sense
However, the figures, compiled meticulously by immigration authorities perhaps do make sense despite the scepticism of many western expats in Thailand and hotel operators. They reveal that western holidaymakers to Thailand staying at hotels and resorts have become very much, a smaller segment of the market as Thailand's tourist industry strengthens its focus on Asia.
Year after year, there was applause – 2019 is different
While normally greeted with media applause and an opportunity to highlight Thailand's prized tourism sector, this year things are different.
Business on the ground for Thai hoteliers throughout the year speak of a different story at odds with the data and figures released by the Tourism ministry. These figures are based on detailed immigration data at the points of entry for foreign visitors including airports and checkpoints throughout the country. 
Laos emerges as a key Thai tourism market
For instance, the figures released this week by the tourism authority show a large rise in visitors from Thailand's poorer neighbour Laos to the kingdom of over 12%. The figures show that nearly 1.4 million people from Laos, a communist country, visited Thailand in the first nine months of 2019. That would be over 20% of the population but of course, the numbers may include multiple visits.
Best Western boss sees 'dip' in Chinse tourists
Olivier Berrivin is the Asian Managing Director of Best Western Hotels and Resorts. He says that his group has seen a drop in Chinese tourists this year to Thailand although he maintains the numbers are still quite substantial. 'The dip is not as bad as some people seem to think,' he recently told an industry source. He says he expects this situation to continue unchanged through the high season to the end of the year.
64% of all tourism visitors came from the top 5 Asian countries alone in the 9 month period
The figures, released this week, show a rise of 1.71% in Chinese visitors bringing the total for the nine months to just over 8.5 million out of a total for the period of 29.465 million. That's nearly 29% of the market.
The figures from the tourism body show that the Thai tourism sector is now dominated by Asian visitors with 64% of tourists alone coming from the top 5 markets, all in Asia. These were China, Malaysia, India, South Korea and Laos.
Thai hoteliers report lower occupancy rates 
The figures, therefore, might indicate a rapidly changing tourism market which might help explain the industry feedback from hotel bodies in key tourist areas such as Chiang Mai, Phuket and Pattaya this year who have all reported lower occupancy rates. These reports also mention the continued development of new hotels and rooms exacerbating an already competitive and oversupplied situation.
Hotel boss sceptical about tourism prospects
Shreyash Shah is the director of business development with the Chada Hotel Group which operates hotels in key locations in Thailand including Bangkok and Krabi. He is sceptical about the future of the tourism market going into 2020 chief among his concerns being competition and lower room rates despite the official figures showing more visitors.
There is also anecdotal evidence from expats and foreigners staying and who holiday regularly in Thailand. They have reported that obtaining bookings for the high season is easier this year with attractive rates and a better spread of choice.
Drop in German arrivals but Europeans including Russians now only accounts for 16% of the market
The figures released by the tourism authority do point to a drop in European visitors with a 3.6% fall off in Geman tourists. Notably, the European tourism market including Russia, now only accounts for 16% of what the Tourism Authority of Thailand sees as its overall expanding tourism market as it pursues and develops new opportunities.
Within those figures, numbers from the United Kingdom were up marginally by 0.84% to just shy of 720,000 visitors but that represents just 2.4% of all arrivals.
Similarly, American visitors were up by 2.3% showing a total to the end of September of 1,159,116 or just shy of a 4% share of the market.
Tourism Minister this summer said recently he wanted Europeans back in Thailand
During the summer, Thailand's tourism minister acknowledged that there was a need to win abck lost European and western tourists to Thailand who are attracted to the kingdom as a holiday destination perhaps for different reasons than Asian visitors. 
This is a matter of cultural differences. One of the proposals proposed by Phiphat Ratchakitprakarn, the Bhumjaithai Party tourism minister, was to extend late opening hours in tourism hotspots. This drew a less than positive reaction both from conservatives within the Thai cabinet and also groups in Thailand opposed to alcohol consumption.
The Minister, at one point,  acknowledged that European figures had been down since the 2014 coup and highlighted Thailand's return to democracy as a reason for this group to come back.
The strengthening Thai baht is a key factor
The appreciating value of the Thai baht is another key impactor on Thailand's western visitors. 'The strength of the Thai baht has made some people rethink their travel plans for the upcoming festive season and destinations like Bali, Danang, Nha Trang and Phu Quoc are benefiting, with higher pickup rates than in the same period in 2018. We understand that the Thai government is considering options to adjust the baht's value, but it might be too late to reverse a trend that is already well underway,' says Olivier Berrivin of Best Western.
This is a hotelier at the coal face of the traditional Thai tourist industry as many western foreigners will know it.
Rebranding and change of focus of Thailand's tourism offering over the last decade
In recent years, beginning in the aftermath of the 2014 coup, the Thai government embarked on a rebranding and repositioning of Thailand's tourism industry. It initially made a great play at its move away from 'sex tourism' and developed a more contemporary offering.
Up to 1.4 million western men have lived in Thailand previously as expats according to data
Research from the UN and many world agencies have shown a huge cluster of western men who regularly visit Thailand. In fact, data and research available through Facebook indicates that there are 1.4 million western and European men who at one time or another have lived in Thailand as expats.
This used to be a core segment of the old Thai tourism industry in addition to millions of Europeans and westerners who visited Thailand regularly. Researchers estimate that this group comprises of 5 to 7 million regular core visitors to Thailand. This market is gradually being lost to Thailand through competition from other destinations and simple demographics.
Thailand's tourism industry has been a marvel for two decades showing resilience and innovation
Another part of Thailand's tourism miracle in the last twenty years or so has been the growth in younger western visitors including single women visiting the kingdom to experience Bangkok, the World City and island destinations in the South like Ko Phi Phi as well as cultural and historical centres throughout the country. This has been impacted by negative news reports of accidents and misadventure in addition to the opening up of newer destinations in countries like Vietnam and Cambodia.
Asian markets are now the biggest
The biggest growth area for Thailand, in recent years, has been in Asian markets driven significantly by Chinese visitors and now the Indian market where an emerging middle class sees Thailand as an attractive destination.
More secondary destinations within Thailand
Finally, in the last few years, Thailand has employed a strategy of moving tourists away from its most popular tourist hotspots to uncharted areas and secondary detonations. This has fitted in well with its targeting of Asian visitors as it opened more flight from Asian markets to regional airports.
Tourism boss happy with the 9 months figure and is targeting a 5% gain for 2019, just under 40 million
This week, Yuthasak Supasorn, the Governor of the Tourist Authority of Thailand, said he was pleased by the figures published. He has predicted that Thailand will achieve a figure just short of 40 million visitors this year at 39.8 million travellers. This would represent a 5% rise on last year's record performance when the arrival numbers hit 38.2 million.
Marketing to focus on the Chinese and Indian markets
The Deputy Governor for marketing in the Asian and South Pacific areas Chattan Kunjara Na Ayudhya highlighted that the tourism agency has an objective of achieving 11 million visitors from China to Thailand in 2019 and has set a target of 2 million for the emerging Indian market.
Thailand now geared primarily towards Asian tourism
The message is clear. The days of Thailand's tourism industry gearing itself primarily to a western market are long past and in the meantime, Thailand's shift of focus to Asian tourism is in itself a factor now in the equation as the tourism landscape in the kingdom changes perhaps forever.
Other emerging less developed destinations are also now drawing away western tourists in search of a new experience or perhaps something more akin to what Thailand once offered.
Still retains  large numbers of western visitors with a tourist infrastructure second to none
Of course, Thailand still attracts large numbers of western holidaymakers and has an infrastructure including a range of resorts and hotel facilities still gives it an advantage.
It had managed in the last decade or so to optimise its return from all the markets but this year there has been a shift. Maybe it is the strength of the Thai baht that has been the swing factor or some other more fundamental realignment in a world of trade wars and underlying tensions.
Further reading:
Tourism minister predicts a record year but says he wants western visitors back in Thailand
Tourism Minister's plans for later nightlife hours receive a tepid response from Interior colleague
Economy not yet in crisis says central bank governor as ministers meet to discuss trade and tourism
Thai Female Minister declares the end of sex tourism as Thailand too moves towards girl power
Record year for Thai tourism but not so good for Thailand's bar girls and luxury hotels as market has changed