A provincial court has issued an arrest warrant for 39-year-old Withun Sitabut who as recently as Monday, after the murdered woman's body was discovered, was still withdrawing money from her bank accounts. A manhunt is underway to track the man who is suspected of committing a crime so heinous and malevolent that the story is already gaining international media attention.
Thai police have broken the case of the murdered 58-year old estate developer Wannee Jiracharoenying whose body was found stuffed into the fridge at her substantial home in Chiang Mai on Sunday evening. It appears that the generous and kind-hearted woman was turned upon by her driver who police fear tortured her to gain access to her bank accounts with a reported ฿40 million in funds already gone missing.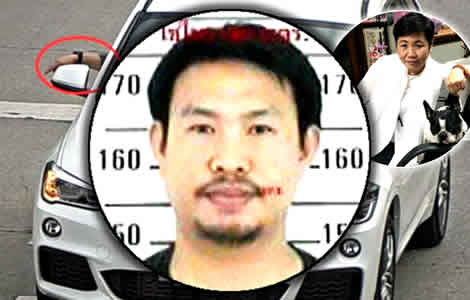 Thai police have sought and obtained an arrest warrant for the prime suspect in the callous and brutal murder of 58-year-old Wannee Jiracharoenying whose body was found in a fridge stuffed with lime last Sunday, the 27th October.
Arrest warrant issued by a provincial court
The arrest warrant issued by a provincial court is for the wealthy woman's driver named by police as 39-year-old Withun Sitabut from Lampang province who is suspected of murdering Ms Wannee in a calculated act to obtain money from her to pay his debts and raise his lifestyle.
It is reported that the debt-ridden man, who used to be a public van driver in Chiang Mai, has been preparing to escape Thailand as a police dragnet is unfurled.
Police fear the killer tortured the Thai woman
It is also feared that the killer may have tortured the generous and kind-hearted woman to obtain her ATM passwords and other details to access her property.
Her body was found in a decomposed state with both her legs and hands bound and a plastic bag over her head when police searched her home on Sunday and discovered her remains.
Victim was a well-loved and generous benefactor in Chiang Mai to good causes
The victim who was herself a resident of Bang Phli in Samut Prakan province near Bangkok, was a generous benefactor of the local temple in the Chom Thong district of Chiang Mai where she maintained a substantial residence.
She also supported a local provincial hospital having donated ฿19 million to it with her brother Worapan in the days before she died in addition to giving a new Volkswagen minivan to the temple. 
It is understood that she had befriended the man who would become her evil and sadistic killer at the temple and was said to be aware that Mr Withun was constantly facing financial difficulties in his life with his pressing debts.
CCTV footage has helped police identify the male driver of Ms Wannee's white BMW car
Police attention focused on the driver following CCTV footage showing a male driving the BMW car and withdrawing large amounts of cash from her bank using an ATM card in the days during which her family had been unable to contact Ms Wannee.
It is now thought that Mr Withun, driven by greed for money, turned on his kind-hearted employer as the answer to his life's problems sometime around October 10th or 11th.
Police confirm the Mr Withun sent bogus LINE messages to a friend of Ms Wannee on the 16th
Police had established that the 39-year-old suspect had Ms Wannees's phone and was the person who sent a misleading text message to one of her friends on the LINE social media app on the 16th October.
It was this message when brought to the attention of her brother Worapan, that raised alarm bells prompting him to report the matter to police on Sunday in the Chom Thong district of Chiang Mai.
International media coverage of the murder – the work of a dark and evil mind
The murder of Ms Wannee and the appalling circumstances surrounding her death in every manner is also now becoming the subject of international media attention. This is a murder that speaks of a dark and evil mind.
Murderer began to plunder Ms Wannee's bank accounts after her death, continues to do so
Police have also identified the killer driving the deceased businesswoman's car in various provinces throughout Thailand including Chang Rai, Lampang and Rayong where money was withdrawn regularly from ATMs.
One photograph shows the killer's hand extending from the vehicle with his wristwatch while another shows a man wearing shorts and trainers with a wad of ฿1,000 notes clutched in his hand. 
He later brought the white BMW back to Chiang Mai where he attempted to conceal in an overgrown area behind trees reportedly near Chiang Mai University.
A married man with children often seen in Ms Wannee's company, reports of a second wife
It is reported that the 39-year-old man is married with two children. On one of the trips in the BMW following the murder of Ms Wannee, he took his family to Chiang Rai.
The killer provided money to his wife to buy gold jewellery and transferred money to her bank account. There are also reports that the 39-year-old man had a second wife.
He had become a friend of the businesswoman he soullessly murdered and was often seen with her including on occasion carrying shopping bags for her at a local shopping centre.
Woman's body not yet formally identified
It is also understood that medical examiners have not yet been fully able to confirm that the body in the fridge is that of Ms Wannee as it was so badly decomposed.
Police are proceeding however on the basis that it is the body of the owner of the property at this stage.
Her brother, Worapan, said today that it may take up to two weeks to conclusively identify the remains from DNA and other methods.
Police reveal that a staggering ฿40 million has been taken from the victim's bank accounts
Police are satisfied that the motive for the woman's murder was robbery. Estimates of the money withdrawn from the woman's account have now spiralled from ฿1 million to ฿40 million. Police are reporting that the killer, still at large, even made a withdrawal as recently as Monday 28th October after the woman's body was discovered and police began their huge investigation.
Timeline for the murder from the 10th to the 18h of October as the investigation continues
Police have not yet pinpointed when the woman met her gruesome end but they believe it to be some date from the 10th of October to the 18th.
They also have confirmed that they believe that the woman was tortured by her killer. Police believe that this activity took place on the lower floor of Ms Wannees's Chiang Mai home, a substantial commercial building in the Chom Thong district of Chaing Mai.
It is understood that evidence has been found to support this theory. The second floor remained untouched.
Manhunt currently underway across Thailand
Police tackling the financial withdrawals from Ms Wannee's bank account also have revealed that one account with ฿1.2 million was completely emptied in recent days.
An intensive police manhunt is currently underway with an all-points bulletin to apprehend Mr Withun. 
Further reading:
Wealthy Thai woman believed murdered in Chiang Mai after grisly find by police on Sunday
Please follow and like us: