The filming of the show took place in May and should help boost Western tourists to the kingdom with figures showing the majority of the 9.47 million visitors to the country this year were from Asia with fears that Bangkok may lose its lustre as the most visited city in the world.
Former US late-night talk show host Conan O'Brien is getting ready to release a show on Bangkok which is due to air on HBO Max, the popular US-based streaming TV service in the coming year as part of his 'Conan Without Borders' series.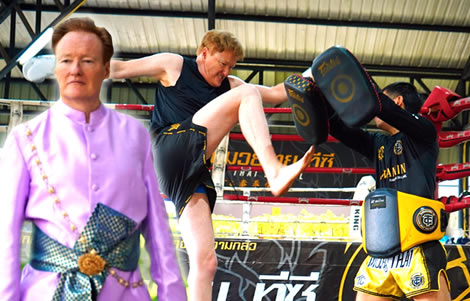 One of America's longest-running late-night talk show hosts has been working in recent weeks in Bangkok with a broadcast understood to be in the pipeline promoting the world's most visited city.
Although no firm details are available yet, Mr O'Brien has told reporters that the materials being recorded will be featured in a future broadcast.
News of Conan in Bangkok has been tracked by online networks and social media users.
Bangkok social media users appear to be familiar with Conan O'Brien due to his fame on US TV networks
News of the recordings at various points across the city has been tracked by social media users online who are familiar with his US talk shows.
The trip took place during Bangkok's recent heatwave when temperatures in the city were sweltering, something the pale-skinned Conan with his orange hair is understood to have been particularly susceptible to.
It follows an earlier visit in March 2023 by US star Robert Downey Junior where he visited some of Bangkok's iconic lounge bars as well as a memorable visit to the capital's Lumpini Park where he tried to interview one of the monitor lizards that roam the precincts.
Bangkok feature will be similar to others such as expeditions to iconic places such as Haiti and Cuba including a focus on the capital's street food
We know that the Conan Without Borders show will be similar to the TV star's other globetrotting expeditions during which he has already featured other exotic locations.
Since leaving the world of talk show hosting after finishing up his show Tonight with Conan O'Brien on the US NBC network, Mr O'Brien has visited many countries around the world such as Cuba, Armenia, Haiti, Greenland and even visited the demilitarised zone between South Korea and North Korea in his China Without Borders series.
Last week, we got a snippet where Conan appeared with a portion of some of Bangkok's famous street food, a fried scorpion and compared it with what is available at a famous Los Angeles shopping centre.
'The scorpion here is so much better than the scorpion I get at the Glendale Galleria,' he said.
The star has also been seen dressed in traditional Thai costume and giving a particularly aggressive display of Muay Thai fighting which should impress his audience.
TV productions studios used in Bangkok
It is reported that Mr O'Brien has been using Bangkok's Workpoint Studios to do production work for this latest project.
60-year-old Mr O'Brien, from an Irish American Catholic family, is the son of a physics professor at Harvard University and was a student at the prestigious university from 1981 where he discovered his talent for sketch writing with the Harvard Lampoon publication.
He later went on to develop his career as a writer and presenter on coast-to-coast television in the United States where he briefly worked as a writer for the cult show The Simpsons.
Conan's show on HBO Max is sure to give a boost to foreign tourism and the country's appeal to higher spending Western markets with more tourists needed
The episode by Mr O'Brien is sure to encourage more Western visitors to Bangkok which is the world's most-visited city and one which has growing cultural significance for those living in the free world.
Thailand's foreign tourism industry has long benefited from Western media exposure going back to the 1960s and 1970s with James Bond movies such as 'The Man With The Golden Gun' and 'Tomorrow Never Dies' up to Leonardo Di Caprio's hit movie 'The Beach' in 2000.
The news of the pending broadcast comes with Thailand, on Saturday announcing 9.47 million visitors up to the middle of May this year with many incoming visitors arriving from Malaysia and India amid growing concern about the country's continued appeal to Western markets from where visitors spend longer periods in the kingdom and spend more.
Foreign tourism this year is critical to Thailand's economy and current account in 2023 as exports have stalled amid a threatened world recession.
Further reading:
Death of Dame Edna star Barry Humphries leaves the world a far less funny and colourful place
Iconic 70s Bangkok comes to life again as the dark story of The Serpent wows world Netflix audiences
King Charles III to be acclaimed as the World comes to terms with the loss of Queen Elizabeth II
Sean Connery, the sexiest man alive, who played James Bond, has passed away at 90 years of age in Bahamas
Filming of Fast and Furious movie begins in Krabi in what will be a big boost to the local economy