Business leaders are calling on elected politicians and all in parliament to act in the country's best interests as economic damage is already being inflicted with a loss of confidence among investors and potential tourists. Thailand does not have a good track record due to the highly damaging events in 2006 and 2014 and cannot afford to play with fire again.
Business leaders are warning that confidence in the kingdom is on the line in a week which has seen Thailand again embroiled in political deadlock which is regarded internationally as a potential repeat of what the country experienced in 2006 or 2014 unless a speedy resolution is brokered among the political class. Investors, in the meantime, are moving capital out of Thailand with Vietnam continuing to be a major beneficiary of the kingdom's political wars.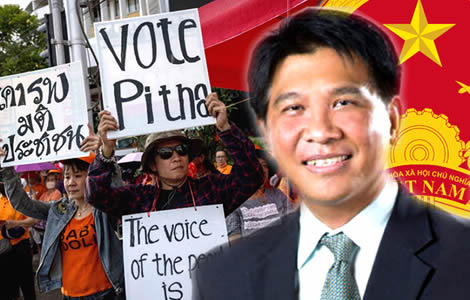 The alacrity with which protesters emerged onto the streets in various provinces across Thailand on Wednesday after the Constitutional Court took up petitions against Mr Pita Limjaroenrat and the Move Forward Party and the sight of gatherings outside Parliament House are damaging to the Thai economy according to key industry leaders.
They have warned that if the new government is not formed by the end of September, Thailand risks losing economic growth potential because of a delay in government disbursements and also an overall lack of confidence which threatens to undermine inward investment into the Kingdom and puts off many foreign tourists who are currently planning their holidays.
International media coverage has focused on the charismatic Pita Limjaroenrat as the country's great democratic hope, events this week played badly       
Coverage on international media has focused on the charismatic and youthful looks of Mr Pita as Thailand's bright new hope for a democratic future and the events of Thursday and potential developments do not augur well for international confidence in the country going forward.
One financial expert, Jessada Sookdhis, the chief executive and founder of Finomania, an international trading house, says that investors are increasingly looking at switching investments from Bangkok to Vietnam where the government and political environment is more stable and where economic growth rates are stronger.
'Vietnam has structural factors that support strong term, long-term growth even though it was somewhat affected by the cyclical economic global slowdown,' he said on Thursday, commenting on the day's political events in Bangkok while noting that the Thai Stock Exchange is off by 10.6% since the beginning of 2023. 
Vietnam is eating Thailand's lunch
And this trend is set to continue with Vietnam being a key beneficiary of Thailand's political wars. The communist country is eating Thailand's lunch and has been doing so for the last twenty years.
Thailand's high level of private sector debt and the downturn in the country's manufacturing activity are linked to the slowdown of the world economy and the disappointing outcome of China's economic reopening at the start of the year.
On Thursday last, Mr Thanavath Phonvichai, the president of the University of the Thai Chamber of Commerce, said that the parliamentary vote was a key indicator for many international observers and investors looking to see what might become of Thailand's fragile economic recovery.
Mr Thanavath said this is supported by recent surveys conducted by his organisation which show that Thai business is increasingly concerned about political deadlock.
'Both businesses and consumers are closely watching the Prime Ministerial selection, which could require several votes,' Mr Thanavath told reporters.
Economics expert believes that the dangerous situation can be recovered if a constructive political resolution can be brokered in August or September
On a more positive note, the University of the Thai Chamber of Commerce (UTCC) President said that matters might be contained if a new government is elected sometime in August or September but said that there would be damage to the economy if the issue is not settled beyond that point.
One key result of this would be a lack of budget for local authorities, which are key to infrastructural development and funding reaching provincial markets.
There has been evidence in recent months that Thai government agencies are lacking funds as the outgoing government has limited borrowing and adopted a more prudent stance since the beginning of the year.
Mr Thanavath said that if the new government is formed either in August or September, Thailand could still be on target to achieve 4% GDP growth in 2023.
'If the prime ministerial selection and government formation proceeds smoothly, without intense protests enabling the implementation of investment initiatives, the economy could still grow by 4%,' he said on Thursday.
'However, if the selection process and government formation faces severe demonstrations, leading foreign countries to issue travel warnings, the number of foreign tourists in the second half of the year could potentially drop by 10 million. ฿500 billion baht in tourism revenue and a 1% decrease in GDP which would be undesirable.'
Fears that the country's critical economic engine of foreign tourism could be damaged if the growing political turbulence takes to the streets 
Foreign tourism industry experts have warned that any resort to violent street protests in the coming months will quickly turn off international arrivals as we have seen in the past.
There are already reports of Thai authorities preparing for extended and violent street protests with sporadic protests last week being carefully monitored by security agencies from a distance.
The University of Thai Chamber of Commerce leader, Mr Thanavath, noted that Thailand had received 12 to 13 million tourists from foreign countries this year and the country was currently looking forward to seeing a further 17 to 18 million visitors in the second half of the year with a tentative target of 30 million visitors for 2023.
This would still be only 75% of what Thailand saw in 2019, with expenditure per capita, four years later, decreasing because many of these new tourists are from Asian countries who are staying for shorter periods and spending less.
Current political deadlock and threat of violence have already begun to undermine investor confidence in Thailand because of the kingdom's recent history
The concerns for the economy were also echoed by Mr Kriengkrai Thiennukul, the Chairman of the Federation of Thai Industries.
He warned that a continuation of the uncertainty that emerged this week would damage investor confidence in Thailand.
'The Thai political uncertainty will likely be prolonged, fueling fear of protests by the party's supporters in many provinces. This will mar the image of the country among the international community and will lead to a blow to investment confidence,' said a concerned Mr Kriengkrai.
The industry leader said that to many outside observers what is now emerging is a repeat of the colour-coded street protests seen in Thailand leading to coups in 2006 and 2014 which severely damaged confidence in the country and led to Thailand losing investment projects and income to other countries in the ASEAN community, notably Vietnam and Indonesia.
Politicians must get their act together
The FTI leader said that Thailand is already dealing with a fragile recovery with declining manufacturing seen in the opening six months of the year and lower earnings among factory workers.
He said the country was currently relying on tourism to drive its economic engine and the threatened outbreak of political disturbances and perhaps violence is the sure way to discourage foreign tourists from visiting the kingdom.
'The Federation of Thai Industry hopes any political conflict can be sorted out in Parliament. Politicians should think and act for the sake of the country,' Mr Kriengkrai urged.
Further reading:
Politicians skating on thin ice as the economy may not be able to withstand a political stalemate
Debt crisis may be one of the top items on the new cabinet's agenda as central bank stands ready
Potential hazard lights flashing as kingdom's auto loans spiral into default with sky-high borrowing
Bank of Thailand governor gives veiled warning to voters on the danger posed by populist policies
Financial markets debt sell-off sending a signal to Thailand before the May 14th General Election
PM warns giveaway policies of some parties may be 'bad karma' for the country in the longer run
Economic recovery shaky despite strong foreign tourism as global economic outlook deteriorates
Recession fears rise as growth projections are cut and export output continues to decline in 2023
Good news on foreign investment at the start of 2023 fails to mask stunted competitiveness issue for economy
Economy faces export clogs with rules in China and 'green imperialism' from European Union
Vital European Union free trade deal with Thailand with stiff demands from Brussels to take time
Thailand's financials are sound but the economy is exposed if another world banking crisis emerges
Thai economic woes grow with a 10-year high trade deficit as January exports slumped by 4.5%
Credit crunch as firms seek more bank loans with tightened lending criteria and recession fears
Even as the baht surges, Thailand faces economic recession in mid-2023 with lower earnings
Thailand's trade agenda may be complicated and thwarted by raised tensions in the Indo Pacific region