Prudent banking controls and carefully managed economic growth have seen a Thai property market which has sensibly doubled in value these last 10 years. It is not a bubble. However, last year the number of unsold inventory of condo units in Bangkok caused Thai developers to take a more cautious approach to 2019 with a focus on selected projects. At the same time, the year saw a huge influx of Chinese foreign buyers into the Thai market and this has picked up pace in 2019. They are younger, many of them millennial professionals. A lot are buying properties through online websites often unseen. Many are hedging their bets against what is looking like an inflated property market in China. In the meantime, they view the Thai military junta as a source stability and are less concerned about democracy. The one election result that could throw a spanner in the works is if the radical Future Forward Party emerges from the election with real power. It is thought unlikely but then Thai elections always pack a surprise.
Last year the number of unsold units reported in the Bangkok property market increased. While property prices in Bangkok are still on the way up, Thai developers took a cautious approach for 2019 and focused on developments with strong market potential. However, it has now emerged that the market for condominiums in Bangkok is being driven by foreign buyers with increasing numbers of young Chinese millennials buying Bangkok condos on websites sometimes even unseen. They accounted for 50% of sales in 2018 or 15,000 units and this is growing as the Chinese professionals seek to evade currency controls at home and hedge their bets against a property market in China which looks increasingly dangerous. Meanwhile, the general election in Thailand, even the unlikely prospect of a future military coup, does not put off these investors.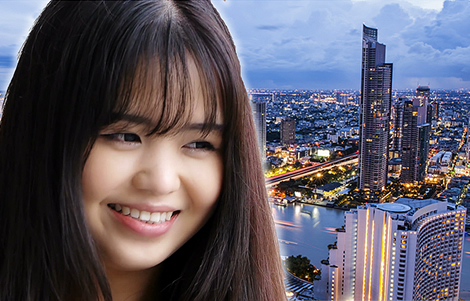 It is very much a transition year in Thailand. The result of the election, the slow down and economic challenges posed the US China trade war and the world economic growth slump have caused a drop in consumer sentiment. Many Thai people are also concerned with the aftermath of the election with 41% fearing that the country may be heading for another bout of political instability according to a Suan Dusit poll taken in January. It is a bigger concern for Thai people than the possibility of a recession which 37% of those polled feared even with declining consumer sentiment.
Bangkok condo and property market remains healthy with prudent approach adopted by Thai players
In spite of all this, the Bangkok property and condominium market has remained healthy. Many Thai developers at the beginning of the year raised funds, recapitalised and focused their development activity on strong, worthwhile projects where there is proven market demand. This was in spite of higher levels of unsold units in 2018 compared to previous years. Prices last year continued to move upwards although at a slower pace. There is still a firm sense of confidence behind the condominium market in Bangkok but the market itself is increasingly being driven by inward investment from foreign buyers and in particular Chinese buyers. There is also a new emphasis on condominiums in key locations and at a higher price range.
Bangkok seen as No. 1 foreign investment location for users of a top Chinese property website
Just as it was to tourism, the Chinese like what they see in Thailand when it comes to property and this particularly true in Bangkok which is seen as a safer bet for foreign investors. In 2018, the Chinese property website Juwai.com showed that Thailand was the 4th most popular destination for the growing number of Chinese property investors. It was recorded in 6th place when a survey was conducted in 2016. Recently, the Chief Executive Officer of that website suggested that the March 24th election really has no impact of Chinese buyers. 'While the election is momentous for Thailand, most of the buyers we work with are unconcerned about the outcome,' she was quoted on the US business news TV network CNBC recently.
Stability since 2014 coup and consistent economic progress attracts Chinese property investors
Thailand's stability, both politically and economically, since the 2014 is one of the reasons that is drawing the Chinese investors. The other is rampant speculation in China and real fears of a property bubble. Many of the investors, now targeting the Bangkok condominium market, are at retail level. They are looking for prime properties that can easily be let out. The Thai economy grew by over 4% in 2018 with an average growth rate of 3.7% over the period of the junta. However, growth rates began to decline in the latter half of 2018. The World Bank and other world agencies suggest that 2019 will see a reduced growth rate but Thailand's economic leadership is now focused on expanding exports when Thailand  joins the RCEP or Regional Comprehensive Economic Partnership in 2020.
Less western, more Asian and even more Chinese foreign property buyers in Thailand
Bangkok's condominium market has always been popular with foreign buyers but in recent years these have tended to be less western investors and more Asian. The shift has now moved to Chinese dominance as Chinese and Hong investors make up 50% of foreigner buyers last year. They snapped up 15,000 condominiums in Bangkok alone. And it's a growing momentum. One of Thailand largest developers, Sansiri Developments, founded in 1984 and with assets of $2 billion, now reports that up to 70% of purchasers in its international division are Chinese. Nanmanas Jiwattanakul is the company's assistant executive Vice President for International Sales.'We started to drive (foreigner lead property sales) and also because we started seeing a number of foreign buyers in Thailand,' Nanmanas was quoted in the US TV station CNBC news report.
The fear of  Thai coups does not deter Chinese buyers who see a stable a government apparatus
She told the TV station with a huge international audience, that the company now has showroom specifically for foreign buyers in Thailand and also in Singapore. She said that she believes that foreign investors in Thailand's property market now see the country as stable despite the fact that Thailand has had 12 coups since it became a constitutional monarchy in 1932. She points out that astute people can see that the government in Thailand continues running as normal despite such upheavals. The country's consistent economic progress and political stability under the Thai military junta underlines this view.
Property prices in Thailand doubled in 10 years
The upshot of this is that property prices have almost increased by 100% on the last 10 years in Thailand. Foreign investors and in particular, Chinese professionals at all levels, see Thailand as an opportunity to invest and create increased wealth. Added to this, the allure of owning a property in an exciting world city such as Bangkok and the offer of condominiums in the Thai capital becomes too good to resist.
The figures back this up. According to the Chinese website Juwai.com, Thailand was the fourth most popular country for Chinese investment in 2018. $2.3 billion was invested by Chinese nationals in Thailand last year. Bangkok has emerged as the most popular leading city in the world today for Chinese investors. The top investment targets nationally were the United States with $30 billion, nearby Hong Kong with $16 billion and Australia with $14 billion. That's ฿72.5 billion. Thailand as a country was 4th.
Last year was the best year ever for a thirty four year old Thai property company
Thailand's Sansiri Development Company says that 2018 was the best year ever for the company. The company had international sales of ฿14 billion last year and this was a 51% increase on 2017 figures. Like other Thai development companies, it is is playing it safe for 2019 with a careful control of expenditure and a focus on market demand. The Chief Financial Officer, Wanchak Buranasiri, described the company's spending plans for 2019 as 'conservative' due to the political situation.
Market experts confident that election will not disrupt Thailand's economic path this year
Market analysts in Bangkok are sanguine about the election this year however. Despite the controversy over the Thai Raksa Chart Party, its attempt to nominate Princess Ubolratana as its prime ministerial candidate and it subsequent disbandment, most observers see the military junta, the National Council for Peace and Order as managing its way through either through the election outcome which now sees one party's candidates out of the race or the constitution which leaves incumbent Prime Minister Prayuth Chan ocha in a strong position. There is a growing opinion that after the election poll, there will begin a challenge to the process itself and the validity of the constitution. On the other hand, there are already a raft of complaints against the remaining lead opposition party Pheu Thai which has long been looked at for its links to ex premier Thaksin Shinawatra and growing swirl of controversies surrounding the radical Thanathorn Jungrungreangkit and his Future Forward Party. There is even talk of another coup although this is extremely unlikely and vehemently denied. However, robust and trenchant criticism of the Thai army has brought its current chief, General Apirat Kongsompong, to the fore in media reports as he defends the pivotal institution in Thailand's affairs which he leads.
Strong showing by Future Forward Party and a translation into seats may be a problem
Even if the former ruling party Pheu Thai were to come to power again, it is not something that Thai business would be so afraid of. The wild card in the election is the emerging popularity of the radical Future Forward Party which is virulently anti junta and is resurrecting the spectre of student politics from the 1970s. Many conservative Thai people have a deeply rooted fear of any policies that smack of socialism which they equate with communism. There is no doubt that the party will have large support from among the 7 million young Thais voting for the first time as well as disenchanted voters opposed to the junta. It is another thing to speculate on whether it will translate into seats in the parliament. Many Thai veteran observers say it will not but elections in Thailand have a habit of throwing up inconvenient surprises. A strong showing by the Future Forward Party may well unsettle some market analysts.
Prayuth Chan ocha, the incumbent Prime Minister, good for business as seen from China
The problems for Thailand could come if the election aftermath fails to provide a clear government based on the vote. The best outcome for the market would be a smooth election that returns Prayuth Chan ocha as Prime Minister but also creates an acceptable opposition. The visibility of a functioning democracy in Thailand would be strong grounds for the commencement of negotiations with the EU for a comprehensive free trade agreement. This would be the icing on the cake for Thailand's plans for export growth. It would certainly take some time to negotiate and it would be dependent on a smooth election of a new government.
Thai public is growing more nervous about the election as is the world economy right now
Unfortunately, a growing number Thai people do not believe that this will be the case. Numbers have hardened since the Suan Dusit poll in January with most people now concerned. However, while this may thwart an EU trade deal, the current constitution and the continuing involvement of the junta may still be enough for property investors such as the Chinese retail investors to keep flocking to Bangkok. That is unless something untoward happens in China. 2019 is a year when all bets are off. International market are right now very nervous about the prospects for the world economy.
Chinese online invasion of the Bangkok property market underway and still ramping up
At the same time, the Chinese property invasion of Bangkok is growing and is being driven by young Chinese millennials, often backed by parents and with steady incomes. The lower property prices in Bangkok compared with large Chinese cities and the international reputation of the city as a world centre have made it a hot ticket.
There is now a growing range of internet property purchasing platforms in China that offer properties for sale in Thailand and Bangkok. This is allowing young Chinese investors to purchase Bangkok condominium units without leaving China and amazingly, in some cases, without seeing the property at all, even online.
Young people in China with extra cash use online sites to buy Thai property often unseen
Bangkok has emerged as a popular location on sites like Uoolu.com. It saw its business rise 60% in 2018 and billed over $740 million in property sales. That's ฿23.5 baht. 'The demand is very strong among the middle class holding extra cash,' says a researcher at a Shanghai property broker. 'Purchases have become simpler with online platforms,' she explains.
22% of Chinese online buyers do not even see their Thai properties before purchase
The expanding websites are helping to drive the market. It is seeing Chinese young professionals invest in western countries and Southeast Asia. The websites match the buyer's up with financials packages and offer conveyancing services all done in house. A startling figure is that 22% of the purchasers are buying properties that they have not seen nor have they even had a face to face meeting with a sales agent. China imposes a $50,000 annual foreign exchange quota on its citizens but financials packages and stage payments mean Chinese investors see the opportunity as not only buying a valuable, appreciating property in a city like Bangkok, but also a great way to stash money outside the People's Republic amid growing speculation of a property bubble and adverse economic conditions in China itself.
Reports of some Bangkok condo developments reaching foreigner 49% legal threshold
The websites even have facilities that allow the new condominium owners to find tenants and achieve rental income with strong support services. This is a new era in property investing and the Bangkok condominium market is the target. So much so that there are now reports of many property developments in Thailand reaching the 49% limit for foreign owners.
The Chinese online property website Juwai.com now says that Bangkok has risen to the number one spot for its Chinese clients. Last year, it was reported that buyers from Hong Kong and China had snapped up 15,000 condominium units in Bangkok alone accounting for 50% of all foreign buyers. This figure may already be out of date and on the low side given the rise in Chinese investment activity in Bangkok.
Young Chinese are taking flight from the Chinese property market which is overheating
Many observers suggest that the Chinese investors are, in fact, taking flight from the ominous signs in China surrounding the home property market. They are also attracted by the offers that allow them to work around government controls. It's a hedging of their bets with what they see as big upside. Growth in the Chinese economy is declining. The US China trade war, even a growing lack of confidence in Chinese statistical data which is being confirmed by online pictures of huge numbers of unsold Chinese condominium units all make up part of the picture here.
Young 36 year old Chinese banker now has two condos in Bangkok after she sold one in Beijing
In spite of the huge online property sales boom, it is still the case that most buyers seek a reputable agent and more traditional approach. But the growing number of young Chinese millennials using these online property buying services is a key factor right now in the Bangkok market.
Chen is a 36 year Chinese bank manager. She recently sold an apartment in Beijing that had a 2% yield and purchased two properties in Bangkok. Her return is now 6%. 'In Bangkok, the prices are much lower, the climate is good, it's suitable for retirement life, and also easy to rent,' she says. She's still interested in Bangkok and looking at buying another property here but is now looking also at Cambodia where the entry costs are even lower again.
Thailand and Bangkok market for condos adjusting to a slackening of demand – prices still ticking up
Thai property market steady but concerns about high end speculation in Bangkok