The top police boss in the Bangkok's Metropolitan area has ordered that the investigation into the murder of a Thai wife and her two daughters at the hands of the father of the family be given top priority as Thai police investigate the crime and the motives that drove an apparently upstanding local man to commit a horrendous crime last Thursday. The man cut the throats of his wife and two young daughters within the shuttered premises of the family's car audio business. The man has told Thai police that his family had agreed to die together to avoid the misery of unceasing debt as neighbours reported to police that a man in a black pickup called to the family each day to collect funds while his close friend has revealed that the family was forking out ฿8,000 a day in cash payments. Thai police, however, are also keeping an open mind and looking at the possibility that the crime was simply the result of a domestic dispute that took a particularly deadly turn.
The senseless and destructive loss of life that occurred in a Bangkok suburb last Thursday when a respected businessman slaughtered his own family should be a wake-up call to the evils of illegal money lending in Thailand. It should also be a warning to those in leadership positions in Thailand that high levels of household debt can lead quite honourable Thai people into the grasp of evil and darkness.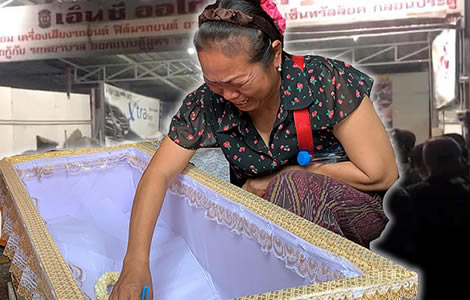 A harrowing and shocking scene greeted Thai police on Thursday when they were called to the one storey premises of a small business owner in the Khlong Sam Wa area of northern Bangkok. Inside, they found the body of 25-year-old Thai woman, mother and wife named as Kingkaeo Pongpairote holding her 15-month-old baby, a little Thai girl who will never grow to experience life and another little girl, a 5-year-old, lying near her mother. All three had died after their father and husband, the family's provider, had turned on them. Their throats were slashed, the walls of the room and environs covered in blood. The Thai man, black with despair and anxiety because he could no longer meet the demands of a menacing loan shark, had murdered his family and turned the living into the dead, crazed beyond reason, driven by the scourge of debt. The man claims his actions were part of a suicide pact, either way, it was the act of a crazed individual controlled or oppressed by evil. In a northern suburb of Bangkok on Thursday evening, debt became death.
Father of the family found gasping for air amid the dead as neighbour made grim discovery
The 46-year-old was also found in the room. He, also, had a severe gash to his throat and was struggling, gasping to breathe or find air. Horrified Thai police named the man as Natthasak Khamkhern. The man was taken to hospital by emergency services. The police, at the scene, retrieved a long knife covered in blood. It is reported to have been 30 cm in length.
Suffering from the burden of repaying ฿8,000 to a relentless debt collector says friend
A 37 year old owner of a nearby garage that services cars, raised the alarm after receiving a call from a friend of Mr Khamkhern. The friend felt something was amiss and implored the garage owner to check the premises. He alluded to the huge financial pressure his friend had been suffering under involving payments of ฿8,000 ($250) per day to a relentless loan shark to whom the small business family had become deeply indebted. To gauge the extent of this debt in Thailand, it should be noted that the average monthly salary for a Thai household is ฿27,000 ($844).  The local businessman promptly made his way to the shop premises driven by the urgent tone of Mr Khamkhern's friend. He was the first to discover the appalling scene of tragedy and death.
Black pickup captured in CCTV calling to the shuttered shop on Thursday evening
Thai police investigating the murders and the incident have retrieved CCTV footage of the shop. It shows a man arriving at the shop in a black pickup truck on Thursday evening. Neighbours have told Thai police that the man was a debt collector and visited the business premises on a daily basis to receive payment from the debt-ridden family. Locals also reported that the shop had been shuttered all day on Thursday.
Murders took place on Thursday evening as the family decided to die together
Thai police in the Bangkok Metropolitan area are treating the case as a priority. It is reported that that the 46-year-old, Natthasak Khamkhern, has admitted killing his wife and daughters to police. The murders occurred on Thursday afternoon. The small businessman told the police that the family had decided to die together as a way out of the appalling misery they were suffering because of their chronic debt problem and the daily pressure of meeting the demands of a loan shark.
Thai man who killed his family has a clean criminal record and was respected locally
Police reports that the 46-year-old has a clean record and has never been involved with crime. The businessman has a local reputation as a hard-working citizen who lived for his family according to their initial investigations. He is being treated in hospital and described as in a serious condition. Authorities have ordered that he be put on a suicide watch.
Police exploring all motives for the crime
Thai police are believed to be looking at all motives and scenarios related to the crime. Despite the man's account, they are also exploring the possibility that the killings came about as the result of a domestic dispute that got out of control.
Loan shark activity being looked at also
Police are, at the same time, taking the man's account seriously and are investigating the family's links with illegal moneylenders and loan sharks. The city chief for the Royal Thai Police in Bangkok, Police Lieutenant General Suttipong Wongpin, has given orders that the case be investigated as a priority and wants to be updated as matters progress. The police officer with oversight of the case is Police Major General Somnuek.
Debt misery in Thailand due to casual money lending
Thailand has a chronic problem with casual or illegal money lending. The country also has a growing and pressing problem with high levels of household debt which has begun to creep up again and is holding back the Thai economy. Many experts believe that the official figures of household debt in Thailand which suggest it is at 70% of GDP is underestimated. Some estimate that the figure could well be over 100% of GDP with a huge black market run by illegal money lenders. A government campaign to tackle the issue including regular police and even military crackdowns during 2018, did help but it is considered that authorities are swimming against the tide. There are other factors also contributing to an oppressive environment of debt misery in Thailand.
Many contributing factors leading some Thai people to be living a life of debt oppression
One is an unforgiving debt culture where debts as old as 20 or even 30 years are sold on from defunct companies to debt collectors and recharged with the interest. Another concerns strict rules for civil servants and state employees who face automatic termination if they avail of Thailand's already quite progressive bankruptcy laws.
Thailand's huge 'off the books' economy lacks access to regulated financial resources
While Thailand benefits from a happy, unregulated and even unrecorded service and retail economy on one hand which keeps prices low and the economy competitive, this also means that many business operators have no proper recourse to lending resources or relationships with reputable financial institutions.
Cultural factors also at play in debt nightmare
Additionally, the problem with debt in Thailand is a cultural thing. Some Thai people are less responsible with debt. While 49% of Thai households are debt-free, the other 51% bare a huge burden. A recent survey showed that over 75% of Thai households in urban areas, at some point, had defaulted or had a problem with a loan. In Bangkok, it is reported that 78% of households are burdened by debt with 53% reported to be behind on monthly payments.
Bangkok and its hinterland is a household debt and illegal money lending black spot
Bangkok's suburbs and hinterland are particularly targeted with thousands of Indian money lending immigrants. These dubious businessmen come to Thailand, on hand, to take advantage of the huge demand and appetite for casual credit but there is no shortage of Thai loan sharks either. Interest rates on such loans can be as high as 20% per month. In some instances, lenders will take advantage of borrowers who need money in an emergency and charge 20% for a few days credit. The spin-off of this activity and its impact on families is appallingly destructive.
Impossible debt burden causes mental health issues
Thai people, while a significant proportion may not have good skills at financial husbandry, still retain a strong sense of self-respect and honour. Failure to repay a debt, on a personal level, can destroy the mental health of individuals to such an extent that they will seek out loans to pay loans. Some will even resort to gambling. In some instances, there are regular stories of once respectable Thai business people and even those in government service turning to desperate acts of crime to escape the debt nightmare.
February raid coordinated by 'Big Joke' highlighted the other side of the debt misery coin
Last February, a series of raids conducted by Thailand's former top cop 'Big Joke' Surachate Hapkarn in Bangkok, gave us a glimpse of the huge funding and social connections of those behind some of the money lending rackets in just one area of Bangkok alone. Thai police, in a series of coordinated raids, arrested 14 people on court warrants for fraud and illegal money lending. The raids involved 55 separate debt networks and targeted 82 different locations in Bangkok. This is a huge level of organized crime. It is also believed to reach very influential and respectable people in Thai society. The 14 people arrested included 12 men and two Thai women. Assets seized as a result of the raid were valued at nearly ฿1 billion. These included commercial buildings, hotels, companies, coffee shops and restaurants as well as 25 automobiles. 197 different property deeds were taken up by Thai police in the raids.
Debt in Thailand can really mean death
This is the wealth that is being generated through the blood,  sweat and tears of unfortunate borrowers living in homes, shops and small businesses nearby. It is their local neighbours who are being squeezed. This is the bounty derived from those involved in this unscrupulous and destructive activity driven by greed. On Thursday, a mother and her two daughters paid the price in blood and death. Debt in Thailand can really mean death.
Further reading:
14 wealthy loan sharks taken in by Thai police as money lending menace and debt remain a big problem
Diamond heist thief was a failed Chanthaburi businessman with a chronic gambling habit and debts
The pervasive problem of debt in Thailand and the struggle to survive for those hit by bad fortune
Bright economic outlook for Thailand but the debt nightmare for poorer Thai people must be tackled
Darker side to life in Thailand as some lives are blighted by murder, debt and gambling
Household debt levels a weight on Thai economy