Speculation about the visit comes as there is an acceptance of the growing importance of the ASEAN bloc of nations as a pivotal force in Asia as the US and China square up amid an increasingly fractious trade war and relationship.
US President Donald Trump may be on his way to Bangkok to attend the Asean Summit which takes place from the end of October to the beginning of November this year. It follows a verbal commitment from Trump to the Thai PM on Tuesday. If the visit is confirmed, it would herald a strengthening of US Thai and US ASEAN relationships.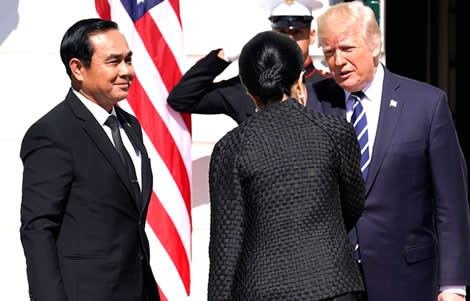 The US President Donald Trump has indicated his acceptance of an invitation extended by Thai Prime Minister Prayut Chan-ocha while in New York to attend the United Nations and drum up inward investment for Thailand.
Thai prime minister attended an exclusive party hosted by Trump in New York on Tuesday night
It is understood that the PM and his wife attended a party in New York hosted by the President on Tuesday night during which the General Prayut had a brief conversation with the free world leader. The diplomatic reception took place at the Lotte New York Palace Hotel, a luxury five-star venue. The event was closed off to the media with no guest list published.
Visit between October 31st and November 4th
It is understood that such a visit may occur during the 35th Asean Summit which will be held in Bangkok from October 31st to November 4th next. Thailand and the United States are long and traditional allies with Thailand being the first Asian state to recognise the existence of the United States in 1833.
Thai army confirms the correct figure for military helicopter military package from the US
The news comes on the day that the Thai army came out to clarify that a reported ฿12 billion arms purchase from the United States was in fact, a deal for ฿4.2 billion including eight AH-6i helicopters and other military weapons including guns, night vision scopes, cameras and missiles. The reports of a ฿12 billion deal came in a communication from the US congress. Today, Thai army spokesman Colonel Winthai Suvaree clarified that this larger figure was a budget figure for which approval was sought at US congressional level.
Boost to the US Thai and US Asean relationship
A visit to Thailand by the US President would help strengthen warmer US Thai relationships further following a very successful visit at the beginning of August for the ASEAN Foreign Ministers Summit by Secretary of State Mike Pompeo. That visit particularly helped strengthen US ASEAN ties. It will also help foster stronger trade and business relationships for American firms selling into Thailand and the ASEAN bloc.
Naval exercises organised by the US and Thai navies in September involved ASEAN naval vessels
Since then, Thailand has participated with the US Navy and ASEAN national navies in naval drills which took place this month. The naval exercise was coordinated by US Thai naval top brass. Thailand has also purchased additional arms from the United States including taking possession of 60 reconditioned Stryker armoured vehicles for ฿5.4 billion recently.
In Washington, a key government agency this week described the new sale of arms to Thailand as supporting American foreign policy in the region and bolstering the defence capability a major non-Nato ally.
Thailand also forging closer links with China
Last week, a senior Chinese envoy was in Bangkok on a mission to strengthen the Thai Chinese relationship and received a warm welcome for General Prayut at Government House. This partnership has seen the purchase by Thailand of Chinese made submarines and naval vessels.
If the visit by President Donald Trump is confirmed, it would signal a greater commitment to the ASEAN region which is suddenly being seen as pivotal to the balance of power in Asia.
The US and China continue to be locked into an increasingly testy and unruly trade war which is beginning to seep into other areas of tension in the region such as the ongoing crisis in Hong Kong.
US trade deal with Japan unveiled
On Wednesday in New York and at the United Nations, US President  Trump and Japan's Prime Minister Shinzo Abe unveiled what was described as the first stage of a 'phenomenal' new trade agreement between the US and Japan. The Japanese PM described as a 'win-win' deal.
Trade deficit with the US decreased by over 4%
President Trump has since he took office, also being putting pressure on Thailand and a 'hit list' of other countries to buy more American products and services in order to narrow the trade deficit between the kingdom and its most powerful western ally. 
For 2018, the trade deficit in Thailand's favour was $19.8 billion meaning the United States is one of the pillars on which Thailand's export economy is built. However, that figure represented a 4.2% reduction on 2017 which must have pleased the man on 1600 Pennsylvania Avenue.
Further reading:
Thai PM gets warm welcome from expats in New York as he visits to speak to the UN this week
Thailand and China to forge closer ties across a range of areas as high-level envoy meets Thai PM
US Secretary of State in Bangkok heralds closer ties with ASEAN bloc – good news for Thailand
US Senator is a woman who speaks Thai – Tammy Duckworth visits Thailand to foster American ties