New Facebook verification service and blue tick will be quite similar to Twitter's but Mark Zuckerberg is promising personal support at the end of the line for a new cadre of elite customers.
Facebook, as well as its new Threads micro-blogging app, is preparing to mimic Elon Musk's Twitter with its blue tick and paid-for verification service worldwide with it being rolled out for its legion Thai user base in the coming weeks.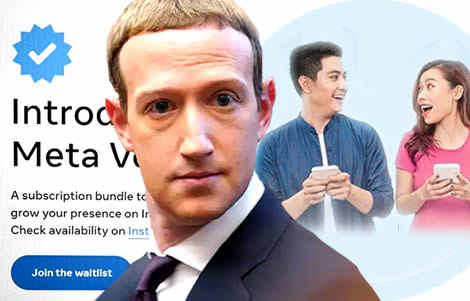 As Facebook launches its new app Threads Worldwide with the new app available in Google Stores for Android and the Apple App stores, users should note that it is only available with an Instagram account at this point.
The new service was launched on July 5th and is available initially in 100 countries including Thailand.
It is not available within the European Union at this time due to regulatory concerns.
But that isn't all that's new from Facebook's parent company Meta for Thai social media users 
Facebook, at the same time, has confirmed it is ready to introduce a paid-for verified blue check mark in Thailand shortly.
It will cost users ฿429 per month to have their accounts verified and awarded the blue tag for other users to see.
Facebook blue check will be just the same as Twitter, a paid-for verification service made available on a monthly basis for a fee of $12 approximately
The move will be similar to the recent initiative introduced by Twitter under its controversial new owner Elon Musk.
It is being reported that the initiative is being championed by Mark Zuckerberg, founder and chief executive officer of Meta, the parent company of Facebook.
The leading social network plans to introduce the service as a pilot in America and the Asian region with fears that such an initiative could fall foul of the European Commission which has already proved an aggressive champion for social media users' rights on that continent.
Facebook in hot water with Irish authorities
In May, the Irish data regulator fined Meta, the parent company of Facebook, $1.3 billion after it repeatedly ignored warnings about transferring European Union users' data between the bloc and the United States.
Ireland is the European headquarters for Facebook. 
It is only the latest and one of a series of spats between the company and European Union regulators which have seen the American firm resisting all efforts to regulate it in Europe often arguing that European law is restrictive and not in the interests of social media users in the longer term.
In 2016, the company, in a telling exchange with European officials said: 'The industry does not need a regulatory push to improve.'
Similar rifts and tensions also exist between the European Union and other US tech giants such as Google and Twitter.
Facebook has been in Thailand since 2015 and has engaged in selective showdowns with Thai authorities in defence of free speech rights and principles 
Facebook has had a presence and office in Thailand since 2015.
It has also pushed back against efforts by the Thai government through the Digital Economy and Society Ministry to censor online content and commentary, even at times defying government orders and threatening to go to the courts.
Facebook is ranked as the number one social media platform in Thailand with 2020 figures showing over 50.75 million regular users. That's 71.4% of the reported population living in the kingdom. 
However, it is now thought that Facebook is being challenged by Chinese social media Tik Tok which is reporting that Thailand is its most successful market where it has already attained 49.3% of all social network users in 2023. 
TikTok's second most successful market is the United States where 45.3% of social media users frequent the platform.
These are thought to be younger teenagers and adults, with the platform reporting massive success with its short video features.
Blue tick fee is expensive for Thai users, Zuckerberg promises a better service with account support
The new initiative by Facebook is thought to be an effort by the company to improve the security and quality of the platform.
No doubt, the charge will put off many Thai users for whom ฿429 baht or approximately $12 is a significant expenditure representing the average amount spent by Thai consumers on their smartphone bills per month.
In addition, it is reported that Facebook also proposes to charge an equivalent fee per month for its sister service Instagram, another social media platform which is often offered to users and advertisers with Facebook as a combined entity at this time.
Sources close to Mr Zuckerberg say that the verified service from the company will come with additional direct care options where users can get more direct access to customer service representatives in dealing with their accounts or social media activities.
The move marks a trend towards more elitism online with a new cadre of high-powered users promising to emerge if such schemes prove successful and become ubiquitous on all platforms.
Further reading:
Minister warns Facebook of possible legal action including Computer Crime Act criminal charges
Facebook under investigation over translation blunder as minister criticises the social network
Two Immigration Bureau officers in Nonthaburi suspended after video appears to show bribe request
TV actress apologises for her wrongful bribery accusation against a Thai traffic police officer
UK wife abuser arrested by Immigration Bureau police in Bangkok for attempted murder
26-year-old partner advertised his ex-wife by her real name on Facebook with erotic photographs as a hooker
40 year old Thai billionaire and emerging election winner may face prosecution for Facebook post
Future Forward Party and leader are Thai junta's worst nightmare in March 24th general election
Koh Tao claims by UK teenager questioned by Thai police – arrest warrants indicated for some media
Thailand passes new cyber security law allowing authorities more power to fight cyber crime and threats
Thai Government warns about fake news online as political discourse picks up before elections
Popular Phuket based Facebook page attacks foreigners and tourists in Thailand as virus tensions mount
Online child abuse is being exploited as a business opportunity by some Thai porn barons with networks
Porn web preying on Thai women in Bangkok. Arrest of the fiend at the heart of the blackmail and deceit
Thai man arrested for blackmail scheme targeting Thai women whom he paid to send him sex clips
Russian couple arrested, charged and fined for having sex in public on a Pattaya beach shown on video clip