Disturbing murder of a wife and two young boys in Samut Prakan on Monday morning linked directly with online loss incurred by the family recently, plunging them into ruinous levels of informal and personal debt. The perpetrator of the murders, 42-year-old Sanich Dokmai was found alive at the scene having tried to commit suicide.
A man plagued by debt demands and facing government action over a court judgement murdered his wife and two young sons in Samut Prakan in the early hours of Monday morning. He stabbed them to death. On arrival at the scene, police officers heard from a 46-year-old witness, a woman and friend of the perpetrator, who had raced to the home to prevent the tragedy after receiving a midnight call form 42-year-old Sanich Dokmai, the perpetrator, that the family had recently been the victim of a scammer hoax which saw ฿1.7 million lost.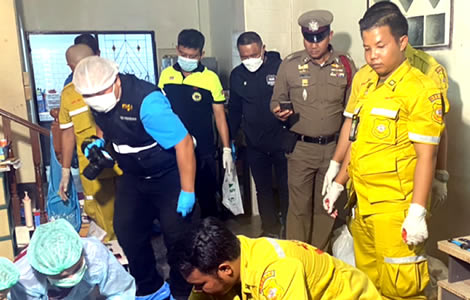 A 42-year-old Thai man murdered his family early on Monday morning in an appalling tragedy to which police responded at 1.30 am.
Details of the case were given by Lieutenant Colonel Askamon Prasertsuwan of Bang Kaew Police Station in Samut Prakan. 
Financial pressures including daily debt repayment demands and pending action by the Legal Execution Department after ฿1.7 million loss to scammers
It is understood that the man carried out the outrage after becoming stressed due to the family's financial problems which had recently been exacerbated by a loss of ฿1.7 million which his wife, one of the victims of this Monday morning's tragedy, transferred to a scammer gang in recent times.
The tragedy in Samut Prakham was responded to by police from Bang Kaew Police Station who arrived at a three-story townhouse in the Samut Prakan district of Bang Phli on Monday morning to find two bodies outside the building.
One of them was 45-year-old Ms Wiphaporn Racha, the wife of the perpetrator and Poonifat Dokmai, her 11-year-old son.
In one of the bedrooms, officers found the bloodied body of a boy identified as 13-year-old Bunyanont Dokmai. 
In a separate bedroom, police discovered the perpetrator of the attack, Mr Sanich Dokmai, who was alive but had serious wounds on his body including a neck wound and cut wrists. 
Killer tried to commit suicide, survived a wound to his throat and slit wrists. Was removed to the Paolo Hospital in Samut Prakan by emergency services
The man had attempted to commit suicide after his violent outburst and was attended to by rescuers from a local emergency services foundation who removed him to Paolo Hospital in Samut Prakhan.
Police found that the two boys discovered at the scene had suffered knife wounds with 13-year-old Bunyanont having received what rescuers described as dozens of wounds to the neck and the body.
The father and the husband had used a knife which was found beside his bed to murder his wife and sons.
A close friend of the family had rushed to the scene after receiving a frantic phone call from Mr Sanich, indicating that he intended to murder his wife. 
The witness, identified as 46-year-old Tharinee Sengsan, gave a statement to police investigators.
She received a call from the out-of-control man sometime around midnight on Monday morning during which the man threatened to murder his wife.
Wife murdered on Monday wired ฿1.7 million to scammer gang plunging the family into a debt hell
It is understood that Ms Wiphaporn, the murdered wife, had been the one responsible for transferring more than ฿1.7 million to a scammer gang plunging the family into debt and leaving Mr Sanich the subject of credit demands on a daily basis.
Ms Tharinee told police that the family were already in debt and facing a problem with the Legal Execution Department, the enforcement arm operating under the Ministry of Justice in Thailand dealing with court orders. 
The department, it is understood, was threatening to take the family's home even before the loss to the scammer gang.
Police investigators led by Police Lieutenant Colonel Askamon believe that the stress and pressure of repaying the family's debts and the recent substantial loss to fraudsters may have led the father and husband to have a nervous breakdown, triggering his murderous assault on the family. 
46-year-old friend of Mr Sanich raced to the home after midnight to try to prevent the horrific tragedy but it had unfolded before she reached the door 
Ms Tharinee made an early morning dash to the home in the Bank Phli district on Monday morning but was too late to save the woman and her two children as Mr Sanich had already carried out the horror he had threatened early on the phone.
The shocking and callous act is thought to be linked to the financial loss to an elaborate call centre gang hoax similar to the ones that are regularly perpetrated on Thai people on a daily basis in the kingdom.
In July, a rising tsunami of such criminal acts led to a national campaign launched by National Police Commissioner General Damrongsak Kittiprapas. 
Tsunami of scams hitting Thailand
The Police Chief told the media that between March 1st, 2022 and June 30th 2023, there were no less than 287,122 criminal cases in Thailand related to cybercrime activity in which nearly ฿40 billion had been lost by individuals and entities. 
It is understood that many of these sams are linked to highly organised call centre gangs operating from outside Thailand's borders, especially in Cambodia and are, in turn, linked to international crime gangs headquartered in Communist China and Taiwan.
Black market debt at extortionate interest rates a sad reality for 42.3% of households in Thailand labouring under massive debt loads and tight credit
The impact of such scamming activity is particularly harmful in Thailand where many individuals have limited means in a country where laws on financial credit and the management of debt are in need of reform.
The country is also experiencing a credit squeeze driven by a Bank of Thailand initiative to regulate rising household debt and structural problems in the Thai economy. 
Many families resort to informal lending at extortionate interest rates when they cannot find loans outside the financial system or when they have developed bad credit scores.
Similar tragedy in Bangkok in 2019
The tragedy which unfolded on Monday morning in the Bang Phli area of Samut Prakan is similar to a massacre in April 2019 in the Khlong Sam Wa area of northern Bangkok when Natthasak Khamkhern, a small businessman, murdered his family, his wife and two daughters at the home which was also a business premises.
In that case, the perpetrator snapped as the family were forced into hiding as they faced a daily repayment on debt of ฿8,000.
Mr Natthasak was also found nearly dead after cutting his throat.
In recent weeks, in Nonthaburi province, also near Bangkok, a loan shark was arrested by Nonthaburi police for charging an interest rate of 730%.
Nonthaburi loan shark recently arrested and brought before Provincial Court after threatening borrower while charging a 730% per annum loan rate
Many loans granted like this are often accompanied by intimidating tactics when borrowers are not in a position to repay on time.
A 2022 survey by the Puey Ungphakorn Institute for Economic Research showed that 60% of small businesses in Thailand were using such informal lenders, while 42.3% of all households in the kingdom had taken out informal debt or loans which averaged ฿54,300 per capita.
The institute estimated that 40.8% of loans and outstanding debt owed by households is not recorded in official economic data and takes place outside the financial system given that it is understood that nearly half the real economy in Thailand is off the books.
Trauma of the online scam loss blamed
Police investigators, on Monday morning, were appalled at the tragedy that had unfolded before they arrived at the scene.
Detectives attributed the trigger for the outburst to the traumatic effects of losing what is a relatively large amount of money for a Thai family to a call centre scam like this which plunged them into a nightmare of informal debt. 
Police are investigating the case and it is understood that they will be looking into such details while the perpetrator of the attack if he survives his injuries will be the subject of legal proceedings for murder.
Further reading:
Loan shark arrested in Nonthaburi for bullying a borrower charged an annual interest rate of 730%
Bank of Thailand to tackle household debt in new plan from 2024 which will see higher standards
Politicians skating on thin ice as the economy may not be able to withstand a political stalemate
Debt crisis may be one of the top items on the new cabinet's agenda as central bank stands ready
Potential hazard lights flashing as kingdom's auto loans spiral into default with sky-high borrowing
Bank of Thailand governor gives veiled warning to voters on the danger posed by populist policies
Financial markets debt sell-off sending a signal to Thailand before the May 14th General Election
PM warns giveaway policies of some parties may be 'bad karma' for the country in the longer run
Economic recovery shaky despite strong foreign tourism as global economic outlook deteriorates
Recession fears rise as growth projections are cut and export output continues to decline in 2023
Good news on foreign investment at the start of 2023 fails to mask stunted competitiveness issue for economy
Economy faces export clogs with rules in China and 'green imperialism' from European Union
Vital European Union free trade deal with Thailand with stiff demands from Brussels to take time
Thailand's financials are sound but the economy is exposed if another world banking crisis emerges
Thai economic woes grow with a 10-year high trade deficit as January exports slumped by 4.5%
Credit crunch as firms seek more bank loans with tightened lending criteria and recession fears
Even as the baht surges, Thailand faces economic recession in mid-2023 with lower earnings
Thailand's trade agenda may be complicated and thwarted by raised tensions in the Indo Pacific region