The online spat appears to have been disappearing from the internet with the Facebook account linked to Mr Ari Alexander closed. It follows more coverage of Thailand last week in New York where the Thai Lawyers for Human Rights (TLHR) were feted for their work defending those prosecuted under the Criminal Code for their political activism since street protests broke out in Bangkok in 2020. The new government, seeking to boost inward investment, is anxious to promote Thailand as a fully functioning democracy supported by the rule of law and respect for human rights at its core. However, international news coverage continues to focus on the failure to elect a Move Forward-led government after the May 14th General Election, an issue which is also evidenced in public opinion polls which shows voters do not support the compromise government that took up office in  September led by Srettha Thavisin.
Well-known Thai Senator Pornthip Rojanasunan, on Sunday, appeared to rule out legal action over an incident which occurred in the Icelandic capital of Reykjavik this week when she was verbally abused and refused service at a sushi restaurant while on holiday with friends by a Thai expat living in the northern Atlantic country because of her politics. The controversy was linked, on Sunday, by newly elected Move Forward Party leader Chaitawat Tulathon to the failure of Mr Pita Limjaroenrat to be elected Prime Minister in July this year because of opposition and lack of support from within the unelected Thai Senate although Mr Chaitawat decried discriminating against any person because of their politics.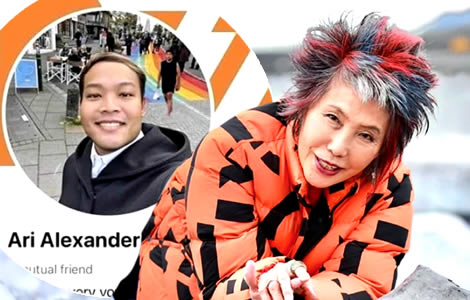 Controversial Thai Senator, Khunying Pornthip Rojanasunan, has returned to Thailand after being involved in an incident during the week at a restaurant in the Icelandic capital Reykjavik.
The incident which went viral online occurred while Senator Pornthip entered a sushi restaurant on her holiday trip with friends to Iceland which commenced on Saturday, September 21st.
The altercation between Senator Pornthip and a man, an expat Thai living in Iceland identified as Ari Alexander, was live streamed on the expat's Facebook page after he began a live broadcast while travelling to the restaurant at speed after hearing from staff there that the well-known Thai senator was among a group who had just entered.
Senator on holiday in Iceland to see the famed Aurora Borealis or Northern Lights which she confirmed on Saturday she had gotten to see from her hotel
Senator Pornthip was visiting Iceland to see the Aurora Borealis, the famed northern lights which are easily visible in the remote country at the top of the northern hemisphere. 
The incident was reported widely on Saturday and Sunday in Thailand and it is not clear when it occurred.
This is because it appears to have been followed by an internet clean up with the Facebook account of Mr Ari Alexander disappearing from view after the exchange between the Thai national living far from home and the well-known senator went viral.
From screenshots of the incident, Senator Pornthip was wearing warm clothing and was instantly recognisable with her trademark punk hairstyle but appeared rather subdued or contemplative after she was greeted by the younger Thai national at the entrance with extreme hostility.
An extremely irate Mr Ari, in his live stream broadcast, directly told viewers that if he came across the Thai Senator as he hurtled towards his workplace, he would use his car to run her over, a statement implying a threat of violence which would have clearly violated Facebook's community standards.
A similar threat of violence uttered by Cambodian strongman and former Prime Minister Hun Sen this year against political opponents led to his account being censured.
Thai expat living in Thailand, a chef at the restaurant in Reykjavik flew into a rage when he heard Senator Pornthip was at the restaurant he worked at
While his Facebook profile, which has now been removed, showed an orange background and a symbol very similar to that of the former Future Forward Party or the current Move Forward Party in Thailand, it certainly appeared to represent support for a more progressive society. 
The picture of Mr Ari Alexander in his profile showed a rainbow flag in the background painted on a streetscape.
In his emotional tirade, the Thai national now living in Iceland, told viewers that he had once been a supporter and big fan of Senator Pornthip when he was younger, including purchasing some of her well-known books, outlining her life and her notably successful career as a groundbreaker and pioneer in forensic science in Thailand.
Senator Pornthip is somewhat credited with helping to found the Central Institution of Forensic Science in Thailand through her work to promote the use of advanced forensic science techniques through an independent agency working with the Royal Thai Police on case investigations particularly related to murder.
She was awarded the distinguished and hereditary Order of Chula Chom Klao in 2003, as well as the honorary title Khunying or the Thai equivalent of Lady. 
Trailblazing career in forensic science has been followed by two controversial decades which has seen Senator Porthip become an icon of Thailand's right
Senator Pornthip was appointed to the upper house in Thailand or the Senate in 2019 by the then-military junta and has been associated with the conservative wing of Thai politics for the last two decades and has come to be seen as an establishment figure in that period, despite at the early stages in her career appearing to be somewhat of a maverick and free-thinker. 
In the outburst, Mr Ari Alexander claimed that Senator Pornthip had damaged the reputation of Thailand in recent years, and he continued to vent his animus towards he in an extraordinary manner when he arrived at the restaurant shouting to those nearby: 'That's her, that's her' as he approached Senator Pornthip in the company of her friends. 
'You do not belong here, get out of my restaurant,' Mr Ari shouted at the Thai senator who was in the company of Bhumjaithai Party MP from Lopburi, Ms Mallika Jirapunvanit Malika and others at the restaurant as the Thai chef made his displeasure known.
'Get the hell out of here. You are *******. Go, you get out of here. You do not belong here, we don't welcome you.'
He replied to Ms Mallika who politely asked him if he was the owner of the restaurant in the affirmative.
On Saturday and Sunday, however, it emerged that Mr Ari Alexander was not the owner but was the chef of the sushi restaurant in Reykjavik.
Senator Pornthip appeared shaken by the outburst
During the intense exchange and standoff, Senator Pornthip, who looked shaken by the outburst, asked Mr Ari to calm down and speak politely.
He responded by saying that everyone in the group was welcome to stay but not Senator Pornthip. The group then left the restaurant.
But the live video remained online, generating a spiralling response, initially on the TikTok network.
The reaction to the video was mixed with some commentators suggesting that Senator Pornthip deserved to be treated in this manner, with references to the recent election on May 14th and the role of the Thai Senate in impeding the election of former Move Forward Party leader Mr Pita Limjaroenrat as Prime Minister in July.
Consistent public opinion surveys show that the public does not support the political compromise reached afterwards which has led to the current government a sign that the Thai public has become acutely aware politically with a notable rise in news consumption in the last decade.
Support for the new government following the failure of Mr Pita Limjaroenrat to be elected as PM in July is not strong among the public in opinion polls
This failure of Mr Pita Limjaroenrat's nomination as Prime Minister in parliament in July, effectively blocked by the unelected Thai Senate, paved the way for a compromise government involving the Pheu Thai Party and parties associated with the outgoing government.
They came together on August 22nd, the day which also saw the return of former premier Thaksin Shinawatra to Thailand to elect Thailand's current Prime Minister Srettha Thavisin to the post with the government being formed on September 5th. 
Senator Pornthip abstained in the vote in July on Mr Pita's nomination but is known to be an opponent of the Move Forward Party and its progressive policies, most notably its insistence on carrying out a campaign of reform, including minor reforms to the operation of Thailand's monarchy, which, to many conservatives in the kingdom, is an affront which cannot be contemplated.
Problem for the new government of Srettha Thavisin as it campaigns to attract Western inward investment to Thailand as a fully functioning democracy
The ongoing controversy over the failure of Pita Limjaroenrat to become Prime Minister after his party won the May 14th General Election is emerging as a problem for Thailand's new government on the international stage as it seeks to influence investors worldwide to support the country which is being touted as a constitutional monarchy with full democracy and rule of law which is also working towards improvement on human rights.
However, the country continues to receive negative international press coverage because of its record for military coup d'états and the controversial Article 112 criminal code provision.
This was in the spotlight last week just a week after Prime Minister Srettha Thavisin visited the United Nations to promote Thailand's new government when the Thai Lawyers for Human Rights (TLHR) were feted in the United States at a New York awards ceremony, The Albies, hosted by the Clooney Foundation of movie star George Clooney and his Human Rights activist spouse Amal Clooney for its work assisting defendants in Thailand facing prosecution under the law which outlaws lèse-majesté speech and other prosecutions brought against those taking part in political protests.
Commenting at The Albies ceremony Sirikan 'June' Charoensiri of Thai Lawyers for Human Rights (TLHR) told those at the event that 1,925 people faced prosecution in Thailand charged with criminal offences such as Sections 112 and 116 for political speech and sedition since the street protest movement began in July 2020.
Senator Pornthip defiant after the incident, she reminded online readers she refused to support the Move Forward Party despite her daughter's plea
These protests which appeared spontaneous when they erupted are understood to be linked to the dissolution of the Future Forward Party, the predecessor of the Move Forward Party in February 2020 for violating political party funding laws by the Constitutional Court following a case brought by the Election Commission.
Commenting on the incident in Iceland over the weekend, Senator Pornthip defiantly explained: 'My daughter told me to vote for Pita and the Move Forward Party in the May General Election but I refused.'
The comment may also explain the generational divide in Thai politics with younger people becoming more supportive of democratic values and sceptical of authoritarianism.
However, all parties in the kingdom and age groups fully support and revere the kingdoms' monarchy with the Move Forward Party arguing that its policies protect the highest institution by separating it from the cut and thrust of day-to-day politics.
Mission accomplished to see the Northern Lights
The 68-year-old senator later posted a picture of herself outside her hotel in Iceland and announced that her mission to see the northern lights had been successful with an image of the green lights overhead.
The reaction to the video also included many who criticised the actions of the young Thai chef in Iceland for failing to show respect to Senator Pornthip, a visitor from his home country, no matter what her political opinions were.
This included the current leader of the Move Forward Party, Chaitawat Tulathon, who acknowledged that the actions of Mr Ari Alexander were wrong in that he discriminated against a Thai person because of her political beliefs. 
On the other hand, the newly elected Move Forward Party leader argued that there must be some understanding for his motivations, given the unfair influence exercised by the Upper House or Senate in the aftermath of the May election which denied the people's voice.
He said this was for a Move Forward Pheu Thai government to be formed. 
Mr Chaitawat suggested that there would be an inquiry into whether Mr Ari Alexander was a Move Forward Party member, but pointed out that this may be difficult as the party has up to 14 million supporters.
Not clear if Mr Ari is a Move Forward member, party leader Mr Chaitawat did not condone his actions but says matters will be resolved with legal changes
While again underlying that the Move Forward Party does not support discriminating against people based on their political opinions, Mr Chaitawat suggested that the resentment that currently exists in Thailand towards the Senate is something that should be addressed and would only be resolved when the rules relating to the election of a Prime Minister are finally changed under the 2017 Thai Constitution, Section 272.
This will happen automatically when the voting power of the Senate expires on May 11th, 2024. This should resolve the matter. 
'We don't know if he is a party member or not. Even though we do not support what he did, we must understand that there is a reason behind this. We do not wish to see this kind of political conflict. I think the solution is to design rules and regulations that make the majority of the people feel that their voice is respected and as it should be in a true democracy.'
The controversy over the restaurant incident also drew staunch conservative Thai Senator Somchai Sawangkarn to contribute to the debate.
He suggested that the Thai chef had broken both Thai and Icelandic law by denying service to the party, including Senator Pornthip.
He urged her to take legal action both in Thailand and Iceland but this call came before Senator Pornthip's return from Iceland in the last 24 hours.
Matter for dhamma says Senator Pornthip
Senator Somchai said that the younger man may also have acted in contravention of various computer laws, making his tirade an illegal act in both countries. 
On Sunday, Senator Pornthip appeared to want to put the matter behind her and contemplate what happened rather than pursuing legal action and potentially more controversy.
'In relation to being ejected from the restaurant in Thailand, I see it as a test of dhamma within myself. As soon as I found out he hated me so much, he pointed me out and cursed me.'
Senator Pornthip said she was somewhat stunned by the verbal assault from the young man and at one point looked around her to see who could be the object of his anger. 
She suggested that she would contemplate the matter personally and use dhamma to resolve it rather than resorting to the law.
Further reading:
Srettha's new 34-member cabinet takes power after audience with King in Bangkok on Tuesday
New start for Thailand: Srettha's 34-member cabinet endorsed by the King, ready to be sworn in
PM urges ministers to 'create a sense of unity' in the country as Thai King swears in new cabinet
Xi Jinping invites Srettha to Beijing for economic talks as he finalises his new cabinet lineup
New cabinet and government by mid-September as Srettha meets Prayut at Government House in Bangkok
Srettha Royally endorsed after being elected as Prime Minister and now moves to form a cabinet
Thaksin's Eight-year prison term commuted to One by the Thai King in a Royal Gazette bulletin
Thaksin helicoptered to Police Hospital at 3am after feeling ill says Department of Corrections
Police concerned for Thaksin's safety on Tuesday after he lands at Don Mueang and is arrested
Fears of political betrayal abound as Thaksin plans to touchdown at Don Mueang Airport on Tuesday
Thaksin and Pheu Thai have burned their bridges with its national 'family' and loyal support base
Chuwit says General Prawit Wongsuwan will be Thailand's Prime Minister at the end of August
Political crisis deepens as Court takes up petition, voting on PM off until at least August 16th next
Pheu Thai gives Move Forward the boot, promises a new Constitution and another General Election
Fate of Thaksin linked to political fate of the kingdom as Chuwit predicts his return deal is off at this time