Critical decision due on the long-standing but controversial 2017 contract to build an advanced nuclear-powered submarine in China comes with news of major economic problems in the Communist country and reports of political upheaval at the highest level of the one-party establishment.
As Thai Prime Minister Srettha Thavisin tours Hong Kong and a number Asean countries until Thursday, his next big trip will be to China, where a decision is due on Thailand's troubled purchase of a Chinese-made S26T Yuan class submarine amid a change in emphasis from the new government in Bangkok in foreign policy which is still seeking to foster strong relations with both the United States and China but which hints at a more global role for the kingdom and an emphasis on commercial advantage.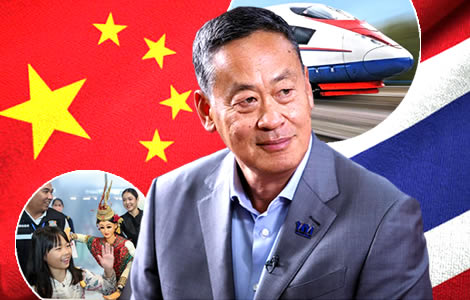 Prime Minister Srettha Thavisin is on a trip within Asia, which will take him to Hong Kong, Singapore, Brunei and Malaysia.
Details of the trip were given on Saturday by government spokesperson Chai Wacharonke.
The Prime Minister left by Royal Thai Air Force aircraft on Sunday morning for Hong Kong; the A320 Airbus departed the Royal Thai Air Force's airport Wing Six at Don Mueang Airport at 9 am.
Officials within the Prime Minister's office have described it as a trip to boost diplomatic relations between Thailand and its Asian neighbours, particularly those involved in the ASEAN community.
Kingdom eyes a global role beyond ASEAN and its unequal relationship in Asia with China as it seeks more robust investment and Western engagement
Observers of the new government have noted a change of emphasis from the government of General Prayut Chan Ocha, with Mr Srettha appearing to emphasise a more global theme, following his recent visit to New York to attend the UN General Assembly. 
In its policy statement dealing with foreign affairs, the government promised to balance the country's relationship with great powers. 
Most analysts see a shift from the previous government's policy, with Thailand moving more to emphasise its role as a global player rather than its position in Asia, particularly its alliance with China.
The kingdom also emphasises a new focus on developing its economic links, seeking inward investment and new trade deals.
That means more engagement with Western powers where Thailand seeks to hone its credentials as a good, although unaligned, global player.
Visit to Beijing has been postponed by a week
The Prime Minister was initially scheduled to visit Beijing from the 8th of October until the 10th. 
This week, the Deputy Foreign Minister, Mr Chakkrapong Saengmanee, confirmed that the trip had been rescheduled for the middle of October.
In a briefing on the visit to Beijing, Foreign Affairs Minister Mr Parnpree Bahiddha-Nu-Kara highlighted that one of the items on Mr Srettha's agenda would be the proposed purchase of a Chinese submarine for Thailand's Royal Navy.
This comes in the same week that the Prime Minister scuttled a programme by the Royal Thai Air Force to purchase a new fleet of Swedish Gripen jet fighters to be based in Surat Thani amid disturbing reports that a Chinese nuclear submarine has sunk in the Yellow Sea with the loss of all 55 personnel on board. 
The construction of Thailand's controversial nuclear-powered submarine from China has been delayed after the Shanghai-based shipbuilders, the China Shipbuilding and Offshore International Co (CSOC) of Shanghai, could not supply the German-made MTU396 engines as specified in the 2017 contract.
Ban placed on China means it cannot take delivery of MTU-396 engines built in Germany by a firm owned by Rolls Royce because of its naval expansion
The Royal Thai Navy, following a visit by its top leadership to China in April and intensive negotiations between it and the shipyard as well as broader representations and discussions with the People's Liberation Army Navy or the Chinese Navy, eventually accepted an S26T Yuan class submarine fitted with a Chinese CHD-620 engine, to be supported by extended warranty commitments backed up by the Chinese Navy and state. 
The 2017 price tag for the purchase came in at $369 million or ฿13.5 billion, with the delivery of the MTU-396 engines built by a Rolls-Royce affiliated company seen as a critical specification.
A ban placed by Germany on the delivery of such engines because of heightened tensions between Western powers and China in recent years and the growing expansion of the Chinese Navy made it impossible for the Shanghai based contractor to deliver the submarine as specified.
The growth of the People's Liberation Army (PLA) Navy comes with an aggressive Chinese foreign policy, especially over expanded claims to the South China Sea and a more forceful approach to Taiwan, which has led to heated geopolitical tensions between China and Western powers as well as Indo Pacific allies of the United States.
Although the Navy has finally recommended acceptance of the submarine with the Chinese-made engine, Thai Prime Minister Mr Srettha Thavisin, on taking office, suggested that he would reach out through his own office to German authorities to see if some concession could be made on supplying the German engines. 
It is understood that such an accommodation has not been possible.
Disturbing reports of the loss of a Chinese sub
The reports in recent days of a disaster involving a Chinese submarine, a news story which is vehemently denied by the Chinese authorities in Beijing, further add pressure on the Thai prime minister at home linked with the controversial purchase of the submarine for the Royal Thai Navy. 
Mr Srettha's government is under severe financial pressure as it strives to deliver its new government policies of subsidised energy and stimulus giveaways while dealing with an economy which is now only projected to grow by 2.7% this year.
Officials with the Prime Minister's Office also suggest that the meeting with Chinese authorities, which it is thought will include a meeting with Chinese President Xi Jinping, will touch on China's Belt and Road Initiative, including Thailand's participation in a rail programme linking Laos with Singapore, which has been dogged by slow progress.
Slow progress on Hi speed train link running through Thailand from southern China through Laos as part of the Belt and Road plan pioneered by Beijing
The previous Thai government insisted that any capital programme involving a high-speed rail link be financed from its own resources.
In June, it announced that the first phase of this project, a 251 km line with six stops linking Bangkok to Nakhon Ratchasima, will only be completed by 2026 and will be operated by a Fuxing Hao CR300AF train supplied by China.
Part of the agreement between China and Thailand on the rail project is that Chinese authorities will share knowledge and technical know-how on how to operate such high-speed railways and their construction, including materials and design specifications.
The slow progress on the initiative, which was first mooted by Thai authorities in 2010, is likely because of the prudent management of finances associated with the previous government's policies and a reluctance to incur debt or liabilities towards China. 
Thailand seeks more Chinese tourists to drive its foreign tourism recovery even as exports to China are down along with a worldwide trend this year
The push in China by the government to find more tourists to spur the kingdom's economic recovery was damaged by the Siam Paragon Shopping Centre mass shooting last Tuesday.
Thai representatives to Beijing and Chinese authorities will also touch on Thailand's need to attract more Chinese tourists or visitors to the kingdom. 
The fallout from the murder of a Chinese tourist by a mentally ill 14-year-old on Tuesday last at Bangkok's upmarket Siam Paragon Shopping Centre, in particular, has received substantial negative publicity in China.
With the tacit support of some Chinese authorities or agencies, a campaign was already being waged, discouraging Chinese people from travelling abroad and warning them of the dangers of cybercrime and criminality in Southeast Asian countries, including Myanmar, Thailand and Cambodia.
There is also growing concern about developments in China, with signs of dysfunction in the government of President Xi Jinping and tumbling confidence in Thailand's northern neighbour and its economy.
There are reports of a power struggle at the top of China's ruling Communist Party despite what was thought to be a consolidation of power by President Xi Jinping at the 20th National Congress of the Communist Party in October 2022.
Exports to China have fallen since 2021, even with the kingdom now accounting for a third of all fruit sold in the Communist country with Thai factories idle
In 2022, Thailand's exports to China dropped substantially from 2021, a reversal of the six-year trend with $56.62 billion in exports to China, valued at ฿2.05 trillion approximately.
This dropped nearly 10% from the previous year when the figure was $62 billion or billion dollars or ฿2.3 trillion.
Thailand's exports in 2023 are projected to slump by as much as 1.5%, with manufacturing facilities only using 58.5% of capacity.
Thailand only exported $20.43 billion to China up to the end of July 2023, a significant proportion of these exports being fruit.
Thailand now supplies up to one-third of the Chinese fruit market.
This would leave the Kingdom on target to only export $35 billion to China this year, which would be a massive 43.5% drop on the figure seen in 2021.
Reports from China suggest a major upheaval not only within the economic sector but the political administration of the country with unclear data
It is not clear what is happening within China's economy due to constraints imposed by the Communist Party on reporting data and also the well-known fact that such data is not reliable, being based on reports submitted by Communist Party officials in a country where political ideology and right-think is increasingly dominant over economic imperatives.
At the end of September, Thailand's Ministry of Commerce noted that amid signs that Thailand's exports were beginning to pick up for the first time in 2023 based on data from August, China's exports for the same month dropped by 8.8% compared to 2022.
In the meantime, Chinese visitors are reported to be booking increased flights to Thailand since the announcement of a visa-free facility for visitors coming from China and Kazakhstan at the end of September.
There are mixed reports in the aftermath of Tuesday's tragedy in Bangkok, with one industry leader noting that there had been hotel cancellations in the capital by Chinese visitors.
At the same time, the Director General of Phuket International Airport, Mr Monchai Tanode, predicted that in November, the holiday island, one of the world's top tourist destinations, will return to between 80% and 90% of pre-pandemic arrivals.
Data coming from Phuket and the Phuket International Airport regarding Chinese arrivals from September is crystal clear, however, and quite positive
In September, Phuket welcomed 44,680 Chinese visitors, making China the number one tourist point of origin for the province, followed by Russia with 41,180 visitors, and in third place, Australia with 22,897 arrivals.
In fourth place was India, with 19,127 travellers; fifth was Malaysia, which sent 14,290 tourists. 
To cope with the rising numbers of arrivals by air, Mr Monchai predicted that Phuket International Airport would be working round the clock during the high tourism season and projected an eventual arrivals figure of 87% of that seen in 2019.
The airport manager disclosed that the international airport, which has been extensively renovated and is still expected to spend ฿6 billion on its development, will end up welcoming 18 million visitors for the year.
Further reading:
New cabinet and government by mid-September as Srettha meets Prayut at Government House in Bangkok
Srettha Royally endorsed after being elected as Prime Minister and now moves to form a cabinet
Thaksin helicoptered to Police Hospital at 3am after feeling ill says Department of Corrections
Police concerned for Thaksin's safety on Tuesday after he lands at Don Mueang and is arrested
Move Forward Party's good election result leaves uncertainty as to who will form the government