The macabre yet poignant sight of Finnish man strewn from his customised and wheelchair accessible blue motorbike has saddened many foreigners in Thailand. It is believed that the man was disabled and his motorbike was well known in the Bang Chang area of Rayong province.
A sad sight near a temple in Pattaya this week caught the attention of many foreigners in Thailand when a middle aged Finnish man was found dead on his chopper motorbike flying the skull and crossbones. Thai police are investigating the circumstances.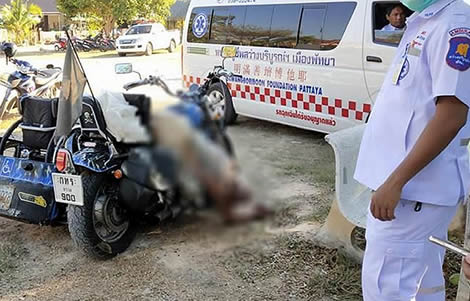 Thai police in Pattaya are investigating a grim discovery. On Tuesday, members of the public in Banglamung came across the collapsed body of a Finnish man still on his motorbike. They found the man near the well known Boonnakanjanaram Temple in the district.
Finnish man thought to be in his early 50s
A emergency response unit attended the scene as well as Thai police. It is thought that the Finnish national was in his early 50s. He was wearing no clothes on his upper body. His motorbike was a blue, elaborate chopper which had been customised for wheelchair use. It is understood that the man was disabled
Reports the man was known in the Bang Chang area of Rayong province for his distinctive motorbike
It is reported that the Finnish man and his sporting, wheelchair adapted, motorbike was a well known sight to many foreigners in the Bang Chang area of Rayong province famous for its nightlife and beautiful beach. Rayong province is in the east of Thailand and approximately 60 km from Pattaya.
The discovery of the dead man on his distinctive motorbike has saddened many foreign online commentators. Thai police could offer no further details on the incident except to confirm that he was a national of Finland. The body was remove to Banglamung Hospital and it is thought that the police will now seek to ascertain the cause of death.