No money was taken from the cash dispenser machines. Police consulted with the banks before pressing attempted burglary charges against the 36-year-old local man arrested on Thursday.
A 36-year-old Thai man attempted to rob three ATMs in a district of Bangkok early on Wednesday morning and was quickly arrested by the police the next day at his home. The man seriously damaged the cash machines but failed on each attempt to gain access to cash.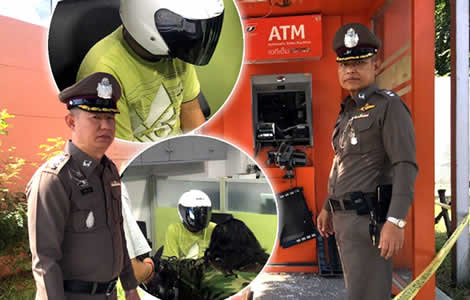 On Thursday, Thai police in the Bang Bon district of Bangkok executed an arrest warrant issued by a Thonburi court against a 36-year-old man who in the early hours of Wednesday morning 9th October went on a rampage in the district targeting ATMs.
Captured the lively interest of local police
Riding on a white and pink Yamaha Fino motorbike with no number plate, 36-year-old Prakit Wahprakon attempted to break open three ATMs in the area, two owned by Kasikorn Bank and the other by Thanachart Bank.
Despite causing extensive damage to the front of the cash dispensers, the ATM burglar came away three times with no money for his aggressive efforts except the lively interest of the Thai police who soon heard reports of his early morning capers.
Investigating officers found 3 damaged ATMs
Police officers were initially alerted to the damage done to one ATM owned by Kasikorn Bank. The investigation of this robbery then led to the discovery that two other ATM machines had also been seriously damaged. The robber had used a crowbar in his attempts to access money. CCTV footage from the three localities where the ATMs were located allowed the police to track the motorbike bandit on his way home.
Verified his identity before seeking a warrant
Once police officers had verified his home address, they then set upon verifying his identity before a warrant for the robber's arrest was applied for. 
The man was arrested on Thursday by investigation team officers led by Colonel Amnat Harnchan of Samae Dam Police Station.
There are reports that the arrested man worked as a motorbike taxi in the area.
Said he was semi-conscious after an insulin shot
Mr Prakit did not waste police time when taken in and quickly admitted that he was the culprit but explained that he was both drunk and semi-conscious after having administered an insulin injection to himself before the alleged crimes took place.
He told police that he was not conscious of his actions while he undertook his fruitless but highly criminal escapade. He pointed to CCTV footage of the incident to demonstrate to the police that his pants were put on back to front to support his claim that he acted unconsciously.
He explained that he had consumed 6 to 7 bottles of beer near his home and discovered his blood sugar level was too high at 400 before taking an insulin shot. He claims this is what triggered his bizarre behaviour.
Police understood to be pressing burglary charges
Understandably, police were less than impressed with his explanation given the extent of damage to the ATMs. They also consulted with the banks involved. Investigators moved to conduct a medical examination of the accused and to check his background and medical history.
It is expected that legal proceedings will be commenced against the man for three counts of attempted burglary.
Further reading:
Party over for 45 year old composed armed robber who took ฿4 million in Bangkok gold shop raid
Thai man in debt turned to armed bank robbery as a way out. Tearful wife says he was a 'good' man
Highway robber arrested and charged on Ko Samui led double life as hotel employee on the island