Ongoing pandering to China and a mild but clear anti-American agenda pursued by Thai authorities such as attempts by the Bank of Thailand to encourage trading in the Yuan and Southeast Asian regional currencies in a de-dollarisation campaign, help to undermine confidence in Thailand among both American and Western economic investors who are taken for granted with the kingdom on the verge of stepping back towards regressive politics after the May 14th General Election.
The Bank of Thailand, this week, was again urging business concerns to make further use of local currencies including the Chinese Yuan. The campaign, designed to temper the volatility of the baht, has shown itself to be ineffective since 2011 with only 1.2% of trade carried out in the Chinese currency last year. In the meantime, the swings in the baht which saw it hit a 16-year low at the end of September 2022 are caused primarily by decisions taken in Washington DC, not Beijing and the vicissitudes of the American economy, most notably US interest rates. Nevertheless, Thailand's business community and economic planners are failing to come to terms with the decline in China's economy which has been impacting the kingdom since 2017 while in the aftermath of the May 14th General Election, its political trajectory threatens to move away from democratically aligned countries toward the authoritarian axis headed by Russia and China.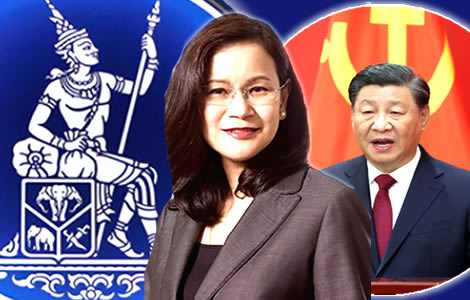 The Bank of Thailand is emphasising its campaign to encourage businesses, both exporters and importers, to use local currencies where possible in a campaign to reduce the volatility seen in trading of the baht against the US dollar in recent times.
The campaign to encourage the use of regional currencies including the Yuan and the Malaysian Ringgit has been stepped up although it has been ongoing for over a decade. 
Thailand joins other countries worldwide in trying to replace the dollar positioning itself in opposition to the US economic and political dominance
The assistant governor of the Bank of Thailand behind the move made it clear this week that efforts to replace the dollar as the key trading currency linked with the Thai economy will take some time if ever, to bear fruit while insisting that it was the right thing to do.
'It's not easy to reduce dollar usage as it's the most liquid and most widely used currency,' explained Alisara Mahasandana in Bangkok last week. 'It also doesn't mean we should stop pursuing this programme. At least we should offer them an alternative to help mitigate rising foreign exchange risk.'
Since 1944 and the Bretton Woods conference which shaped the world's financial structure for the post-World War Two international economy with key changes in the 1960s and 1970s, the US has dominated the world's commerce in an equation that ultimately boils down to confidence, military might and business dynamics which has kept the US economy in its leadership position.
It is a position the United States is determined to keep and is linked to the current geopolitical conflict in which the Biden White House has divided the world into countries with democratic freedoms and human rights and those which are authoritarian.
Thailand is an outward-looking economy which relies on free trade and a strong foreign tourism sector
Thailand's economy is an outward-looking one which benefits from free trade.
It is very much dependent on either exports or income from foreign tourism with the country's export sector alone in 2021, comprising 58% of the country's GDP while technical foreign tourism is 12.5% but accounts for up to 20% of GDP on a wider basis and 25% of employment, much of it not within the legitimate economy.
The Joint Standing Committee on Commerce, Industry and Banking (JSCCIB), an influential Thai business group, in its recent assessment of the Thai economy,  predicted GDP for the kingdom should still grow by between 3% to 3.5% but assumed a contraction in exports of 2%. 
Responding to suggestions by the export sector and more bullish Thai economic planners that exports could still be expected to grow by as much as 1% this year, a spokesperson for the business group said that a zero growth outcome would be the best that could be expected and this would be very much dependent on Thailand's rice exports benefiting from a recent export ban imposed by India.
Already projections include an increase in rice exports from last year's tonnage to a level of 8.2 million compared to 7.9 million seen the year before.
Thailand and China are both facing a severe problem with ageing populations among other key challenges
Over the last year, including a visit to Beijing by Bank of Thailand Governor Sethaput Suthiwartnarueput, there have been ongoing discussions between the People's Bank of China and the Thai Central Bank linked with encouraging the use of the Yuan but the question has to be asked if this is pandering to China which is engaged in a growing geopolitical test of wills with the United States which directly impacts the Thai economy.
This can be seen by Thailand's lack of GDP growth since 2017 when US President Donald Trump initiated the current economic war with China while both countries face an extremely serious demographic challenge with rapidly ageing workforces.
The country's trade in the Chinese Yuan as a share of its overall trade was only 1.2% admittedly a significant increase from 0.3% in 2015 but it is a stark reminder of the dominance of the US dollar despite China being Thailand's largest trade partner and investment partner.
China combined with Hong Kong was the kingdom's largest investor in 2022, otherwise, it was Japan
Last year, according to committed projects reported by the country's Board of Investment (BOI), China was the largest inward investment partner according to approved projects although figures from the Ministry of Commerce suggested that Japan instead was Thailand's largest investor with a figure of ฿39.5 billion compared to ฿23.3 billion from China. 
These figures included investment of ฿18.2 billion attributed to Hong Kong, the former British colony which is a territory forming part of Greater China and may explain the pronouncement by the investment board.
The programme promoted by the Bank of Thailand last week to encourage more use of local currencies has been in place since 2011.
It has had muted success simply because there is a fear of interfering with the day-to-day economic activity of traders and the risk-averse nature of businesses who despite best practice advice from the central bank, are more confident of the US-backed currency. 
Thailand saw a current account crisis from 2021 before its foreign tourism economy recovered in 2023
The Bank of Thailand has been trying to build this policy into its efforts to increase digital banking and cross-border digital platforms in coordination with authorities in China, Malaysia and Indonesia. 
Thai authorities are thought to be extremely sensitive to the reversal of the country's current account status over the past three years until the beginning of 2023 when consistent current account deficits were run up due to the absence of the foreign tourism industry on which Thailand is very much dependent for both employment and the maintenance of country's healthy foreign reserves.
Despite reports of a strong recovery this year of the critical foreign tourism sector with the kingdom still targeting 30 million visitors, it has become clear that most of these visitors are from Asia and are lower-spending travellers.
This year, the average spend is approximately ฿42,000 per head compared to ฿47,895 during the last record year seen by the Kingdom in 2019, a reduction of 12.3% whereas other countries with large foreign tourism industries have seen both a return to visitor numbers above figures seen before the pandemic and with higher spending tallies.
Heavy-handed government decision-making during pandemic undermined confidence of top airlines
The data shows clearly that the country's industry was permanently damaged by the excessive nature of the pandemic shutdowns including arbitrary government decision making which undermined the confidence of the international airline industry.
This is now ensuring that flight connectivity remains at only 65% at best when compared to the pre-pandemic era with even this level under threat as airlines seek to maximise profit in terms of load factors and price per ticket leaving fares to Thailand for long haul points of origin up by 20% to 30%.
The reversal of the current account performance up to the end of 2022 was the main reason that the Thai baht hit a 16-year low against the US dollar at the end of September 2022 when it breached the ฿38 to the dollar rate while the Thai economy's ties with China are the reason for significant gains for the baht against the dollar in the last twenty years.
Thailand's economy is over-reliant on China which has developed long-term economic problems
Over the past two decades, Thailand's economy has become very much dependent on growth due to the rise of China which has suffered a severe setback due to the COVID-19 crisis with its reported reopening this year failing to ignite and instead, in recent months, the communist country's long term economic problems heralding a significant decline in China's fortunes.
It is coming amid an increasingly severe trade and financial war between China and the United States aided by its allies, which is seeing inward investment not only dry up into China but also beginning to reverse itself and the country being cut off from advanced technologies. 
A recent report by leading US bank JP Morgan has highlighted severe problems with the Chinese economy and a lack of liquidity within the country's banking system which is being driven by a lack of confidence among the population with access to funds who are hoarding money.
Many analysts  attribute this phenomenon to distrust caused by the authoritarian nature of the government in Beijing.
China is in the midst of a banking crisis linked to its municipal authorities and regional banks which is fundamentally contributing to a continuing malaise in the property sector which, before the current emergency, accounted for 25% of China's GDP.
JP Morgan highlights falling price of secondary homes as 'alarming' at this stage given the problems faced in the Chinese property and banking sectors 
The US bank highlighted several worrisome developments including a fall-off in the value of second-hand properties in the second quarter of 2023. 
'An alarming signal is that secondary home prices have started to fall again in some cities in recent months after a tentative recovery in the first quarter of 2023,' a bank report noted. 'If secondary home prices may be formed, intensifying both macro and financial risks. Hence, it is critical to stabilise the housing market as a near-term policy priority, as emphasised by the July Politburo meeting.' 
The JP Morgan update did highlight some positive aspects of China's stalled economy including the large potential for urbanisation with 491 million people still living in rural areas out of 1.41 billion according to 2022 figures.
The country still has a large but underperforming manufacturing base while its universities are producing a large number of STEM graduates.
The country produced 4.7 million in 2016, more than India and threatened to overtake the United States. Both situations may have been reversed since then.
Confidence in China has been eroded
However, the counter-argument is that without inward investment and external confidence in China which has been eroded by the country's governance and its troublesome policies both within China and without including a severe lack of credibility associated with its economic data, the situation will continue to unravel further.
The Communist country faces an increasingly bleak future as it is more and more cut off from international capital markets.
This is a problem that now also impacts Thailand with a large swathe of the kingdom's business sector this year pinning hopes on a recovery in its northern neighbour's economy, which has not materialised.
In addition to this, Thailand is facing the prospect of rising interest rates, which continue to be driven by US policy which, in turn, exacerbates its mounting problem of private sector debt and rising bad debt levels especially in the automotive sector.
Thailand is moving at a pace away from the United States while flirting and courting the international authoritarian alliance of China and Russia
Thailand has its own problems with rising interest rates, still below international norms and a ballooning bad debt rate on auto loans which stand at ฿7.8 trillion on the balance sheets of its banks.
This week, the Bank of Thailand raised the benchmark borrowing rate again by a further 25 basis points to 2.25% which is significantly below that in the United States and its regional peers with the basic borrowing rate in the United States currently running at 5.5%. 
Worrying outcome of the May 14th General Election
There is also the issue of the May 14th election which had been hailed by some as an opportunity for the country to demonstrate its democratic credentials in contrast to countries like China, Russia and Saudi Arabia.
It has turned into quite the opposite, in fact, with conservative forces in Bangkok reasserting their power through the unelected Thai Senate while Thai business interests court investment and trade from authoritarian regimes while taking democratic and Western economies for granted.
This could be a worrying development which clearly shows Thailand's establishment sliding towards the forces of authoritarianism in a world that is increasingly divided between democratically inspired economies and those which operate based on realpolitik, often being driven by command and control type economic policies which are currently undermining economic development in China and could, if things take the wrong course, also undermine the Thai economy as they did so disastrously during the Covid crisis, a catastrophic setback for the country, which it has not yet fully recovered from.
Further reading:
Chuwit says General Prawit Wongsuwan will be Thailand's Prime Minister at the end of August
Political crisis deepens as Court takes up petition, voting on PM off until at least August 16th next
Pheu Thai gives Move Forward the boot, promises a new Constitution and another General Election
Fate of Thaksin linked to political fate of the kingdom as Chuwit predicts his return deal is off at this time
Fears grow that Thaksin has become a pawn for conservatives to break the 8 party democratic pact
Prime Minister, business leaders oppose strategy to countdown the clock on the Senate's power
PM votes suspended indefinitely as Constitutional Court asked to review last vote in parliament
Pheu Thai meets Anutin as Move Forward's Pita turns up the pressure on its conflicted leaders
Senators to the fore as tide favours a conservative fix to install a more mature next government
Thailand is facing a deep political crisis as Pita loses key vote and top court takes up complaints
Plan is to rally parliament behind the people's will to elect Pita Limjaroenrat as Prime Minister
Move Forward leader says Pita will be PM despite the rumour mill and some vociferous senators on the right
Pheu Thai may face a terrible dilemma as outgoing government parties still aim for power in PM vote
Wan Noor elected unopposed as House Speaker, Move Forward Party nominee for deputy wins vote
King and Queen open parliament amid uncertainty as to Tuesday's vote on the Speaker of the House
Breakthrough deal could see either Pita or Srettha take job as Thailand's 30th PM on July 13th
PM's soothing words for frayed nerves as he says he will continue his role up to the next cabinet
Baht falls to 7-month low as unease grows over chances of Pita Limjaroenrat being elected as PM
New PM in July a turning point for the Thai economy in 2023 which could still see 4% GDP growth recorded
New PM in July a turning point for the Thai economy in 2023 which could still see 4% GDP growth recorded
Scorching electricity costs may sear the economic recovery with a new threat to reduced inflation
Incoming tourism growth slows amid visas, airfares and attacks on Chinese nationals which have caused jitters
Economic recovery shaky despite strong foreign tourism as global economic outlook deteriorates
Chinese kidnapping victim held by Immigration police and facing extradition over fraud case
Recession fears rise as growth projections are cut and export output continues to decline in 2023
Good news on foreign investment at the start of 2023 fails to mask stunted competitiveness issue for economy
Economy faces export clogs with rules in China and 'green imperialism' from European Union
Vital European Union free trade deal with Thailand with stiff demands from Brussels to take time
Thailand's financials are sound but the economy is exposed if another world banking crisis emerges