The media pitch and fever rose higher and higher last week until finally a Thai business man and loving father Anont Rotthong withdrew his marriage offer. It comprised of ฿10 million in cash, a house and a flourishing business with 10 trucks that buys up to 50 tons of durian fruit daily from local farmers, to the man who captured his daughter's heart and who married her. Anont initially thought that the offer would be seen by perhaps no more than 50 friends and associates on Facebook but by last Wednesday, when he was forced to cry halt, there were over 100,000 eager suitors in Thailand and in mots countries throughout the world knocking on his door. The prospect of chaos and personal injury at a proposed April 1st showdown and growing media coverage convinced him on Wednesday that he had no alternative but to call off the deal. It is now being reported, however,that a business partner has proposed a match between the durian tycoon's beautiful daughter and his own young son with another fortune thrown into the bargain, to give the married couple an even better start in life. 58 year old Anont Rotthong has himself underlined the genuine nature of last week's offer by saying that he is still willing to give the same package to the lucky man who eventually marries his daughter.
It began as a Facebook post by a father looking to spark local interest among friends in finding a suitor for his daughter's hand. By the beginning of last week, it became an internet and media sensation that looked like quickly getting out of control. Anont Rotthong's hearty offer of ฿10 million, a flourishing trading business, a home and the hand in marriage of a beautiful, educated woman drew a roaring response from both within Thailand and without. By the time he had to rush to call off the offer last Wednesday, there were over 100,000 clamoring men and media organisations mobilizing for an April 1st market showdown that could have spectacularly disintegrated into disappointment, jealousy and perhaps mayhem. The cancellation of the social media offer leaves us with a story yet to be told and that could yet have a very happy ending.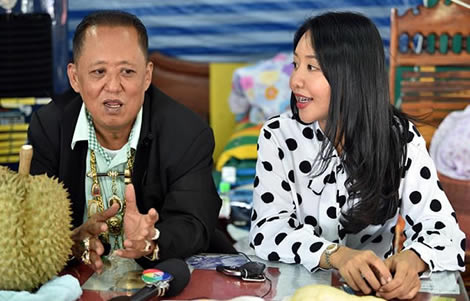 58 year old durian fruit trader and wealthy man, Anont Rotthong, was perhaps the biggest story in Thailand last week overshadowing election controversies and even the disbandment of a Thai political party. The story of his genuine and heartfelt offer of the hand of his beautiful daughter and a good financial start for the husband that won his daughter's heart captured the imagination of men in Thailand and all over the world. The international media in western countries, Asia and China all got on board. There was serious talk and consideration of media charter flights and TV crews being readied, for an April 1st market showdown meeting that Mr Rotthong was proposing earlier last week to look prospective suitors for his daughter's hand over.
Things get too much for genuine Thai father seeking the right man for his daughter
Indeed, this was the problem for Anont Rotthong who gave open and often probing media interviews up until Wednesday this week. This was the point when things simply got too much. The perplexed business man called off the offer fearing chaos, confusion and perhaps even physical harm to others if the process continued to gain momentum.
Young Thai woman who does not know she is beautiful gets marriage offers from all directions worldwide and in all languages
Since his offer the week before, the media frenzy build up in waves. His phone never stopped ringing with enthusiastic suitors of his daughter's hand coming from all directions and in all languages. Many of the would be suitors were even prepared to forego the financials inducements and expressed themselves in love with his pretty daughter, 26 year old Kansita who, for some unknown reason, does not think she is particularly beautiful. Amazingly, it also emerged that the beautiful young woman was a virgin. This may shock many western readers but many, if not most Thai girls and women believe in marriage as a sacred bond and do not engage in sexual activity before sleeping with their husbands.
However, even before the shock withdrawal of the offer, it was not all good news for the would be grooms or love suitors. Kansita revealed to the media that she had ideas of her own about what might happen to the ฿10 million her father would give the couple. 'I'm going to keep the ฿10 million baht. I might use some of it to have plastic surgery in Korea!' she told reporters, only half jokingly. This would surely not be a wise move as the young woman is already a natural beauty. Kansita did explain what her father was looking for. 'My dad wishes well for me. He wants my husband to have the same personality as my brothers, which is a good, diligent man who loves his family.'
Negative reaction to the withdrawal of the offer by the Thai businessman perhaps misplaced
Inevitably, the enthusiasm the offer generated has given way to negativity and sniping after it was rescinded. Some people have even accused the dynamic entrepreneur of using his daughter and the pretext of marriage as a free method of promoting his business. In Thailand, such claims can quickly get serious. One lawyer has even suggested that some suitors could file a complaint with Thai police which is how even civil matters begin in Thailand. This seems a bit unfair however. Anont had invited all interested suitors to meeting at a market on April 1st but in fairness to the business man, he had never asked for anything from anyone and called off the proposed event when the level of interest got out of control and began to pose a real risk of creating a public disturbance or safety issue.
A reported up to 100,000 offers of marriage for beautiful Thai woman after her father's Facebook proposal captured the attention of millions
The amazing offer, announced directly on Facebook the week previously, entailed the hand of his daughter in marriage, a house, two thriving durian markets with 10 trucks and ฿10 million in cash. Mr Rotthong proposed to trial the successful candidate for three months. If he was satisfied with the man and if the man loved his daughter and she reciprocated, he planned to hand over the business to her new husband. However, by last Wednesday, the strain of intrusive media questioning not to mention the endless stream of phone calls from eager suitors not only in Thailand but nearly every country across the world, began to worry the canny and successful businessman. Reports suggest that as many as 100,000 prospective suitors found a way to make their interest known with calls and emails not only to Mr Annont and his business but Thai and international media outlets.
Scene was being set for an international media event in Thailand which could have turned chaotic
There were credible reports of international media making preparations to send reporting crews to Thailand. One website in China recorded over 100 million views on a single article written about the story of the Thai millionaire father looking for a groom and lover for his daughter when it was translated into Chinese. This was on just one sole media outlet and one single news report alone. The story really took hold in agricultural farmlands in countries such as India, Pakistan and even Africa not to mention handsome Thai men. As many as half the Thai population still live on the land. The offer attracted many young Thai men seeking their fortune and pretty bride into the bargain. The were also men from western countries who applied, such as German medical worker who promised to care for Kansita for the rest of life or an American, a hard headed business man, who said he would marry the young Thai woman and didn't need her father's money at all as he had his own. This, he felt was the bottom line and made him the right man for the job. The lore and legend of Thai women and their famed beauty also played a part as the story. It played like a modern day echo of old legends of powerful kings seeking an honest hand for a much loved princess.
Durian fruit millionaire, though his facebook message, would just be seen by close business friend in Thailand's Chumphon province
In spite of the criticism and negative suspicions, many people believe that the business man was sincere and indeed that he may have been right to call off a situation that could have quickly spinned out of control on many fronts, not least the media hype. The successful businessman simply wanted to retire and see his daughter married to a man he approved of. Anont himself said this week then when he first used the social media platform Facebook, he thought that his message would be only seen be up to 50 of his close friends and business contacts. This was the real target of his offer, it appears. He was simply not prepared for the huge media reaction and its impact on his business, his daughter and his family.
Better for love to take its natural course reflects Thai father who wanted to make a deal
As he called the offer off last week, he reflected that, in hindsight, it is probably better for these things to be let take their natural course. He had become deeply apprehensive of what might happen if thousands of potential suitors descended on the market place he had designated on April 1st and subsequently became jealous, angry or dissatisfied. This would only be natural for young men who who have lots in the battle for love. A religious man himself, this deeply concerned him. Anont offered his apologies to everyone who may have felt let down by his withdrawal of the offer which, for a short time, uplifted the hearts of some during the course of the last week in Thailand and all over the world.
Young university trained durian Thai farmer with university training ticked all the boxes for the woman's hand in marriage
One potential Prince Charming who emerged last week before the offer was called off was 28 year old Premyosapol Khongsai or 'Geo' to his friends. The right age to Kansita at 26, handsome and a market gardener trained at Thailand's prestigious Thammasat University, he had strong hopes of being a contender to marry the young woman and take over the flourishing business. He had given up an office job in Bangkok some years ago and retired to work on the family farm of 400 to 500 rai in Trat province. There, as well as growing staple Thai crops such as rubber and palm, he had also grown the durian fruit. Impressive credentials indeed.
Thai suitor planned to contact Kansita through social media personally to press his suit
Premyosapol certainly thought so. 'When I look at Mr Anont, I see many aspects of myself,' he said online. He added that he was not afraid nor a stranger to hard work. However, he was concerned about attending the public meeting in an market place with other suitors. This was not dignified he felt. His plan was to make contact with Kansita himself via social media. This is, in fact, anyhow how many love stories, romances and marriages now begin in Thailand.
However, Premyosapol later withdrew his name when his potential suit was given the thumbs down on TV by none other than Anont Rotthong himself. Shown pictures of Premyosapol or 'Geo' he said that the young man was far too good looking to marry his daughter. This is a common refrain among many older and wise Thai men and women who fear that a handsome man will soon be found 'like a butterfly' flitting from one beautiful Thai woman to another. The number of beautiful women in Thailand is perhaps more than any other country and this has given birth to this well used judgment call and bit of wisdom among older and knowledgeable Thai people. 'In my eyes, he fails to pass,' said Anont as he delivered judgment. Kansita was more positive saying: 'I think he's cute.'
Businessman's friend's in Thailand's Chumphon province has defended his quest to find love for his daughter saying it was genuine
Friends have rallied around Anont Rotthong following his decision to withdraw his offer. They warn against any negative interpretation of his motives. This included a former mayor in the province of Chumphon who was sure the 58 year old businessman had genuinely good intentions when he announced the offer.
Atthaya Wiriyawat is a an ex mayor of the municipality of Lang Suan. He is also a business partner with Anont in one of his durian markets at Uay Chai. He has known the man intimately for 30 years. 'While he has a wild streak, he is genuine. I am sure he was appealing to his friends in the industry, in the manner of people from the South who try to persuade the young sons of their friends to marry their daughters and join the family.'
Friend wanted to interest Anont in a match with his younger son and made an offer of his own
The ex mayor was disappointed to hear that the event to host prospective suitors for Kansita had been called off and proposed that it should be held at the Uay Chai market where he said business traders would have been delighted to play host and even provide hospitality to the candidates for the young woman's hand. He would have been overjoyed to participate in such an event where his friend of long standing would meet his future son in law.
The ex mayor had an offer of his own. 'I was preparing to get my youngest son to apply. If Anont had chosen him, I was prepared to throw in family assets worth tens of millions to compete with him on their wedding day,' he told the press last week.
Successful businessman and loving father deserves a happy ending to his story and quest
During the course of last week's media frenzy, it also emerged that the self made wealthy man had once lost his business during Thailand's disastrous 1997 financial crash which saw a huge devaluation and many Thai people plunged into financial chaos and ruin. However, the determined Mr Rotthong built back up his durian fruit trading empire to be stronger and bigger than ever, starting again from nothing. His company is now reported to buy 40 to 50 tons of fruit a day from farmers in three southern Thai provinces. For anyone who doubts the genuine nature of the original offer, Anont Rotthong revealed another bargain at the closing of the media coverage of the affair. He will still honor his promise to the lucky man who wins the hand of his beautiful and well educated daughter Kansita Rotthong.
In fact, at one point last week, the wealthy Thai man promised all his assets to the man who could make his daughter happy. It is a story yet to be told and let's hope it has a happy ending because it appears to be a genuine one and all in the pursuit of love.
Thai man offers ฿10 million and thriving business to man who wins his daughter's hand in marriage