This is the second such incident in the last three months or so, involving an attempt to use a drug mule and hardened crystal ice molded or concealed as everyday products, to smuggle the drug out of Thailand. Both incidents are linked to the Japanese yakuza crime syndicate. Thai police believe that the 57 year old Japanese man arrested is linked with other criminal activity associated with illegal money lending and drug dealing, both within and without Thailand. The police were called in, as with the case in December, by the Japanese embassy when a Japanese national came forward to voice concern.
Thailand's elite Crime Suppression division of the Thai police on Wednesday gave details of the arrest of Japanese man, a former member of the feared Yakuza crime syndicate in Bangkok. It follows an attempt to lure another Japanese national into transporting crystal ice drugs disguised as golf clubs back to Japan. The man arrested has lived in Thailand for 19 years. Thai police believe he is involved in drug crime and illegal money lending in the kingdom. It has been revealed that the former gangster, at one point, participated in yubitsume or the amputation of a finger as atonement to the crime syndicate before he left the organisation.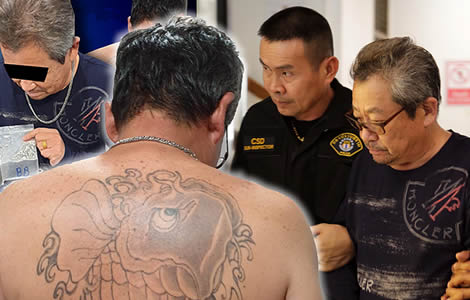 A former member of the infamous Japanese Yakuza crime syndicate has been arrested by Thailand's elite Crime Suppression division in Bangkok after he allegedly attempted to lure a friend into becoming a drugs mule.
The 57 year old was arrested by Thai police on Tuesday at his condominium in the Lumpini areas of Bangkok. Thai police held a news conference on Wednesday to reveal details of the alleged crime and their ongoing investigation. It follows a similar incident in early December last year when a Japanese man on a free, paid for, but thought to be bogus holiday tour to Bangkok was asked to transport a suitcase belonging to another traveler on to China on his itinerary which would have taken him to Frankfurt in Germany. The Japanese man was staying at hotel in the Sukhumvit Soi 2 area in the Klong Toey district of the city when he was disturbed by a polite request from the free tour company whose offer he had availed of. Thai police later arrested an Iranian national, Mohamad Ali Ezazi, who delivered the suspicious suitcase. They found nearly 10 kg of the crystal meth drug in hardened, plastic sealed shirts stored inside and within the frame of the luggage. They later discovered a similar quantity of the same drug at the Iranian's Bangkok apartment which they raided. On this occasion the luggage was a set of golf clubs.
Thai police called in by the Japanese embassy as was the case in December last with another Yukazu drug mule attempt on a tourist
The Chief of the Crime Suppression division of the Thai Police, Major General Jirabhop Bhuridej, told a Wednesday news conference that police had been asked to become involved on Tuesday the 5th March. Just as in the last incident, it followed a representation from the Japanese embassy in Bangkok.
Japanese man was troubled after friend asked him to bring golf clubs back to Japan
Another Japanese man, thought to be a friend of Mr Ono, contacted the embassy after he became troubled by Mr Ono's unusual request that he carry some luggage belonging to him home to Japan. Kazuhiko Ono brought the golf bag with seven clubs over to his friend's apartment. He was aware that he was traveling to Japan and asked his friend to pass the golf clubs on to another man in Japan when he arrived there. His friend became immediately suspicious. News of drug gangs using mules has been prevalent, in recent times, in Thailand. It is a common danger that has landed many foreigners in Thai prisons often with long sentences with varying degrees of guilt. Recently, there is an awareness that drug gangs are increasingly able to conceal drugs as everyday items and are also attempting to ship drugs in smaller shipments as a new strategy. In the holiday maker's case in December, the Japanese tourist had opened the luggage to find hard shirts sealed in plastic. They were, in fact, crystal meth drugs. So too in this case.
Golf clubs were unusually heavy, a mixed assortment and old – his friend became suspicious
The Japanese friend of Mr Ono noticed that the clubs in the golf bag were very heavy. Normally, a golf club will weigh between 200 and 300 grams. These old looking implements weighed a massive 545 grams. He was also suspicious of the fact that the clubs were not all the one brand. Luckily, as with the Japanese holiday maker before him, he contacted the Japanese embassy who reached out to the Thai police.
Thai police identified the golf club heads as made of crystal ice drugs to fool authorities
Thai police identified the club heads as made of pure crystal meth drugs. The clubs are also reported to have contained a quantity of ecstasy pills. Thai police then identified the 57 year old Kazuhiko Ono. He has been a resident in Thailand since 2000 and has a Thai wife. Thai police investigators discovered that the man runs a tour company in the kingdom but this, they believe is in fact, a front for other activities involving illegal and high interest money lending. The Japanese man has also been linked to international drug smuggling. His Thai visa status, up to now, has been in order. The Japanese national has a retirement visa.
Japanese man also linked by police to drug dealing, intimidation and loan sharking in Thailand
Thai police investigators have also unearthed information that links the Japanese man with the sale of illegal drugs in Thailand as well as physical intimidation associated with his high interest, money lending operation. This was revealed to the press by Police Major General Jirabhop Bhuridej of the Crime Suppression division.
Japanese man arrested, Kazuhiko Ono, self amputated his little finger as atonement to Yakuza
Thai police obtained a warrant to search the Japanese man's condominium in Lumpini. There, they located small amounts of drugs including cannabis, an ecstasy pill and 4 grams of the crystal ice drug. Under intense questioning by investigating Thai police, Mr Ono admitted that he is a former member of the infamous Japanese Yakuza crime syndicate. He revealed that he had retired from that organisation after a failed undertaking for which he was obliged to self amputate one of his little fingers.
Yakuza finger shortening or yubitsume is a common occurrence in the Japanese crime gang
Within the powerful Yakuza crime syndicate, such an act is a gesture of sincere apology for an offence against another or the syndicate. It is a way to express regret or remorse for some action or failure to live up to the crime group's expectations. It can also occur as a sort of punishment handed down by the gang. The process is known as yubitsume which means finger shortening. It is also known as yubi o tobasu which means letting the finger fly. It is an ancient tradition in eastern cultures that the pain of losing a finger is a way to learn a lesson and self awaken to responsibilities.
When he first arrived in Thailand in 2000, Kazuhiko Ono established a business operating trips for tourists. He claimed to police that he was unaware of the drugs concealed in the golf clubs saying also that the quantity of drugs found in his condominium were for his own personal use or may have been left behind by friends.