Even during the former period of stronger economic growth, many economists presciently warned that the high level of household debt was a lag factor on the Thai economy. The debt now represents nearly ฿186,000 for every person living in Thailand. At a time of strong economic headwinds, it is now, unfortunately, a bigger problem than ever.
An assistant governor at the Bank of Thailand on Monday warned about the danger of Thailand's growing amount of household debt and the potential negative repercussions of reduced income levels for some borrowers impacted by the contraction of exports and an overall slowing of growth.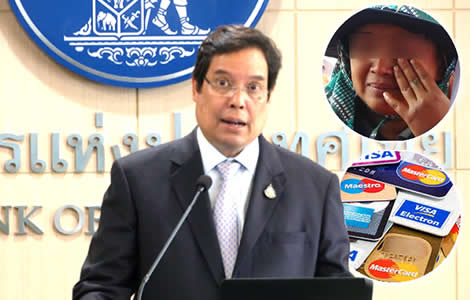 A full report on the state of the Thai economy was presented on Monday from the National Economic and Social Development Council. It did not tell us anything that came as a surprise but one thing stands out. The steadily increasing level of household debt not particularly in debt to GDP ratios which is the normal quoted figure but the absolute figure for money borrowed by Thai individuals from banks and institutions.
The figure has climbed steadily quarter by quarter since the beginning of 2017 and now stands at a massive ฿13 trillion. That's ฿185,710 for every person living in Thailand if we were to assume a population of 70 million approximately.
Non-performing debt rose 10% in the second quarter even as personal borrowing grew
Economists have always known that the issue was holding back the economy but the effect in the current economic slowdown could be more severe. The figures on Monday showed non-performing loans rising by 10% and suggested growth in personal borrowing of 9.2% in the second quarter of the year from Thailand's retail banks.
Thai economy is still growing – sluggishly
Figures released in recent days for July show the Thai economy is still, in fact, growing albeit at a very reduced rate but the effects of the sharp contraction in exports has been filtering through and has even led to a slight rise in unemployment for the second quarter even though the unemployment level is still below that of last year at 0.98%.
It should also be noted that from incomes in Thailand in real terms grew from last year even when compared with the second quarter, helped by lower than expected inflation.
Bank of Thailand closely monitoring the issue
The higher level of household debt is concerning the economic heads at the Bank of Thailand. Titanun Mallikamas who is an assistant governor at the bank said this on Monday: 'We are closely monitoring household debts, as Thai families are vulnerable to an income shock during the economic slowdown.'
Lower inflation rate for August at 0.57%
For hard-pressed consumers, there is some good news with a very low inflation figure for August at 0.57%. This and the slowing of growth may have been another impetus for the Bank of Thailand when it strikingly lowered interest rates last month by 25 points against market expectations.
It is still not certain that they will follow it with a further cut but many analysts believe this may happen as the evidence is that the domestic economy appears to be slowing down.
Still more people at work in the non-agricultural sector despite the slowdown in economic growth
The areas that appear to be most strongly hit by the slow down are storage and transport, building, agriculture, education and the hotel sector. The hotel sector shows a marginal drop in employment of over 1%.
The figures actually show that there were 1.5% more people employed in the second quarter of the year in the non-farming sector of the Thai economy. Things might be slowing down but it would appear many Thai people still want to work and can find it.
New pattern of online employment emerging
The National Economic and Social Development Council has highlighted what it sees from the economic data as a rise in employment in areas such as couriers and delivery services linked with internet-based firms. It is calling on the Thai government to legislate for what is now emerging as a new pattern of work. The objective of such legislation would be both protect workers rights and to uphold consumer rights.
Hopes rest on improved tourism prospects, economic stimulus but for many, debt is a heavy burden
A bright spot appears to be a pick up in tourism with minister Phiphat Ratchakitprakarn predicting a record-breaking year despite some mid-year pessimism from hotels and tourist businesses in Pattaya and Phuket.
The effects of the government's economic stimulus measures should also soon have a bearing. 
While the central bank is this week warning of the dangers of a shock deterioration in income prospects for overborrowed consumers and workers, this might be something that is already happening and may explain what appears to be a remarkable downturn caused since the beginning of the year.
฿13 trillion headache
Even when the economy was growing in recent years, many economists had been persistent in warning about the lag factor caused by high levels of household debt, nearly ฿13 trillion of a headache spread across millions of Thai families.
Further reading:
Thailand should move more towards a circular economy as the country faces intractable hurdles
Thailand's economy awaits the fallout from the Omicron surge as projections for 2022 take a dive
Inflationary fears for Thailand more muted than in the United States but planners should prepare
A cautious recovery in 2022 says Bank of Thailand boss but PM strikes a mildy more optimistic note
With Omicron hovering, firms already suffering a cash flow crunch with the economy again in peril
Shaky economic recovery as planners target only a 1% gain in 2021 with rising headwinds in Quarter 4
Economy climbing out 'of a hole', foreign firm's confidence levels rose sharply during October
Another GDP contraction looms as Thailand tries to boost its economic fortunes by spending more
Government borrows more to bring the economy through an extended Covid 19 crisis with GDP flat
Officials switch to prioritising economic recovery as CCSA expected to agree a new Covid approach
Richest man in Thailand says COVID-19 is like a World War, the kingdom could end up a big loser in the end
Foreigners in Thailand have nearly ฿600 billion in the bank as inequality and poverty rise alarmingly
Rising prospect of GDP contraction for 2021 may see government breach the legal public debt limit
A dead mother beside her children and a taxi driver who slept, show us a nation riven by an extended crisis
Economic fears rising as Thailand faces a bigger crisis than 1997 with rising job losses and debt
Baht falling with confidence in Thailand waning as foreign tourism closure and virus drive funds out
Central bank to lower GDP growth forecast as its attention turns to private sector debt management
Loan bill passes but Thai economic prospects are not bright with a 1.8% 2021 GDP gain predicted
Thailand to reopen to 'big fish' tourists as a cryptocurrency friendly haven says promotion agency boss
IMF urges government to loosen nation's purse strings as finances tighten with the tax take down
Failure to pass the ฿500 billion borrowing decree could lead to the dissolution of parliament
Baht to strengthen later in the year even after July as foreign tourists will return says top bank economist
Industry leaders and central bank all warn that foreign tourism must return to avoid a collapse
Refloat of foreign tourism in the 2nd half of 2021 with vaccines pushed by minister and industry for the sector
Fact – only 6,556 visitors arrived in Thailand last month compared to 3.95 million in December 2019
Desperate foreign tourism business concerns are clinging to straws as they try to survive the crisis
Strict entry criteria to remain as officials await clarity on the medical status of vaccinated people
Challenge of the virus and closure to tourism leads to major long term changes in the Thai economy
Finance Minister says economy must pivot away from tourism with a switch to S-Curve industries
Steady as she goes economy driven by exports and public investment with a 3.3% growth rate forecast for 2021
Thailand's tourism boss targets thousands instead of millions as public health is prioritised above all
Thailand unlikely to reopen doors to mass-market tourism before the end of 2021 until after a full vaccination
Strengthening baht predicted as investors bet on a reopening of Thailand to mass tourism in 2021
Economic picture continues to darken as cabinet approves new ฿700 billion loan to plug the gap of higher deficits
Thailand facing a credit crunch as 3rd virus wave craters the kingdom's economic recovery plans
3rd virus wave now spells not just economic loss but financial danger as kingdom's debt level rises
Thai economy is still in reverse despite rising confidence and a virus threatening a 3rd wave
Economy to rebound as the year progresses driven by exports and a return of mass foreign tourism
Door closing on quick foreign tourism return as economic recovery is delayed to the end of 2022
Refloat of foreign tourism in the 2nd half of 2021 with vaccines pushed by minister and industry for the sector
Desperate foreign tourism business concerns are clinging to straws as they try to survive the crisis
Finance Minister says economy must pivot away from tourism with a switch to S-Curve industries
Thai central bank boss introduces new 'debt clinic' as he urges action on kingdom's high household debt
Debt means death as a crazed Thai man slaughters his loving wife and children in Bangkok in horror scene
14 wealthy loan sharks taken in by Thai police as money lending menace and debt remain a big problem
The pervasive problem of debt in Thailand and the struggle to survive for those hit by bad fortune