In reality, the shuttering of Facebook in Thailand is not a viable option as it would have a catastrophic impact on the country's online economy and its reputation abroad, immediately damaging confidence. At the same time, the issue is a real one with billions of baht being lost annually by ordinary Thai citizens to online scams which are traumatising families as well as causing huge financial loss and suffering on a grand scale.
Facebook is facing legal action from the Digital Economy and Society Ministry and the Royal Thai Police over its sponsored pages service in Thailand which have been linked to over 70% of online fraud cases according to outgoing minister Chaiwut Thanakamanusorn. The legal moves against Facebook, including civil and criminal proceedings, according to senior officials, could see the site shut down in Thailand if it fails to address rising security concerns.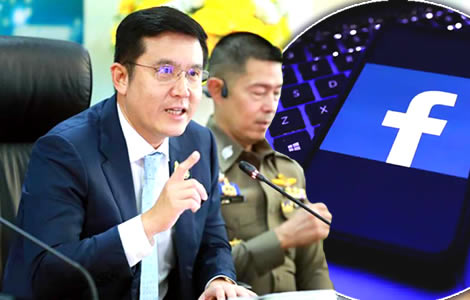 A new government is expected to be sworn in sometime in mid- September.
One of the first challenges facing the newly installed communications minister is a crisis over the future of Facebook in Thailand.
As incoming Prime Minister Srettha Thavisin finalises his cabinet, it is being reported that Pheu Thai's Prasert Chanthararuangthong will become the next Digital Economy and Society Minister.
Facebook is Thailand's largest and by far, the kingdom's most powerful and strategically important online social network with over 65 million users
Facebook is Thailand's largest social network, just ahead of the Chinese platform TikTok with 65 million users while playing a key role in online commercial activity and news dissemination.
Last week, at a meeting called by the Digital Economy and Society Ministry in Bangkok, the outgoing minister, Mr Chaiwut Thanakamanusorn, told the media that his ministry was intent on applying to the courts to shut down Facebook in Thailand over its failure to deal with online fraud and criminality, especially linked with its sponsored pages which are part of its targeted online advertising service.
Facebook worldwide, in 2022, generated $116.8 billion for such services which target users by age, demographics and other signals with tailored content.
These services are now being bought and paid for by online scamming gangs and fraudsters who are using the social network platform to gull people in Thailand with fake profiles and investment schemes with a devastating effect on less sophisticated online users.
Facebook Thailand failed to send a representative to a meeting of top regulatory agencies, the ministry and the Royal Thai Police to discuss the problem
The Minister told reporters that he had invited a Facebook representative to take part in last Monday's discussions but the company had declined to send one. 
Mr Chaiwut said that 70% of all online fraud in Thailand emanates from the social media platform, declaring that based on the findings uncovered by ongoing investigations by the Royal Thai Police, both his ministry and police agencies were on the verge of launching both criminal and civil cases against Facebook over its alleged failure to control rampant fraud on the network. 
The meeting, held on Monday, August 21st, saw the Minister meeting representatives of the Electronics Transaction Development Agency, the Security Exchange Commission and the Royal Thai Police to discuss the ongoing problem.
Man wipes out his family in Samut Prakan on Monday after a ฿1.7 million loss to online scammers, an indication of the harm and suffering being caused
The devastating impact of this activity was brought home to Thailand on Monday morning when a 43-year-old man in Samut Prakan murdered his family after being plunged further into debt through a ฿1.7 million loss to an online scam.
Police arrived at a home in the Bang Phli area of the province after a 1.30 am alert and found the bodies of two young boys and the wife of Mr Sanich Dokmai at various locations. 
All three had been stabbed to death in a frenzied attack, while Mr Sanich was found seriously injured in a bedroom after attempting to commit suicide. 
฿40 billion in losses suffered over 15 months across 287,122 criminal cases revealed the National Police Chief in July as he launched awareness campaign
In July, the National Police Chief General Damrongsak Kittiprapas revealed that from March 1st, 2022 to June 30th 2023, criminal cases in Thailand linked to cybercrime activity, including fraud and scams, saw nearly ฿40 billion lost across 287,122 cases.
The police chief was speaking as the Royal Thai Police launched a public awareness campaign as the best form of defence against the threat.
The Digital Economy Minister Mr Chaiwut underlined the gravity of the issue last week when he subsequently gave a press conference flanked by senior police officers.
'It has been the most critical issue that many big corporations and famous people face, they have had their names and images impersonated to create fake content to lure people for investment,' he explained.
The thrust of the minister's complaints last week was the danger of investment scams where thousands of Thai individuals with savings have been tricked by convincing and often false testimonies linked with the Stock Exchange of Thailand (SET) and leading Thai companies, luring them into investing in fictitious funds and investment schemes. 
Authorities especially concerned that closed pages can reappear quickly and still be able to pay for advertising through Facebook's marketing channels
The minister complained that despite Facebook's cooperation in closing down some of these pages, the fraudsters were quickly able to create new pages and did not seem to have a problem with continuing to pay for the advertising of their offers on the online platform.
Responding to the minister's outbursts last week, the Facebook boss in Thailand, Ms Prae Dumrongmongcolgul, a US-educated professional who has been in the role for over 3 years, pointed out that Facebook uses artificial intelligence technology to detect sponsored pages that are engaging in criminality and fraud.
Ms Prae insisted the platform took them down immediately once discovered.
However, the senior Facebook executive conceded that the fraudsters appeared adept at anticipating the country's response systems and that Facebook is looking at its algorithms in order to improve the situation.
Closure of Facebook would be catastrophic. Similar threat from Cambodia in July was rescinded at the last minute by former Prime Minister Hun Sen
The Minister, Mr Chaiwut, was adamant that the Ministry would shut down the network, a move which would have catastrophic consequences for online marketing and communications in Thailand as well as the reputation of the kingdom abroad. 
Cambodia has issued similar threats although not under the same circumstances.
Facebook censured former Prime Minister Hun Sen in July for violent rhetoric and he threatened to give the order to shutter the site in that kingdom.
This was rescinded at the last moment in July, just weeks before the election in Thailand's eastern neighbour.
Explaining the last-minute reprieve for Facebook, then Prime Minister Hun Sen, now succeeded by his son Hun Manet, explained that he was not stupid and acknowledged the key economic role that Facebook plays in giving employment with the platform being the basis for the livelihoods of many people in Cambodia. 
Ongoing efforts by outgoing government to control Facebook since the 2014 coup d'état have seen various contretemps between officials and platform
The same can be said for Thailand where Facebook is at the centre of the country's e-commerce ecosystem and is the go-to medium for marketing and conducting online sales.
The closure of Facebook in Thailand would also have a catastrophic impact on the country's media and its reputation abroad, severely undermining confidence among international investors.
In May 2014, just after the military coup d'etat in Thailand which saw the installation of the National Council for Peace and Order (NCPO), Facebook was momentarily shut down in the country causing shock and consternation. The blackout impacted 10 million users of the site at that time for just a few minutes.
The shocking incident occurred on May 28th, just six days after the coup.
The service was quickly restored and the government denied any part in deliberately shutting down Facebook.
Subsequently, however, several telecommunications companies at the time suggested that they were given instructions by authorities to do so. 
Since then, the top social media platform has been involved in ongoing contretemps with the government which has even initiated proceedings to shut the platform over its failure to remove political content which Facebook resisted based on free speech principles and the law.
New threat is real and not about free speech
Thailand's authorities in recent years, pushed by recent court decisions, have improved the tolerance of free speech with the country's international rankings improving although the country's rankings dived after the 2014 coup d'état.
The result appears to have been a compromise between the network and authorities which the current crime wave of online fraud is testing with real financial losses and anguish being suffered by hundreds of thousands of ordinary Thai people.
Further reading:
Facebook to copy Twitter with its own paid-for blue check and verification service on its network in Thailand
Minister warns Facebook of possible legal action including Computer Crime Act criminal charges
Facebook under investigation over translation blunder as minister criticises the social network
Two Immigration Bureau officers in Nonthaburi suspended after video appears to show bribe request
TV actress apologises for her wrongful bribery accusation against a Thai traffic police officer
UK wife abuser arrested by Immigration Bureau police in Bangkok for attempted murder
26-year-old partner advertised his ex-wife by her real name on Facebook with erotic photographs as a hooker
40 year old Thai billionaire and emerging election winner may face prosecution for Facebook post
Future Forward Party and leader are Thai junta's worst nightmare in March 24th general election
Koh Tao claims by UK teenager questioned by Thai police – arrest warrants indicated for some media
Thailand passes new cyber security law allowing authorities more power to fight cyber crime and threats
Thai Government warns about fake news online as political discourse picks up before elections
Popular Phuket based Facebook page attacks foreigners and tourists in Thailand as virus tensions mount
Online child abuse is being exploited as a business opportunity by some Thai porn barons with networks
Porn web preying on Thai women in Bangkok. Arrest of the fiend at the heart of the blackmail and deceit
Thai man arrested for blackmail scheme targeting Thai women whom he paid to send him sex clips
Russian couple arrested, charged and fined for having sex in public on a Pattaya beach shown on video clip