The remains of the elderly tourist, wearing jeans and sneakers, were discovered lying face-up on several public seats near Gate 8. They had been there for hours before airport authorities were alerted by passengers at 8 pm, on Tuesday evening. Police have ordered an autopsy although it is thought that the Austrian died from natural causes.
82-year-old Austrian tourist, Gerald Wohlmuth, flew into Suvarnabhumi Airport on Tuesday afternoon but died at the airport before hailing a taxi to the city centre where he was booked into his hotel.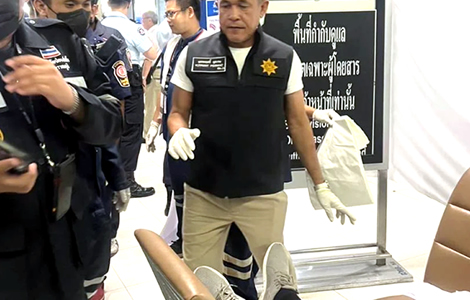 Police at Suvarnabhumi Airport on Tuesday evening, just after 8 pm, were called to a scene at the Arrivals Hall where a passenger was discovered laid out over six leather seats in the public waiting area area.
The slim and elderly traveller appeared to be in an unresponsive state.
After being checked by officers who were called to the scene, he was pronounced deceased with the body already showing clear signs of rigor mortis. 
Austrian national from Lower Austria near Vienna was found dressed casually in denim and sneakers 
It is understood that the passenger, identified as Dr Gerald Wohlmuth, was an 82-year-old Austrian citizen from Korneuburg in Lower Austria, near Vienna.
The elderly man was found dressed casually in grey sneakers and denim jeans as well as a black T-shirt.
It is believed that the tourist had arrived off a flight on Tuesday afternoon and may have felt light-headed before passing out in the seating area after taking a breather.
When the body was discovered, police and airport officials cordoned off the area as they examined the remains which were dispatched to the Institute of Forensic Medicine in Bangkok, in the Pathumwan area of the capital.
Autopsy ordered by police on the body which was already suffering rigor mortis when found by officials
An autopsy has been ordered to confirm the cause of death.
Police officers, in a brief update for the press, suggested that the man appeared to have died from natural causes.
After being cleared by Immigration after his flight into the airport, he appeared to have decided to take a rest near Gate 8. 
It is speculated that the man may have felt lightheaded due to the change of environment on arrival in Thailand.
The Austrian national was booked into a city centre hotel but had decided to take a rest before hailing a taxi to his accommodation. 
Airport officers were alerted to the body by passengers shortly after 8 pm on Tuesday. 
Dead for at least three hours
Police and emergency crew rescuers at the scene estimated that the body had been deceased for approximately three hours before their arrival.
Officers found personal belongings including a jacket near the body.
It is thought that the Austrian tourist flew into Suvarnabhumi Airport on a regular flight from Vienna but authorities on Tuesday evening reported that the deceased man was an Australian national whose death was being reported to consular officials.
It is understood that Mr Wohlmuth had intended on holidaying in Thailand and passed away before his holiday commenced.
Further reading:
Mysterious suicide of a 50-year-old Australian tourist at Phuket Airport on Tuesday evening
Phuket police open inquest into the death of Australian tourist found at Patong Police Station on Monday
Police probe the state of mind of Australian teenager who fell to his death from a Phuket Hotel
Police still probing 'booze fest' party at which Russian woman died in Phuket – 3 to be charged
Arrested foreigners uncooperative with Phuket police after Russian woman dies in balcony fall
Sex drugs found in hotel room of Australian man who died from balcony fall on Tuesday in Phuket
UK man in Phuket jailed on drunk driving charge just hours before flying to reunite with family
Wife and mother from Northern Ireland flies to Thailand after tragic death of her husband
'Insane' UK man David Mitchell found praying after tossing his wife over a balcony in Rayong province
Dutchman in Suphan Buri missing from wife with reports of a mystery rendezvous in Uthai Thani province
Ex UK soldier flies home following rescue by a compatriot after being abused by his Thai partner's family
Australian man's heartbreak cut off from his Thai wife – begs to be included on repatriation flights
Australian retiree is spending his own pension money on supporting the poor during the crisis in Chiang Mai
Stranded 66-year-old German tourist seeks help on the street from a Good Samaritan in central Bangkok
Police in Phuket await post mortem results after deaths of two elderly westerners last weekend at home