Lacklustre policy statement according to Move Forward Party's Sirikanya Tansakul, is a sign of a Pheu Thai-led government being impeded or constrained by its coalition partners much the same as the previous government of compromise led by former Prime Minister Prayut Chan Ocha.
The main spokesperson for the opposition in parliament on Monday, Move Forward's Sirikanya Tansakul, told the assembly that the policy statement delivered by Prime Minister Srettha Thavisin appeared fettered and bore no resemblance to the policy platform laid out by the Pheu Thai Party at the beginning of 2023. The speech also drew fire from the Federation of Thai Industries (FTI) for its lack of detail, substance and long-term outlook as the body called for a revamped energy policy as Thai firms lose competitiveness with exports in the doldrums.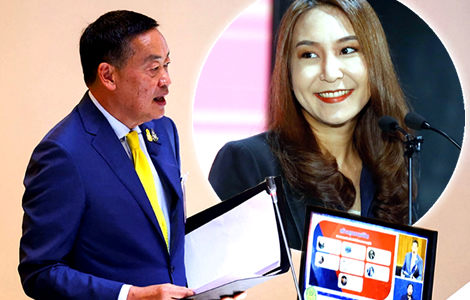 The policy statement given by Prime Minister Srettha Thavisin before Parliament on Monday has drawn criticism from many quarters due to a lack of definite commitment and time frames.
In his policy statement on Monday, Prime Minister Srettha, a former property tycoon who turned to politics just before the May 14th General Election, was frank when he described the Thai economy as 'sick' and noted the country's challenging position regarding sky-high household debt, public debt which has risen to over 60% of GDP and the need to restore the economy to an annual 5% growth rate to meet the Pheu Thai policy objectives of a ฿600 minimum wage by 2027 and a minimum salary of ฿25,000 for all university graduates.
Federation of Thai Industries (FTI) demands a comprehensive energy plan from the government for Thailand's business sector to boost competitiveness
On Wednesday, the speech drew stinging criticism from a private sector quarter from which the new PM might have expected more support, the Federation of Thai Industries (FTI).
'We want to see the how-to on these issues. The government cannot simply get the job done by reducing power bills. It has to clarify how to restructure energy prices,' declared Mr Montri Mahaplerkpong, the Federation's Vice-Chairman.
The influential body has called for a complete reorganisation of the kingdom's energy policy as in the recent past it has also called for Thailand to state its position more clearly on its geopolitical stance, suggesting that the country's traditional foreign policy hedging between powers may not be sufficient for the challenge that lies ahead.
The Chairman of the Federation of Thai Industries (FTI) Kriengkrai Thiennukul who made this call earlier in the year, on Wednesday, also called for a comprehensive energy policy looking to the long term which can guarantee the competitiveness of Thai industry which is currently finding it hard to compete with Vietnam. 
Lack of detail and time frames in Srettha's policy statement criticised as it is compared to the 2011 speech of former Pheu Thai PM Yingluck Shinawatra 
The Move Forward party deputy leader Sirikanya Tansakul, on Monday, hit home in her speech in parliament with a series of withering remarks in which he highlighted the lack of detail and time frames contained in the statement given by the Prime Minister. 
Ms Sirikanya, just like business leaders hours later, also criticised the Prime Minister for not explaining the methods he would use to implement such policies and said that the statement contrasted sharply with that given by Ms Yingluck Shinawatra in 2011 when the country's then-first female Prime Minister outlined the vision for that Pheu Thai government to Parliament.
Ms Sirikanya, who was widely tipped as Thailand's next finance minister in a Move Forward Pheu Thai coalition, suggested that the statement may have been influenced by other parties within the coalition government, including 18 ministers who are not aligned with the Pheu Thai Party.
A key criticism of the remarkably unsuccessful second government of Prime Minister Prayut Chan Ocha was the incongruent nature of the political coalition it comprised.
This weakness was exploited in parliament on Monday as it related to the new government of Srettha Thavisin which presented a vision for government which appeared too cautious and timid to stir the public.
The 42-year-old lawmaker said that the statement delivered by Mr Srettha on Monday bore no resemblance to the policy platform put forward by the Pheu Thai Party from the beginning of 2023 and which was the basis on which it conducted its General Election campaign.
'A good policy statement should first have clear goals, practical performance indicators and clear time frames. It should not say what Thailand should be without any indicators to show if Thailand achieves its goals. It should not be just a wish list,' the on-form Move Forward Party MP told Parliament. 
Srettha's policy statement appeared doubtful about his own government's policies said Move Forward Party spokeswoman and MP Sirikanya Tansakul
Ms Sirikanya suggested that from listening to the Prime Minister it appeared that the government itself was in doubt about the policies being put forward. 
She particularly zeroed in on the planned ฿10,000 giveaway which the government proposes to give to all adults in Thailand over 16 years of age on February 1st, 2024. 
Ms Sirikanya warned that a failure to provide the ฿560 billion required for the blockchain digital giveaway may result in online inflation linked with the purchasing power of such tokens if they are not adequately supported by a financial budget.
In his statement to Parliament given under Section 162 of the Thai constitution which requires an incoming prime minister to present a vision statement concerning the proposed policies of his government within 15 days of taking office, Mr Srettha started by giving a guarantee that any potential new constitution or revision of the 2017 Charter would leave untouched Articles 1 and 2 dealing with the monarchy and the state.
Mr Srettha spoke about his government's plans to address farm incomes and reports that a moratorium on debt repayments may be in the pipeline.
He pointed out that over the past nine years, there have been 13 such initiatives. 
PM spoke of the need for real measures on farm incomes rather than debt repayment moratoriums
He suggested that his government would aim to provide a wide array of reliefs to farmers with measures containing costs and boosting sustainable income in addition to another debt moratorium.
The Prime Minister touched at length on the ฿10,000 giveaway and confirmed that the payment would be issued just once to the public and would be limited to spending within a 4 km radius.
He explained that in rural areas with a lower density of shopping outlets some accommodation or facility will be arrived at before the giveaway goes ahead. 
Prime Minister Srettha also touched on the government's priority in boosting foreign tourism income by referring to the plan that has emerged in recent weeks to grant visa-free travel to Chinese visitors, a move which he discussed with Deputy Police Chief General Surachate Hakparn on Sunday at the Prime Minister's residence in Bangkok after which General Surachate said that the police force would support the initiative despite concerns that it will draw more criminal elements into Thailand.
Security analysts sceptical on free visas for China
Analysts and indeed some police sources have warned of the danger of tarnishing the kingdom's reputation in China, something which the outgoing police chief, General Damrongsak Kittiprapas, reacted to earlier this year by strengthening screening and visa hurdles in respect of Chinese visitors, strong security measures which are now being effectively revoked.
Regarding the digital wallet proposal, after giving his speech to Parliament, Prime Minister Srettha said that after he takes his seat at the Ministry of Finance on Thursday, September 14th, he will be in a position to give more details on how the proposal will be financed.
This was anticipated by the Move Forward Deputy Leader, Ms Sirikanya who criticised the absence of any initiatives proposed by Ms Srettha for the southern provinces, directed at tackling ongoing insurgency in that region and the need for economic initiatives to root out poverty, which is a breeding ground for discontent.
No plan to tackle monopolistic power strangling the economy or initiatives for the troubled Southern border provinces says Move Forward spokesperson
Ms Sirikanya also bemoaned a lack of initiative in tackling monopolistic power within Thailand's manufacturing and industrial sector, which hinders innovation and strangles the ability of the private sector to solve problems and create new wealth. 
The Prime Minister's statement also committed his government to work towards improving free speech in Thailand.
He again highlighted the government's short-term goal of reducing electricity costs.
This was put before the cabinet on Tuesday and a measure passed to bring down electricity bills for households and businesses alike but this has failed to impress industry leaders who see it as a short-sighted reaction to the country's deteriorating economic situation. 
Mr Srettha explained that as an incoming government, his ministers will take time to study matters extensively and will later clarify budgets, working methods and plans moving forward. 
Pledge to fight corruption amid a new police scandal
He underlined that at this time the government was willing to discuss matters with all relevant parties and was weighing up suggestions and criticisms in equal measure. 
The PM also referred to the scandal and controversy that has arisen since an outrage last Wednesday evening the 6th of September connected with the Royal Thai Police in Nakhon Pathom province which saw an officer murdered and another seriously wounded, in a dispute linked with corruption as he vowed to crack down on mafia groups operating in the kingdom across localities.
Mr Srettha said his government would take full responsibility and action wherever corruption was detected, he promised that the threat of corruption would be tackled within the police force, which would be remoulded into a force that serves the public as its primary mission.
Further reading:
Economy weakens with a July current account deficit as new cabinet plans lower electricity costs
Economy tanks as demand for loans surges with an acute credit crisis and falling export output reducing growth
Concerns over household debt rising as banks report marginally lower non-performing loans
Thailand preparing for a soft landing as 'cracks' open up in the Chinese economy says bank chief
Economic danger signals emerging as politicians wrangle over who will form the next government
Bank of Thailand to tackle household debt in new plan from 2024 which will see higher standards
Politicians skating on thin ice as the economy may not be able to withstand a political stalemate
Debt crisis may be one of the top items on the new cabinet's agenda as central bank stands ready
Potential hazard lights flashing as kingdom's auto loans spiral into default with sky-high borrowing
Bank of Thailand governor gives veiled warning to voters on the danger posed by populist policies
Financial markets debt sell-off sending a signal to Thailand before the May 14th General Election
PM warns giveaway policies of some parties may be 'bad karma' for the country in the longer run
Economic recovery shaky despite strong foreign tourism as global economic outlook deteriorates
Recession fears rise as growth projections are cut and export output continues to decline in 2023
Good news on foreign investment at the start of 2023 fails to mask stunted competitiveness issue for economy
Economy faces export clogs with rules in China and 'green imperialism' from European Union
Vital European Union free trade deal with Thailand with stiff demands from Brussels to take time
Thailand's financials are sound but the economy is exposed if another world banking crisis emerges
Thai economic woes grow with a 10-year high trade deficit as January exports slumped by 4.5%
Credit crunch as firms seek more bank loans with tightened lending criteria and recession fears
Even as the baht surges, Thailand faces economic recession in mid-2023 with lower earnings
Thailand's trade agenda may be complicated and thwarted by raised tensions in the Indo Pacific region