Some of the crimes prompt concern over mental health issues while reveal a disturbing level of callousness as love turns sour between men and women
A spate of murders of Thai women in recent months has shocked Thai people and prompted calls for the death penalty to be used. On one day in June in two separate incidents former Thai partners shot their girlfriends in cold blood before turning their guns on themselves. Two further premeditated and brutal murders of Thai women by Thai partners have sparked anger and cries for the full force of the law to be brought to bear on those involved.
'The greater the love, the greater the tragedy when it's over', so goes Nicholas Sparks' famous quote which many may find implausible. Unfortunately, it has been found to hold true reading the increasing number of reported cases of murder in Thailand that are motivated by jealousy and blind love.
A gruesome discovery in a black bag at the side of a Bangkok road after passerby noticed a putrid smell

It was the end of June in the Khlong Sam Wa district of Bangkok. An unremarkable black backpack was spotted near a bush by the road by a volunteer from the Romsai Rescue Foundation over a number of days as he walked by. After a number of days, detecting a putrid smell from it, he decided to investigate and open it for inspection. What he found inside was to shock many people in Thailand. A surreal scene like something from a B horror movie saw the volunteer uncover a severed woman's head wrapped up inside in two plastic bags and a bloody towel. Thai police, alerted by the terrified volunteer searched for the surrounding areas later, they found bags and fertilizer sacks that contained more dismembered body parts of the same person.
Murdered 24 year old Thai woman identified by police
By the end of the search, all the body parts, except for the right arm, were accounted for. Along with the 14 pieces, Thai police also found some items that could have belonged to the female victim, including some torn garments, rings and eyeglasses. The body was later identified as that of Roi Et woman Lakkhana Kamlangkeng, a 24 year old mother and wife working at a printing shop in the area. All clues pointed to the fact that the Lakkhana had been brutally murdered. Details of the murder which emerged later were even more troubling.
Murderer was woman's ex boyfriend whom she had recently left to return to her husband

It didn't take long for Thai police to pinpoint and arrest the killer. It was the victim's ex-boyfriend. Thanakrit Prakob, 36 years old, told the investigators that he killed his ex-girlfriend out of jealousy and later mutilated her body to dispose the evidence. According to the police report, he and Lakkhana were having a sexual relationship. They had shared the same flat for some time but had fallen out with each other recently. This resulted in Lakkhana moving back to live with her ex-husband with whom she had had two children before beginning her affair with Prakob. Lakkhana had returned to Prakob's room to collect her belongings. There, Prakob pleaded with her to stay with him but she had vehemently refused.
Shocking story of Thai woman's murder emerges from the mouth of her killer in police custody

The suspect's request for reconciliation soon turned into a heated argument. It finally ended in him killing the victim with several direct hits in the head using a hammer. Prakob admitted to dismembering her body later. The Thai man was detained without bail and charged of homicide and bodily mutilation. The Thai man was reported by Thai police to be in state of 'severe stress' as he was held in remand. It is reported that his family declined to visit him in jail when they heard the shocking nature of the crime he was accused of.
Police revealed that Prakob had confessed to the killing. He had hit Lakkhana in the head with the hammer when she spurned his requests for reconciliation in what become a heated confrontation. Shockingly, he revealed that the unfortunate Thai woman had awoken from unconsciousness an hour after the first hammer blow and that he had hit her again, repeatedly, with the hammer until she was dead.
Tragic history of killer hard to reconcile with his cruel behaviour on the night of the murder

Thai police also revealed that the killer had a particularly tragic background. He had lost his mother at a young age. He had been married to another Thai woman for 6 years but he lost his wife and unborn twins to a freak accident. His wife had died from complication caused by a dog bite also resulting in the death of the unborn children. The story is hard to reconcile with the appalling lack of compassion shown by the man who cold bloodedly killed his former love partner an hour after the initial blow. Police also revealed that he had left Lakkhana's body in his room for a day before deciding to dismember it the following night. CCTV footage from his apartment building shows him carrying the bags as he made his way through the corridors that night to dump the body parts in bushes beside the road.
Thai woman's father calls for the death penalty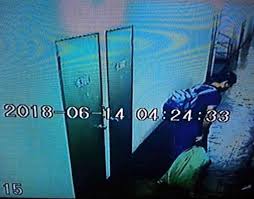 The murder of Lakkhana Kamlangkeng left two young children without a mother and newly reconciled husband without his wife. It also left her family from Roiet province without a much loved daughter who was also the family's breadwinner. Her 50 yera old father was reported to be overwhelmed with grief when he came to Bangkok to recover his daughter's body. 'We're going back home girl,' he saud as he rapped the coffin comntaned her body. A religious ceremony was later held at Wat Dong Hua Ruea near Suwannaphum. It was reported that the family would received a 110,000 baht payout from a local government compensation fund for victims of crime. Lakkhana's father called for the killer of his daughter to be put to death. He said that the man should not be kepts alive in order to cause more problems for society and warned that if the man was ever released from prison he would 'still commit crimes against others too.'
Thailand staged its first execution in nine years

Thailand recently executed the first inmate held on death row in an unexpected move in June after 9 years. There is strong support in Thailand for the measure and the current Thai Prime Minister has endorsed this view despite condemnation of the recent execution by NGO and international activist groups. The Thai PM pointed out that most Thai people agree with the death penalty and it was necessary to preserve peace and order in Thailand. 'The death penalty is legitimate. Many cases of severe crime have happened. Capital punishment  exists to guarantee national peace and teach lessons. It is a necessity for us and people want it.'
Thai man sat on the ground beside dead girlfriend's body before turning the gun on  himself
The brutal murder and those that occured on the same day in June should serve as further warning  that there is a propensity among some young Thai people to resort to violence as a reaction to the undeniable trauma of an  relationship break-up. There has been a blizzard of reported cases in Thailand in recent months in which young people, having failing to persuade their former lovers to reunite, decide to kill them before committing suicide. The Min Buri district of Bangkok was stunned last month when Kannaporn Pongchai-in, an 18-year-old Thai boy, shot dead his 17-year-old ex-girlfriend Sornsawan Chalardthanyakit before killing himself. The crime was sparked by Chalardthanyakit's refusal to return to the arms of her boyfriend. What has surprised many Thailand, country where education and elevated status are associated with better and more mature behaviour, is that even a higher level education is no barrier to the madness. On the same day as Sornsawan suffered a bullet to the chest which ultimately took her life, Phakkapong Jittarom, a 25-year-old Thai man, killed his ex-girlfriend Natchariya Thaprajit outside her apartment after she rejected his plea for reconciliation. He shot the girl in the head before committing suicide with the same gun. CCTV footage taken outside the building showed the killing. The young man sat down beside the lifeless body and shot himself in the neck. He died layers of his injuries at  Nakhon Pathom Centre hospital.
Young Thai woman was her family's 'hope and pride'
Natchariya Thaprajit, a 21-year-old student, was attending Suan Sunandha Rajabhat University and described as bright and hard-working by her family members, who had to fight their tears as the watched the surveillance footage that capture the madness. Her mother Jirapiny Inthasen, struggling to control herself, said that Natchariya had a bright future ahead of her. She stressed that she forgave all those involved in the tragedy of her daughter's death and preyed that her spirit might be at peace.
Thai government spokesperson recommends those traumatised by relationship breakdowns to seek professional help
According to Dr Apichat Jariyavilasa, a psychiatrist and spokesman for Thailand's Department of Mental Health, immaturity, improper upbringing, failure to control emotions and even drug or alcohol abuse are behind that kind of crime. He recommended that Thai people, traumatized by love problems, should seek help from either other loved ones or professional psychologists. Meanwhile, there are calls across Facebook for more emphasis in educating children at school about how to stay calm and respect other people.
Thai fiance murdered his bride to be with another woman and later confessed

The most tragic episode, however, is the one that happened last year the a 25-year-old bride-to-be named Nontiya Krowjatturat was killed by her own fiance. Her father discovered her daughter's dead body in their house with a critical gunshot wound just five days before her wedding. The 26-year-old groom-to-be, Ronnachai Panchart, was arrested shortly and admitted the crime after the gunman's clothes were found at his home. He worked for the Provincial Electricity Authority. He said Nontiya Krowjatturat found out that he had another girlfriend and used that knowledge to threaten both of them. Therefore, he decided to kill her to live with his mistress at peace.
Australian man's lament for murdered Thai girlfriend
Another heartbreaking story is that of Jaen Amornsriratanachai, a 23 year old student, who was the daughter of a well-known amulet seller called Somchart Amornsriratanachai or 'Lek Sarakham'. She was killed by an ex-boyfriend after she tried to get the return of a small loan – just 1,500 baht, according to Thailand's popular Daily News newspaper. Many people went onto Facebook to express their condolences and grief to the family over their loss. But it was the heartfelt words written in the Thai language by her current romantic interest that were the most poignant. The words were written by Australian man Manuel Fardouly. It read: 'Man is coming to Jaen. I will see you off from this world. I hope you are ok. I love you and will always remember you'. He also posted online pictures of the happy times when the Australian Thai couple were together in Australia.
It is indeed a cruel irony that the pain, grief and anguish caused by these callous acts by former lovers stem from the passions and emotions generated by love. There is also, arguably, a dose of the Thai machismo culture ir fear of losing faith involved. Thailand has always been a land where passion and affairs of the heart have played their part. The problem may be linked to the tensions between traditional Thai values and modern western ones which includes greater freedoms and discretion for Thai women. Or perhaps it is all par for the course. It might just all be part and parcel of the 'tyranny of love' according to one cynical 18th century British philosopher.