35-year-old Thomas Hagan was subsequently cleared of the serious criminal charges brought against him in 2014 at a trial in July last year but the court imposed a 1-year prison sentence on him for not appearing before it to answer the charges.
A Scotsman who fled Thailand in 2014 to avoid criminal drug charges in the UK for which he was subsequently cleared, has died suddenly. The popular young man from the east end of Glasgow had built a new life for himself in Thailand with a wife and child.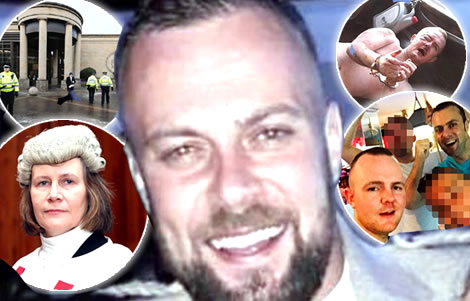 Tributes have been made and grief-stricken friends have posted on social media after Mr Hagan's close-knit community in Glasgow learned of the death of 35-year old Scotsman. Thomas or 'Tam' had fled to Thailand in 2014 to escape a £500,000 heroin drugs charge. He died suddenly this week in the kingdom. The cause of his death is unknown at this time.
Summons issued against Thomas Hagan on criminal drug charges in 2014
Thomas Hagan was the subject of a court summons issued in 2014 following a raid by police in the Tollcross area of Glasgow north of the River Clyde during which he was found on the scene. Mr Hagan was to appear before the court as a defendant facing criminal charges after being taken as an associate if those involved in the crime by Scottish prosecutors.
Hagan, a popular amateur boxer known as 'Bam Bam' turned up months later in sunny Thailand. It was not long before pictures emerged of him in the UK drinking in Pattaya's bars and enjoying the sunshine with pretty Thai women.
Became a well-known boxer in Thailand
He later went on to become quite a well-known boxer in Thailand even appearing in televised fights while settling down with his wife and family.
Cleared by the High Court in 2018 but sentenced to one year for taking flight to Thailand
Last year in July, the High Court in Glasgow cleared Tam Hagan of the drugs charges when the court formed the view that he was simply an innocent party at the apartment in 2014 when the police raid occurred and the large seizure of heroin made. Mr Hagan was reported to have been fitting carpet at the time.
Judge not impressed by the Scotsman
However, the judge in the trial sentenced him to a 1-year prison term for not turning up to court and disobeying the summons to appear before it as a defendant. The judge in the case, Lady Stacey, was not impressed by the then 34-year old's disrespect for the institution. 'A failure to appear at the High Court is not a matter to be taken lightly. You were well aware of what you were doing. It wastes a good deal of time and money,' the judge said.
Prosecutors claimed he was active in the drug scene
It is understood that prosecutors and police in Glasgow were also provoked by the social media posts of the Scotsman from Thailand after he took flight from the UK justice system, seen at the time, as baiting them. Prosecutors had insisted that Thomas Hagan was active in the drugs scene in the Scottish city where drugs culture and criminality is rife.
Brother Paul visited him in 2016 and was involved in a serious motorbike accident
2 years after Mr Hagan's flight to Thailand, his brother Paul joined him in Thailand for a holiday after having become a regular visitor to Pattaya in the Land of Smiles to spend time with his older brother.
The 24-year-old was involved in a serious motorbike accident which saw him severely injured and bloodied after crashing into a food stall. It is understood that the accident happened weeks into the holiday when a friend told a local newspaper in Scotland that the younger Hagan had been partying heavily in the resort town and already a girlfriend of his own there. 
Tam Hagan's younger brother's injuries in the accident included a fractured skull and eye socket as well as a broken jaw. He also suffered a fractured shoulder.
Nevertheless, Thai police arrested and handcuffed him, then unceremoniously into the back of a police pickup. Later, charges in the mater were not pursued.
£4,000 raised just hours after Go Fund me launched to bring Mr Hagan's body home to Glasgow
Just hours after a Go Fund Me page was launched on Tuesday evening to bring the body of Thomas Hagan back to Scotland, nearly £4,000 out of 45,000 had been raised.
Friends pay tribute to the deceased man
The page had been set up by friends of the family who are reported to be under severe stress after learning of the death of the 35-year-old man so suddenly in Thailand.
The popularity of the young man was evident with many testimonials to his generosity and sense of good cheer. 'Thomas was the most generous guy, lived for his family & friends, I'm sure half of the east end have had a drink off him at one point in time.'
Further reading:
UK Instagram star spends 24 hours in a Thai airport holding cell, thinks it's the Bangkok Hilton
Chiang Mai police find Canadian man with throat cut. Investigating if it is a case of suicide or murder
Please follow and like us: