Firefighters took twenty minutes to put out the flames which erupted just after the driver parked the bus on the busy expressway and opened the door to the left through which the foreign tourists made their exit.
Polish tourists were evacuated from a luxury bus in Bangkok on Wednesday on one of the city's expressway ring roads just minutes before it burst into flames and was engulfed in an inferno responded to by fire and emergency services.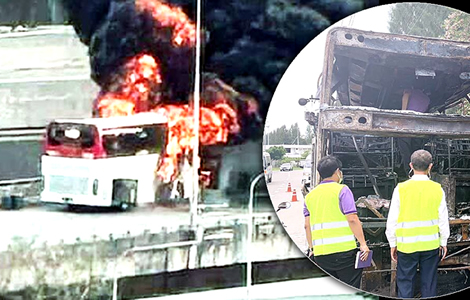 The quick thinking of a 48-year-old bus driver may have saved the lives of 15 Polish tourists on Wednesday morning on one of the busy Bangkok expressways that circle the capital city when he quickly parked his bus and evacuated his passengers after noticing smoke coming from the underside of the bus near the luggage compartment.
48-year-old Mr Kanchit Kaewmanee had earlier picked up the tourists from a hotel in the Makkasan area of the city and was travelling outbound on Expressway Number 2 near the Kamphaeng Phet Road when the incident occurred.
White Scania bus with air conditioning was quickly engulfed in an inferno after the driver tried to extinguish the fire with a small chemical unit 
Passengers escaped from the bus to safety on the left-hand side as it parked on the busy expressway.
The bus was a luxury, air-conditioned Scania model, white in colour, registration number Bangkok 33-1104. 
The emergency situation was reported to police at 8.17 am
It was carrying the tourists and their guide to visit Thailand's ancient capital, Phraya Nakhon Si Ayutthaya in the Chao Phraya River valley.
Immediately after the evacuation, the driver tried to extinguish the fire with a chemical fire extinguisher unit but this was not successful and the bus quickly erupted into an inferno.
Fire burned for 20 minutes leaving a gutted shell
Responding to the incident were police for Expressway Police Station Number 2 led by Police Lieutenant Colonel Krit Limchamroon and fire units with the Bangkok Disaster Prevention and Mitigation Bureau.
The bus burned for over twenty minutes in a conflagration which emitted thick black smoke.
After twenty minutes, the fire was brought under control but the vehicle was left completely gutted.
Officials confirmed that all passengers on the bus were safe after their shocking ordeal.
Further reading:
Bus driver charged as police find fatal inferno was caused by brake failure triggering a gas explosion
6 year old among 5 people burned to death in overnight bus tragedy on Tuesday morning in Khon Kaen
5 people die including 4 young men hurled from a pickup truck in early morning road tragedies on Monday
World Bank report warns Thailand of huge potential economic loss caused by road carnage
Another fatal crash as express train smashes car off the tracks in Phetchaburi – woman killed
GPS policing to be studied for all cars and motorbikes in Thailand to curb road accidents, deaths and carnage
Tourists to Thailand will be required to have a valid licence to ride a motorbike under new order
Drunk soldier who overturned pickup guns down a diligent policeman trying to rescue him in a stupor
18 dead in bus rail crash in Chachoengsao province early on Sunday morning with over 40 injured
Friday evening horror smash in southern Thailand wipes out family riding pillion on a motorbike
Italian couple die in Chumphon in another horrific motorcycle accident on Thailand's deadly roads
Thailand's road accident rate still a red light – many factors driving the carnage with no easy fix