Move Forward's Sirikanya Tansakul says that no worker should receive less than 30% of their monthly salary into their hands after debt payments are deducted with reports that many civil servants and teachers on ฿60,000 to ฿70,000 per month are left with ฿1,000 at the end of the month after paying utilities, deductions to loan cooperatives and other financial obligations. Household debt is a key economic issue underlying the economy's lack of growth and the May election result.
Prime Minister Srettha Thavisin is in New York flying the flag for Thailand and trying to drum up investment from US firms. His coalition government which includes remnants of the old cabinet has just announced lower electricity costs, higher spending and borrowing and a move to widen the country's taxation base by encompassing foreign income while trying to restart an ailing and sick economy. Across the benches in parliament, his party is facing the young Move Forward Party which is spelling out its plans for reform in Thailand starting with tackling endemic corruption and addressing the country's chronic household debt issue which is trapping many middle-class Thai families.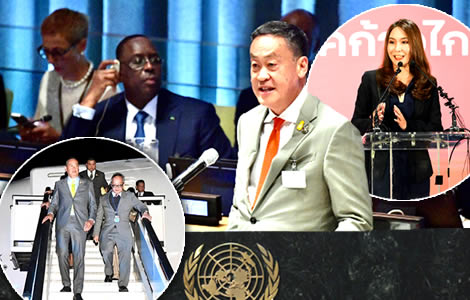 Before his trip to New York, where Thai Prime Minister Srettha Thavisin is currently attending the UN General Assembly, which runs until the middle of next week, the PM has been asserting his position as both Prime Minister and Minister of Finance with a move to widen taxation on incoming funds from foreign entities into Thailand as well as a crackdown by the Pheu Thai led government on foreign owners using local nominees to illegally control Thai companies in contravention of the Foreign Business Act (1999).
There was one bit of good news for Mr Srettha this week with a report from the University of the Thai Chamber of Commerce (UTCC), showing that consumer confidence has risen since the political breakthrough in August which saw his election as Prime Minister with the index rising to 56.9 last month from 55.6 in July.
Budget with higher deficit approved for 2024 with projected public debt reaching a higher 64% of GDP
The new government has also moved swiftly to approve a new Budget for the fiscal year ending September 30, 2024.
This will see spending of ฿3.48 trillion and a revised budget deficit of ฿693 billion, which is 14% ahead of the figure set by the outgoing government of Prayut Chan ocha, which had projected a deficit of ฿593 billion for the same period.
Even so, the projected deficit for 2024 is 14% lower than that set for 2023 with the government forecasting public debt to rise to 64% of GDP in the coming year.
The last government raised the debt ceiling under the 2018 State Fiscal and Financial Disciplines Act.
This saw it rise from 60% to 70% of GDP although the outgoing government and former Minister of Finance Arkhom Termpittayapaisith had tried to prudently keep the level at somewhere near 60% during his tenure in charge of the public finances. 
Bank of Thailand is signalling its unease at the new government's policies and is underlining the need for prudence and protecting financial stability
The Bank of Thailand has been signalling its unease at the suggestions emanating from the new government that it use the public purse to spur economic growth, particularly with it's reconfirmed plan to launch the ฿10,000 digital wallet giveaway which will see every Thai adult over 16 years of age receive ฿10,000 in digital credits under a blockchain scheme to be launched on February 1st, 2024.
The new budget approved by the government in the last week foresees GDP growth next year of 3.2%. Current estimates for growth in 2023 range from 3% to 3.5%.
The Bank of Thailand currently projects a growth rate of 3.6% for 2023 but it is expected to roll this back after the economy only grew by 1.8% in the second quarter following an equally disappointing 1.8% GDP gain in the first three months of the year.
Thailand's export sector has not recovered as expected in the second half of the year and there is further grim news emanating from China.
The United States economy may also, at any point, tip into recession despite rising hopes that it may avoid this by achieving a soft landing.
The Federal Reserve this week indicated it may be in a position in 2024 to begin a process of rolling back interest rate hikes, something which would be very good news for the Thai economy but that, for now, is a long way off.
Coalition including conservative ministers from the previous cabinet is constrained from radical reform by compromises reached to form a government
However, the new government of Mr Srettha contains 18 ministers who are not from the Pheu Thai Party.
This is thought to be an awkward constraint and is a result of the political compromise that was made in the run-up to the election of the Prime Minister at the end of August. 
This week, the new government has followed through on its plans to reduce electricity costs and is on track to introduce a moratorium on debt repayments for farmers at the end of the year with a more refined scheme for small businesses in respect of debts under ฿1 million.
These measures have been welcomed by and large, but they don't go anywhere near the sort of initiatives that are thought to be required to see Thailand's economy escape the lethargy that has befallen it over the last five to six years. 
The country's ageing workforce and the effects of a low birth rate have been impacting its labour force since 2015 while one-third of Thai workers and families are thought to be mired in chronically dangerous levels of household debt. 
Household debt problem is an escalating threat
The country's problem with household debt is thought to be escalating and is on the verge of tipping over into becoming a threat to financial stability in the kingdom with rising bad loans and defaults in respect of vehicle purchases and personal loans, putting pressure on regulators as the Bank of Thailand consistently underlines that financial stability must be the priority of the government.
An initiative by Mr Srettha's government to boost tourism from China is thought to be questionable because of the damage inflicted on the perception of Thailand as a holiday destination by rising numbers of criminal types from China entering the kingdom at the beginning of the year.
Days of China coming to the rescue with command and control initiatives gone, giving way to a very challenging and dangerous world for Thai ministers
Indeed, the initiative highlights a problem facing Thailand concerning its dependence on China which is experiencing very disturbing problems, both in its economic and political sectors, which seem to have been brought on by the trade war with the United States, the devastating COVID-19 pandemic shutdown, and a flight of capital from the Communist country with plummeting confidence it's regime which shows that command and control economics simply does not work in today's modern world and instant markets. 
In Thailand, the new cabinet is being watched closely as the public very much still feels denied the government it voted for in the May 14th General Election.
In recent weeks, the Move Forward Party has proved itself up to the task of keeping the government's feet to the fire in parliament with the party's deputy leader and finance spokesman, Ms Sirikanya Tansakul, who has come to the fore in the aftermath of the withdrawal and resignation of Mr Pita Limjaroenrat as the leader of the party because of a constitutional court order and constraints imposed on him.
Opposition to the government agrees that kickstarting GDP growth is essential despite the central bank's call to prioritise financial stability
Ms Sirikanya has been drawing attention to Thailand's lack of progress and retarded growth when compared to other Southeast Asian economies such as Vietnam and Indonesia and agrees with the new Prime Minister that the country must target growth of 5% which many economic analysts feel is simply not possible, given the country's massive level of household debt and its lack of investment in the last decade or so, since the 2006 and 2014 coups as well as its ageing population. 
Speaking to Reuters, this week, the 42-year-old Ms Sirikanya, who is French-educated and a former policy researcher, highlighted the key issue facing the country in the short term.
'The number one challenge is household debt,' she proclaimed. 'Household income should grow 5% per year,' Ms Sirikanya declared. 'There could also be a spillover effect from a stronger grassroots economy.'
More and more Thai voters are ready to see a clean sweep on reform and a more radical government as corruption and debt stifle the country's ambitions
Move Forward came out tops in the May 14th General Election and while initially supported by younger and urban voters, the party is growing in traction across the country even among the those in Pheu Thai voter base who felt disenchanted or betrayed by the party's decision to enter into a coalition with political groups associated with the former junta.
This week, Ms Sirikanya went out of her way to stress that the Move Forward Party is pro-business and in favour of free markets. However, she emphasised the need for Thailand to reform its economy and root out corruption. 
This will involve reform of the Royal Thai Police with a disturbing local government corruption scandal linked with contracts in Nakhon Pathom province emerging as a headline news story in recent days.
Huge investment funds pumped out annually
It brings home a key concern among the Thai public which is where the huge sums of money spent by the government annually directed to infrastructure spending, actually goes.
The budget for 2024 contains ฿707 billion for investment projects and many people in Thailand are sceptical that such monies are applied properly and productively.
Nearly half the Thai economy is off the books and in the grassroots sector, which is a sector that is directly related to foreign tourism.
Ms Sirikanya's Move Forward Party is calling for a zero-based approach to government budgeting and a complete overhaul of the Kingdom's bureaucratic system of administration, with more emphasis placed on government at a local level, transparency as well as higher standards of ethics and accountability within the central government.
A professor with Thammasat University's Business School, Pavida Pananond, this week suggested that this may be the approach that the Kingdom needs right now rather than a headlong focus on GDP growth.
Business school professor agrees that Thailand needs radical reform of its economy and state bureaucracy to breathe life into its ailing and sluggish economy
'It is natural that business sectors have concerns because many are afraid of change,' Professor Pavida said. 'Without the institutional restructuring that Move Forward is proposing, sustainable growth might not take place easily.'
'We have to reorganise the budget. There is a lot of fat that we have to leave out,' Ms Sirikanya explains. At the same time, the Move Forward Party Economic Team leader stresses that the party is in favour of free markets and entrepreneurialism. 
The Move Forward Party is proposing a strengthening of the country's social welfare system and a significant increase in the minimum daily wage in the short term.
The rate proposed at ฿450 per day represents a rise of 27% to 37% on current levels of pay with different pay structures across the kingdom.
Household debt seen by Move Forward Party at this stage, given the suffering being caused, as almost a human rights issue and a huge economic block
Ms Sirikanya, the anticipated finance minister in the proposed Move Forward Pheu Thai government unveiled after the General Election, however, singled out household debt as the key to tackling Thailand's economic ailments at this time. 
Speaking this week about indebted civil servants, particularly teachers working within the Ministry of Education, Ms Sirikanya suggested that no worker involved in government debt repayment schemes should be receiving less than 30% of the salary due to them as a matter of human rights.
It is reported that some teachers with salaries of ฿60,000 to ฿70,000 per month are only able to draw ฿1,000 at the end of the period because of debt repayments. 
The Move Forward Party proposal or approach would be to raise taxation on profitable firms and root out corruption while easing debt burdens on many working within the public service and farmers to revitalise the economy.
Radical plans to break up monopolies including the current duopoly in the kingdom's brewing sector and a streamlined tax system favouring lower earners
This proposal is one of the reasons why the party surged in the May 14th General Election even among conservative types who previously voted for anti-populist parties. They opted for the Move Forward Party as a way out of their current debt nightmare.
Move Forward also proposes the abolition of monopolies in Thailand and liberalisation of the country's brewing market which is currently controlled by two huge conglomerates owned by two of the wealthiest families in the kingdom which generate, between them, ฿14 billion in annual income.
As well as collecting increased taxation from profitable firms and high earners, the Move Forward Party proposes to simplify and streamline the taxation system making it simpler to begin harnessing the country's current black economy constructively.
Further reading:
Economy weakens with a July current account deficit as new cabinet plans lower electricity costs
Economy tanks as demand for loans surges with an acute credit crisis and falling export output reducing growth
Concerns over household debt rising as banks report marginally lower non-performing loans
Thailand preparing for a soft landing as 'cracks' open up in the Chinese economy says bank chief
Economic danger signals emerging as politicians wrangle over who will form the next government
Bank of Thailand to tackle household debt in new plan from 2024 which will see higher standards
Politicians skating on thin ice as the economy may not be able to withstand a political stalemate
Debt crisis may be one of the top items on the new cabinet's agenda as central bank stands ready
Potential hazard lights flashing as kingdom's auto loans spiral into default with sky-high borrowing
Bank of Thailand governor gives veiled warning to voters on the danger posed by populist policies
Financial markets debt sell-off sending a signal to Thailand before the May 14th General Election
PM warns giveaway policies of some parties may be 'bad karma' for the country in the longer run
Economic recovery shaky despite strong foreign tourism as global economic outlook deteriorates
Recession fears rise as growth projections are cut and export output continues to decline in 2023
Good news on foreign investment at the start of 2023 fails to mask stunted competitiveness issue for economy
Economy faces export clogs with rules in China and 'green imperialism' from European Union
Vital European Union free trade deal with Thailand with stiff demands from Brussels to take time
Thailand's financials are sound but the economy is exposed if another world banking crisis emerges
Thai economic woes grow with a 10-year high trade deficit as January exports slumped by 4.5%
Credit crunch as firms seek more bank loans with tightened lending criteria and recession fears
Even as the baht surges, Thailand faces economic recession in mid-2023 with lower earnings
Thailand's trade agenda may be complicated and thwarted by raised tensions in the Indo Pacific region