This week, an Investor Confidence Index (ICI) poll showed a massive fall in confidence in October, with capital flows accelerating out of the Kingdom and a 15% fall in the Stock Exchange of Thailand (SET), with weakness now in both export and foreign tourism sectors.
As Thai Prime Minister Srettha Thavisin prepares for another extended overseas trip to San Francisco in the United States to attend the annual Asia-Pacific Economic Cooperation (APEC) Summit in mid-November, he finds himself at the helm of a coalition government over two months in power and presiding over an economy that has significantly faltered since he took office while his cabinet is already showing signs of fracture. At the end of October, a national opinion poll showed over 55% of the public approved of his performance. Still, there is a tough time ahead for the Pheu Thai compromise Prime Minister, who put together an unlikely coalition to be elected Prime Minister at the end of August.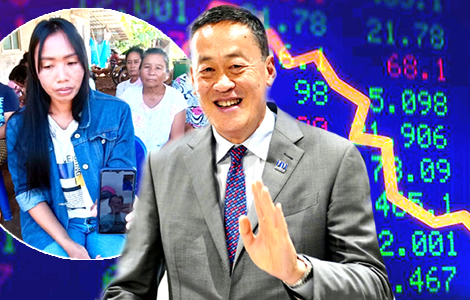 On Friday, details emerged of the revised plan for the ฿10,000 Digital Wallet Giveaway, a signature Pheu Thai Party policy closely associated with incumbent Prime Minister Srettha Thavisin.
The Pheu Thai Party PM cobbled together an improbable coalition between the second-placed party in the May 14th General Election and parties associated with the outgoing government to win election to the role at the end of August in Parliament and install a government on September 5th.
Bill to be introduced in Parliament or royal decree to raise the funding for the complicated and unwieldy Digital Wallet plan postponed until May 2024
The Digital Wallet initiative has been dogged by controversy and scepticism since then, not least its funding, with the budget for the initiative now understood to have been reduced to under ฿400 billion because of restrictions imposed, namely that the eligibility for the payout which will be currently limited to 40 million registered citizens with a cut-off income or salary threshold of ฿70,000 per month.
The scheme will be launched on the Krungthai Bank's Paotang app sometime in May 2024 and funded by a bill introduced in Parliament or a decree agreed upon by the cabinet.
The ฿10,000 in credit itself will be very restricted, including geographical restrictions based on the recipient's registered address.
Any funds credited in the giveaway may not be used for paying for services or cannot be passed on in any market, as well as other restrictions, meaning it cannot be used to buy alcohol, legal drugs or any expenditure associated with entertainment, including the purchase of alcohol and other substances.
Funds cannot be used as cash to pay debt, overheads or for services, while a whole range of products are prohibited within a restricted geographical area
In addition, the funds cannot be used to pay off debt or fees associated with tuition, as well as everyday overhead bills such as water, electricity, telephone or the payment of energy such as natural gas.
Indeed, it is true to say that the policy initiative, which has led the government to come under investigation by regulatory agencies as it is seen as a populist giveaway, is, in fact, not very popular with the public, with a noticeable lack of anticipation or excitement about its possible launch, now postponed until May 2024 with some reports suggesting that this may be extended to September 2024.
This is caused by a lack of confidence in the plan, which seems unwieldy and threatens to increase the country's public debt level at a particularly precarious time.
Friday's briefing on the policy comes just over two months into the government of Prime Minister Srettha Thavisin was sworn in. 
Internal divisions within the cabinet are already being reported this week, with a rift over sugar and a turf war within the Ministry of Agriculture
Reports this week suggest it is experiencing internal division, even at this early stage.
On Wednesday, Mr Strettha, without denying the speculation of cabinet rifts, proposed holding a dinner for senior ministers and parties to the cabinet and joked that this might be a necessary activity on a monthly or bi-monthly basis.
At the same time, it was confirmed that there are differences between the Commerce Ministry, headed by Deputy Prime Minister Phumtham Wechayachai of Pheu Thai and the Industry Ministry led by Pimpatra Wichaikul of the United Thai Nation (Ruam Thai Sang Chart) Party. 
The issue or the rift between the ministries is over a decision by the Ministry of Commerce to impose price controls on sugar, which has affected and distorted the market for the critical ingredient, leading to widespread complaints in the industrial sector.
There are also reports of tensions between the Minister of Agriculture, Mr Thamanat Prompow, who is a member of the Palang Pracharat Party, and the Junior Minister at the Ministry of Agriculture and Cooperatives, Mr Chaiya Promma, a member of the Pheu Thai Party.
This dispute concerns the control of internal agencies within the ministry, which the junior minister is contesting with his senior counterpart. 
Rudderless government at a loss to address a lack of GDP growth potential in the medium term, while the Israeli-Hamas War has left dozens of Thais dead
This week's developments come as the government appears rudderless with declining GDP growth prospects and a policy platform conditional on 5% annual growth.
The government has also appeared indecisive in dealing with the Israeli-Hamas crisis and a rising death toll of Thai nationals in that conflict, as well as the plight of Thai hostages. 
The latest figures from Israel show 34 Thai nationals were killed in the Hamas terrorist attack, while it is now reported there are 24 hostages.
While Muslim countries have assured Thai leaders through diplomatic channels and personal intermediates, such as a key Shia leader, Syed Sulaiman Husaini, reportedly close to Iran, there seems to be an ambivalence in the Kingdom's position as it strives to remain neutral while suffering severe losses.
At the same time, the Hamas terrorist organisation, backed by Iran, continues to hold Thai citizens captive.
Over 20,000 Thai nationals remained in Israel despite solid efforts by the government in Bangkok to encourage all Thais to return home from the country
In the meantime, over 20,000 Thai nationals have opted to remain in Israel, while Israeli Thais have travelled to join the Israeli Defence Forces in the military operation against Gaza.
Against this backdrop, there have been refuted press reports of a more significant number of Thai hostages being held.
At the same time, comments from the Muslim leader, Mr Syed Sulaiman Husaini, this week on Thailand's perceived close links with Israel put Mr Srettha's government in an impossible situation.
Economic woes are multiplying
This delicate problem for the government has also coincides with bad news on the economic front, with the expected rebound in exports failing to match more optimistic projections at the beginning and the middle of the year.
Analysts now forecast a 2% downturn on last year's performance, which deteriorated quickly in the latter months.
At the same time, there are disturbing signs of weakness in the recovery of foreign tourism. It is now doubtful that the Kingdom will achieve a target of 30 million visitors in 2023.
It had been hoped that a series of initiatives concerning visa waivers aimed at the Chinese and, latterly, the Indian and the Taiwanese markets would see a boost, but this has failed to materialise.
Tourism earnings on target to be just half of what we achieved by the Kingdom in 2019 despite visa waivers to Chinese, Indian and Taiwanese visitors
More significant for the government and economic planners is the fact that earnings from foreign tourism so far this year have not reached the ฿1 trillion level, with a figure released by the Ministry of Tourism this week showing expenditure by foreign tourists to date of only ฿954.24 billion, which is less than half that which was seen in the record year of 2019. 
The darkening economic situation is also seen in the continued rise of household debt and, in recent months, the non-performing loan rates, as reported by the National Credit Bureau.
The combined prospect of deterioration in public and private debt, with public debt currently running at 61.7% of GDP and household debt at 90.7%, leads to speculation that the Kingdom may be heading for some sort of credit downgrade.
This situation may explain the tensions between the prime minister, his government, and the Bank of Thailand's governor, Mr Sethaput Suthiwartnarueput.
High-flying Prime Minister preparing for another week abroad in San Francisco, his second extended, official visit to the United States since September
Another significant talking point concerning the leadership of Prime Minister Srettha Thavisin has been his propensity to travel abroad with the Prime Minister initially flying to the United States after his election to attend the UN General Assembly, later followed by a week-long tour of Asia and the high-profile visit to China.
Even within Thailand, this Prime Minister's constant travel and mobility have been a hallmark of his short tenure.
Prime Minister Srettha also attended the summit of the ASEAN and Gulf States held in mid-October in Riyadh, Saudi Arabia, while he is currently preparing to travel to San Francisco to attend the APEC Economic Leaders Week, an annual get-together of Asia-Pacific leaders, which was held last year in Bangkok and this year will be hosted in San Francisco by the Biden administration.
The latest trip will see the Prime Minister in the United States from November 11th to the 17th. It will be his second extended trip to the United States since taking office in September.
A poll conducted by the National Institute of Development Administration (NIDA) at the end of October, however, showed that the vast majority of the Thai public approved of Mr Srettha's overseas trips, receiving a 69.71% positive response with an adverse reaction of only 20.27%. 
October poll showed public approval for Srettha
The same survey showed a slight majority expressing satisfaction with the new Prime Minister's overall performance in office since early September, with 55.27% applying in the affirmative while 26.87% of the public expressed themselves as not satisfied with the new Prime Minister's performance while 4.12% refused to answer.
The decline in Thailand's economic prospects since Mr Srettha became Prime Minister can be seen this week in a significant drop in investor confidence revealed by the Federation of Thai Capital Market Organisations (Fetco) headed by its chairman, Mr Kobsak Pootrakool, a former vice-minister Vice Minister at the Prime Minister's office under Prime Minister Prayut Chan ocha.
The Federation's Investor Confidence Index (ICI) fell dramatically to a five-month low in October.
This development has been attributed to global uncertainty caused by the Israeli-Hamas War, beginning with the invasion of Southern Israel from Gaza on October 7th.
Sharp fall in Investor Confidence Index (ICI) recorded in October as external world outlook turns darker and the economy falters with capital outflows
The survey, conducted between October 20th and 30th, showed a 31.5% drop in confidence from the previous month.
The least impacted were foreign investors, who showed a 16.7% decline, while retail, brokers and institutional market players saw confidence levels plummeting by 45.3%, 34% and 31%, respectively. 
On Wednesday, Mr Kobsak confirmed the disturbing results of the survey.
'The Investor Confidence Index (ICI) has shown a relative improvement for a couple of months, but last month it slipped into a bear zone for the second time this year as the Middle East conflict erupted,' he told reporters.
Mr Kobsak compared the response to an earlier dive in confidence this year sparked by concerns about the fragility of the American and European banking systems. 
'As of now, it remains very uncertain whether the war will intensify or not and whether countries like Yemen, Lebanon, Iran and the United States may take part. That is the most negative factor hurting investor confidence,' Mr Kobsak outlined. 
The news is coming in what is turning out to be a very disappointing economic performance for Thailand, with 2023 seeing its main stock index, the Stock Exchange of Thailand (SET), falling by 15%.
Furthermore, the external capital flows have seen foreign investors transferring ฿175 billion out of Thai shares. Even more disturbing is that this volume increased in October, with the Stock Exchange of Thailand (SET) Index falling by 6.1% that month alone.
Struggles ahead over minimum wage and salary increases for the public service amid higher borrowing instigated by Prime Ministerial order
The negative trend in economic sentiment is coming after a perceived improvement in September with the formation of the new government, which has acted to bring down inflation by at least following through on one key election policy platform pledge, being the reduction in electricity costs, something that the business sector and the public alike have welcomed. 
However, the government is already facing a challenge in 2024 with its plans to increase the minimum wage, with the working public expecting to see a ฿400 baht per day minimum wage introduced, something that has been rejected by key officials at the Ministry of Labour which is pushing for a more nuanced and practical approach in conjunction with employers.
An order also issued this week by Prime Minister Srettha Thavisin setting in motion a process leading to public sector pay rises is another critical challenge that the new government will have to negotiate next year amid the rising cost of money worldwide and tightening credit conditions.
Further reading:
Economy is in troubled waters with fears for both exports and foreign tourism as 2023 winds down
Thailand faces an economic future of low growth despite Srettha's plans because of a darker world
Another dip for the baht or are economic danger signals flashing for both Thailand and the world?
Police chief confirms 2 dead with reports of at least one more fatality in Bangkok mass shooting
Bank of Thailand boss appears critical of the new government's policy initiatives on the economy
Economy tanks as demand for loans surges with an acute credit crisis and falling export output reducing growth
Concerns over household debt rising as banks report marginally lower non-performing loans
Thailand preparing for a soft landing as 'cracks' open up in the Chinese economy says bank chief
Economic danger signals emerging as politicians wrangle over who will form the next government
Bank of Thailand to tackle household debt in new plan from 2024 which will see higher standards
Politicians skating on thin ice as the economy may not be able to withstand a political stalemate
Debt crisis may be one of the top items on the new cabinet's agenda as central bank stands ready
Potential hazard lights flashing as kingdom's auto loans spiral into default with sky-high borrowing
Bank of Thailand governor gives veiled warning to voters on the danger posed by populist policies
Financial markets debt sell-off sending a signal to Thailand before the May 14th General Election