Earlier proposals by the Pheu Thai Party for a ฿600 minimum wage by 2027 and a guaranteed salary of ฿25,000 for graduates at the same time, were better received with the free money scheme free for all smacking of vote buying even among its supporters, many of whom felt underestimated by the party and who turned to Move Forward who promised structural change.
Pheu Thai Party officials scrapped its controversial ฿10,000 digital wallets programme to boost economic growth on Thursday as it works with its coalition partners on fashioning a new economic agenda for the proposed eight-party Move Forward-led government which will see Thailand moving towards structural reform of the economy to address inequality and the first steps towards a social welfare state.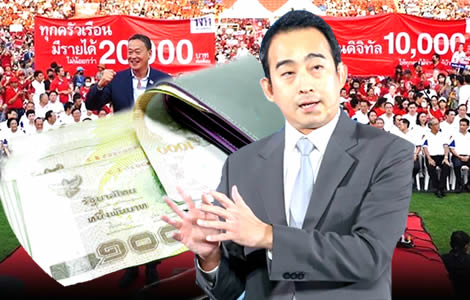 The Pheu Thai Party has formally axed its ฿10,000 digital wallet giveaway policy.
The decision came just hours after the Election Commission dismissed a complaint filed with it over the policy and comes days after the party agreed to form a transition committee with Move Forward across a series of panels which will focus on finalising policy details and liaising with third parties as part of the process of creating the eight party coalition government.
The election results are being seen by political analysts and economists alike as a powerful vote by the Thai people demanding structural change in the economy to address income inequality and the creation of a modern European-style welfare state.
Pheu Thai advanced neo-liberal or Keynesian pro-growth policies but they were rejected by many in favour of a structural shift towards a welfare state 
The Pheu Thai Party economic policies advanced for the May 14th General Election prescribed pro-growth neo-liberal or Keynesian policies which were ultimately rejected by a more discerning voting public which opted instead for a ฿3,000 per month payment to older people and a more immediate increase in the minimum wage to ฿450 per day within 100 days of a new government taking office.
The party also promised a ฿1,200 per month support payment for children very much in keeping with European benefit models.
It is a policy which may be particularly suited to Thailand where the country is facing an acute birth rate decline with an ageing population, and shrinking workforce, reducing the basis for economic growth.
It is clear that to fund the Move Forward Party's economic policies, generous handouts and fiscal stimulus initiatives had to be sacrificed and this is the basis for the announcement by Pheu Thai.
Pheu Thai party leadership rejects alternative coalition talks this week as did the leader of the Democrat Party, one of the parties associated with it
The move by the party, despite a show of unity between the two largest parties in the new coalition on Tuesday and repeated endorsements from its top officials, is being seen by some political sceptics in Thailand as a sign that a deal may be afoot with an alternative coalition including the Democrat and Bhumjaithai parties.
However, in the last 24 hours, the Democrat Party leader, Deputy Prime Minister Jurin Laksanawisit has categorically denied any basis for these rumours which persist.
On Thursday, the Pheu Thai economics team including Secretary-general Paophum Rojanasakul explained that the party had to make way for the Move Forward policies based on democratic principles and that the more progressive party's policies would cost ฿560 billion and must be paid for.
Reports many Pheu Thai voters influenced by younger generation voters into voting for the newer party which promised more radical economic change
Reports in the days leading up to May 14th suggest that many Thai households and families swung against the controversial ฿10,000 digital wallet giveaway preferring instead the simpler and more decisive regular payment to seniors and the promise of a fairer government advanced by Move Forward.
Reports suggest that in many extended families, younger voters convinced middle-aged and senior voters who typically voted Pheu Thai, to switch allegiance to the younger and more modern party.
'For the ฿10,000 digital wallet policy of the Pheu Thai Party, we still see a necessity to stimulate the national economy amid its weakness,' Mr Paophum said on Thursday. 'But the policy would cost the state about ฿560 billion while the leading party's welfare policies would require a similar amount of money. So, we must shelve this project.'
Policy did not go down well with Pheu Thai voters, felt like the party's long-time base had been taken for granted and could be bought off by a gimmick
The Pheu Thai Party had presented its policy as part of a package including earlier promises, which were better received, of a guaranteed ฿25,000 per month salary for bachelor degree holders by 2027 and a ฿600 minimum wage also in the same time frame.
The ฿10,000 giveaway offer felt like a gimmick and coincided with the surge in support for the Move Forward Party in the run-up to the May 14th poll.
The introduction of property tycoon Mr Srettha Thavisin as the lead campaigner in the week running up to the polls in place of Ms Paetongtarn Shinawatra after giving birth to her son also coincided with the shift to the more radical Move Forward Party.
The ฿10,000 digital wallet proposal, payable to all voters over 16 years of age, even those who could not even vote, counterintuitively smacked of vote buying aimed at families.
Many analysts feel that the Pheu Thai Party underestimated the maturity and judgement of the Thai electorate which had weathered political struggles and two coups since 2006 in addition to unprecedented pandemic shutdowns in 2020 and 2021.
The level of awareness of economics and politics in Thailand among ordinary people has thrived through the growing use of social media and news networks, in the last two decades, a phenomenon which was tapped into more successfully during this election by the Move Forward Party with its simpler and fairer message of reform to address chronic inequality in Thailand.
Further reading:
Pheu Thai's ฿10k digital economic stimulus for all under fire as Election Commission opens probe into it
Srettha eyes top job and defends ฿10k spending wallet for over 16s just unveiled as a Pheu Thai policy
Bad week on the campaign trail for General Prayut as a lack of public enthusiasm makes itself known
Social welfare scheme sees millions signed up for monthly handouts and easy access to small loans
Ung Ing says Prawit is better liked than PM Prayut with reports of the return of key ex-ministers
Whip hand with Pheu Thai to secure power in this year's General Election despite Senate's waning power
PM upholds status quo as he seeks a path back to power with the help of the Bhumjaithai Party
3 out 4 believe that Pheu Thai will take power in 2023 with a third Shinawatra taking the reins
Court decision on electoral law is a big boost for Pheu Thai Party as Prayut remains tight-lipped
Pheu Thai looking at property developer tycoon Srettha for PM role after next General Election
Possible Pheu Thai PM Paetongtarn Shinawatra promises a new society where everyone is secure
Drugs to be an election issue as Anutin digs in insisting that attitudes must change on cannabis