The accused serial killer's baby died in prison last week as police pressed 75 charges in the case. General Surachate Hakparn insists that the defendant is Thailand's most prolific serial killer whose mental health is not in question. He assured the public on Friday that justice will be done in this case and that the alleged killer if convicted, will not be released to murder again as happened with Thailand's last serial killer in 2019.
On Friday, Police General Surachate Hakparn finally closed the case against Ms Sararat Rangsiwutthaporn or Am Cyanide who investigators believe to be Thailand's deadliest-ever serial killer. General Surachate described Ms Sararat as mentally capable but having the characteristics of a voracious and merciless murderer who took life not as a male serial killer would, normally driven by sexual desire but for greed and financial gain. The police revealed that 75 charges are to be pursued in the case relating to 14 murders and one attempted murder from 2005 to 2023 across eight provinces.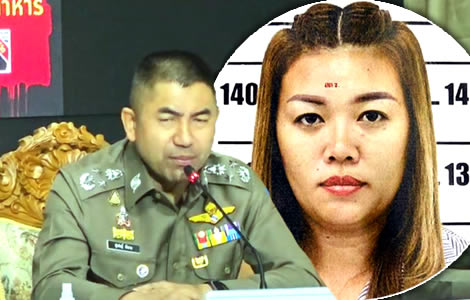 On Friday, in a presentation followed by an exchange with the press, Big Joke or Police General Surachate Hakparn announced that the case into Ms Sararat had been finalised and closed by the police, with 75 charges in total being passed on to the Public Prosecutor's Office.
The criminal case involved 14 murders and one attempted murder over an eighteen-year period from 2005 until 2023.
General Surachate underlined to the press that the mental health of the defendant was normal and that police research suggests that she bears the profile of a female serial killer being a woman who is motivated by money and property whereas most male serial killers are motivated by sex.
Big Joke flanked by senior police officers and officials as reporters were given a full briefing on the case being sent to prosecutors against the defendant
Flanked by senior police officers from Regions 4 and 7 as well as national crime agencies and a senior professor from Kasetsart University, the deputy police chief outlined key details of the case against Ms Sararat, who has come to be known as Am Cyanide.
Her serial killing spree targeted her creditors and property belonging to them.
In the course of the extensive investigation, over a three-month period, police relied on extensive forensic evidence and input from medical examiners at the Institute of Forensic Medicine who examined blood and other medical tissue from the last victim of Ms Sararat in Ratchaburi province in Western Thailand. 
32-year-old Miss Siriporn Kanwong or Koi, died on April 14th this year.
Her family quickly raised the alarm after CCTV footage where the suspected serial killer was seen accompanying the victim emerged after her death. The accused serial killer was also suspected to have stolen her possessions.
The family of Miss Koi went to the police when a bag associated with the killer was found to contain the deadly poison cyanide.
Criminal investigation established by the National Police Commissioner General Damrongsak Kittiprapas into heightened suspicions of poisoning
Not long after this, the high-level investigation led by General Surachate was established by the National Police Commissioner General Damrongsak Kittiprapas after families from across Thailand contacted the police with suspicions relating to the defendant.
On Friday, General Surachate highlighted that the accused woman often supplied food and other sustenance to her victims, having invited them out for a drive or to go and eat.
One particular case shocked the public in Thailand.
Am sent her unfortunate victim, a woman who had just given birth to an infant, what the young mother thought to be a diet pill which later killed her within minutes of ingesting it. She was living in the northeastern province of Mukdahan while her husband worked in Bangkok with the Royal Thai Police.
This particular murder which occurred in November 2020 captured the Thai public's sympathy at the end of April when her tearful husband Dr Nitiphan Nuchit told nationwide viewers how he was at the end of a smartphone in Bangkok when his wife received the pill and later when he asked a neighbour to check on her only to find that she had died on her bed where he had last spoke to her.
Ex husband faces charges as well as Ms Sararat's lawyer relating to evidence and impeding the police
General Surachate told reporters that as well as Ms Sararat, former Police Lieutenant Colonel Withoon Rangsiwutthaporn, the woman's ex-husband, as well as her personal lawyer Ms Thannicha Ek Suwanwa, are also facing charges linked with the case.
The former senior police officer who was dismissed from the force was charged by police in court at Nakhon Pathom province in early May with offences linked to the disposal of assets after the death of 36-year-old Mr Suthisak Poonkhwan, his ex-wife's new husband who died at her hands on March 12th last.
Police believe that there were efforts to conceal or destroy evidence or help the defendant evade justice and brought charges accordingly. 
General Surachate emphasised that this was a historic case for Thailand and at the same time, a very disturbing one, as many of the victims were initially classified as having died through natural causes.
Public assured the accused woman, if convicted, will face justice after a scandal where a serial killer sentenced to death was released to murder again
He said that the accused woman had set out to clear her contracted debts by killing her victims and appropriating their property.
He also took the opportunity to assure the public that he was confident that the case against the accused was a strong one while also promising that authorities would take every step to ensure that if convicted, the killer would not be released from prison prematurely and that justice will be served.
He referred, in particular to Mr Somkid Pumpuang, a serial killer in Thailand who murdered five women and was sentenced to death in 2005 but subsequently released in 2019, on March 17th of that year. Mr Somkid later went on to murder a 51-year-old woman in Khon Kaen on the 15th of December 2019.
The top police officer highlighted Mr Somkid was only the second convicted Thai serial killer in history following in the footsteps of Si Quey, a notorious Chinese serial killer who was convicted and executed in 1959 for the murder of five children, although it was thought by authorities that the notorious killer had murdered seven young people. 
Male serial killers normally are driven by sex
Both male serial killers are thought to have had sexual motives, although the Chinese immigrant was also known to have been a cannibal and eaten some of his victims. 
General Surachate went on to note that Ms Sararat had been well known and liked by her victims who were either related to her or close friends to such an extent that she had financial dealings with them and was able to borrow substantial sums of money by offering to pay high-interest rates or offering the victims shares in lucrative schemes which she subsequently did not have to repay because of their untimely deaths.
Police traced the source of the killer's cyanide supply which Ms Sararate obtained by ordering online from a company which imported a product from Spain
At the press conference, a senior officer, Colonel Tapphoom, gave the media a briefing on how Ms Sararat accessed the deadly cyanide poison by ordering it in bottles through an online channel of a Thai company which imported a product called Preak, produced in Spain.
The company is one of five firms in Thailand which imported cyanide.
The product in a bottle had a concentration level of 75%.
He revealed that police had traced 2143 bottles of the product which had been distributed through 6 different traders and found that it was sold to members of the public in very limited instances including one suicide, one case where it was used to kill animals and for the use of Ms Sararat.
As previously reported, police are working with importers and the relevant state agencies to review if all the applicable laws were complied with and to see if there was any negligence linked with this case.
First victim died in 2005 with the next alleged murder not detected until 2010. Between August 2022 and April 2023, 7 people died from cyanide poisoning
Police on Friday revealed that the first victim of Ms Sararat was Ms Monthathip Kao-in, who died on July 10th 2005 in the Thonglor district of Bangkok.
It was over five years later for the next life to be claimed with the death of Ms Nittaya Kaewbuppha on August 23rd, 2010 in Nakhon Pathom province in a rented room.
A notable fact is that the seventh victim of the alleged serial killer was Ms Rosjarin Ninnoi on August 10th 2022 at her vegetable stall at the Mahachai market in Samut Sakan province.
Between then and April 14th 2023, there were seven more victims of the serial killer, whose murder spree appears to have intensified. 
A police officer, Police Lieutenant Colonel Nipah Sangchan died on April 1st, 2023 in Nakhon Pathom province less than two weeks before the final victim succumbed on April 14th in Ratchaburi.
Chronic online gambling addiction linked with the murder campaign as police trace ฿78 million from Miss Sararat's bank accounts to betting websites
General Surachate recently told the press that Ms Sararat suffered from a chronic online gambling addiction problem and a forensic examination of her bank account showed that ฿78 million of funds that had been processed through her holdings, were made over to illegal online sites.
When Ms Sararat was committed to prison at the Central Women's Correctional Institution in Bangkok by order of the Criminal Court in May 2023 after bail was refused following her arrest by the Crime Suppression Division (CSD), she was reported to have been several months pregnant with the child of her second husband who is also thought to have been murdered by her in Udon Thani province in March this year.
Am's baby reportedly died last week in prison
This legally had given her some protection at least in the short term from the death penalty under a specific provision of Thailand's Criminal Code.
However, last weekend, the Director of the prison confirmed to reporters that the accused woman had reported to doctors at the facility with chronic pains and advised them that the heart of the foetus had stopped beating.
It was confirmed later that a medical procedure had been undertaken to remove the foetus to protect Ms Sararat's health at a hospital linked with the prison with the serial killer defendant remaining under guard and later returned to the detention facility where she awaits trial as a remand prisoner.
Further reading:
Biggest criminal case in Thai history to be finalised, on Friday, against suspected serial killer Am Cyanide
Am Cyanide sues activist who raised alarm over alleged killing spree. Former lawyer summoned
Am Cyanide touched by the evil of online gambling sites where she lost as much as ฿1 million a day
Alleged cyanide killer's lawyer off the case as police and key witness meet Am Cyanide in prison on Saturday
Am's ex police officer husband bailed, visits her in jail, wants her to confess to the serial poisoning murders
Police to arrest serial killer suspect's husband, 10 more charges for gambling addict 'Am Cyanide'
Thailand's biggest serial killer suspect legally protected from the death penalty as horror grows
Damning evidence mounts against what police now believe to be a prolific cyanide serial killer
Mother of murdered woman at the hands of a suspected serial killer calls for the death penalty to be meted out
Killer sentenced to death for the 2nd time for the murder of a woman 7 months after being paroled
Sadistic rapist, drug dealer and serial murderer is sentenced to life in prison by Thon Buri court
Scotswoman to appeal dropping of death sentence on brother in law and two hired hitmen by court in Phrae
Death sentence for murderous trio who executed a loving Thai wife and her UK husband in Phrae
Death sentence imposed on school boss who murdered a 2-year-old boy in a gold shop robbery in January
School director pleads guilty in court to murder and other charges after Lopburi shopping centre massacre
Master of lies and death, the gold shop killer's life, actions and motives probed by police as wife flees
Lopburi child killer is a primary school director who murdered 3 people this month just for kicks
Mum's heartbreak after 2 year old's murder as police now know the identity of the cruel and evil killer
93% of Thai people want to see the death penalty put to use to curb shocking murders and drug gangs