Audi seeks new dealer in Thailand's north as the brands expands in Thailand
Audi in Thailand has announced plans to expand its operations. The move indicates not only Thailand's booming economy but also the levels of wealth in the country at the higher ends of society where German cars and high end brands are in vogue.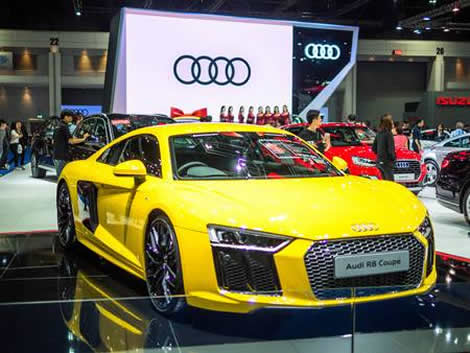 Meister Technik, the Audi authorized importer and distributor, said that the brand was planning to throughout the entire Thailand by 2019, starting by setting up its first dealership in Pattaya in August and looking for investors in Chiang Mai and Udon Thani. This is the latest move in a series of changes that Audi has undergone recently in Thailand. On September 10, Meister Technik opened the new headquarters on Pradit Manutham Road which cost about 1.4 billion baht to build.
Then last year, Audi terminated its long-running partnership with Motor Works Co Ltd that had been then working with Audi for more than 20 years, despite that Motor Works Co Ltd had invested heavily, notably the construction of a new multi million-baht showroom in Bangkok. Meister Technik later bid to become the next Audi distributor and won.
Audi sold more than 600 vehicles in Thailand last year, and it expects to double the sale this year. Even if this goal is met, Audi still lags far behind its competitors in Thailand. Mercedes and BMW sold about 12,000 and 7,000 cars respectively in Thailand last year, creating enormous pressure for the 108-year-old German carmaker. Though Audi is recognized as one of the best-selling luxury automobile brands in the world, it only has 10,000 vehicles in Thailand.
Audi – the story about how it got its name
August Horch and his partner set up an enterprise to design and manufacture cars at the beginning of the 20th century when German engineers were at the forefront of automobile engineering. After a dispute with his partners he decided to set up a new car production enterprise. He soon found the he was unable to use his own name as it was part of the brand and identification of the previous concern. This lead to the new company losing a court case in the German city of Leipzig. Horcash hastily called a meeting with his new partners including one Franz Fikentscher at Franz's apartment. While the men discussed the legal issues, Franz Fikentscher's son was studying Latin in the corner of the room. The value of Horch's surname to thebrand of the former company came from the fact that in German it means to hear. The young student, at first hesitant to intrude on the conversation overcome his doubts and suggested that the business men use the Latin expression for hearing which translated to Audi.
A brief history of Audi cars
The German car company was destined for may twists and turns throughout the years but has always remained committed to producing innovative and quality cars rooted in sound engineering. In 1932 it as part of a union of four German car firms and this brought about the distinctive four circles that is now synonymous with the brand when the firm Auto Alliance was formed.
In the aftermath of World War II when a defeated Germany lost many engineering plants, which were disassembled and transported out of the country to Russia, Audi scrambled for survival. As Germany was partitioned and old plants taken over by the Communist authorities, the company was relocated to Ingolstadt in the state of Bavaria with assistance from the West German government and the US Marshall plan. It was later to be taken over the the giant Volkswagen Group who still maintain ownership of the brand and division.
Volkswagen wanted to phase out Audi
Indeed its connection with Volkswagen were so deep that in the late 1960s Volkswagen senior management lead by boss Heinz Nordhoff seemed determined to subvert the separate Audi brand and issued instructions that Audi flags and branding be removed from its plant in Ingolstadt and called a halt to all products development on separate models which were produced with Volkswagen. Then something rather strange occurred.
Secret project pursued by renegade Audi engineers
A team of engineers working with Audi decided to disobey their superiors. Secretly they developed a prototype for a new Audi car. The team was led by the brilliant Audi engineer Ludwig Kraus who drove the development of the new model which the team called the Audi 100. When it was ready and the team were confident of what they had produced they presented it to the Volkswagen boss. Heinz Nordhoff was so bowled over that he reversed his decision and strategy and the Audio 100 was launched in 1968.
Vorsprung durch Technik – the famous 1980s ad campaign and how Audi was nearly axed by VW

It was a spectacular  success and reintroduced the beauty and power of innovation and excellence in engineering into an auto industry that had become a consumer led, branding exercise. Yet Audi embraced marketing excellence too and the range of cars that came after the Audio 100 were marketed as leaders in innovation and engineering. This culminated in the famous sales slogan introduced in the 1980s 'Vorsprung durch Technik' meaning 'Getting ahead through Technology'. This was one of the most successful advertising campaigns ever for a car brand. In the United States a similar campaign run from 2007 to 2016 achieved the same success, this time under the slogan 'Truth in Engineering'.
Truly a premium brand: price of an Audi car would by a family home in Thailand

In Thailand today Audi cars are expensive. From the entry A4 or A6 models, the cost of ฿3,000,000 to B฿4,000,000 million ($94,000 to $125,000). It is for those who have wealth and expensive tastes in a rising Thai economy but also those who love great engineering and cars that perform. The elite nature of the market can be seen from the fact that the cost of an Audi car in Thailand would be sufficient to buy a decent family home in most part of the country. Yet there are many takers as the 100% sales increase between 2017 and 2018 figures suggest. Most people buying are quite wealthy Thai people or foreigners. Wealthy Thai people are intrigued and enthused by foreign brands and particularly German cars.
New network of service centres is excellent news for those who love a high end driving experience

Foe many working class or lower middle class Thai people an Audi is an expensive proposition. There is also the question after sale repair and service issues. While Audi prides itself in high standards in engineering, the cost of parts and service can be quite high. However for those seeking a to rare driving experience the news that Audi is developing a new network of service centres around the country is excellent news.
Audi cars have good second hand value
For many foreigners in Thailand a second hand Audi is a good proposition.The cars are well built with superior body shells and high standard under the bonnet. For many in the past decades it has been a choice between the Volvo and the Audi. Audi appears now to be winning out. One key advantage for those seeking to purchase a second hand Audi is that if it is possible to find an auto mechanic or an engineer who know their business there is documentation and even a designated app available which can be purchased where the car can be easily tested and problems diagnosed easily. This coupled with an interchangeability between Audi and Volkswagen parts makes it possible to service and maintain Audi in a cost effective manner. This assumes that the car is cared for responsibly