Accident as taxi hit military escort motorcyclist: Motorcycle escorts for VIPs are common in Thailand and particularly in Bangkok where for high ranking personages and royalty, roads are often closed for up to twenty minutes in each direction to allow escorted convoys to pass. This week's incident was simply military police motorcyclist riding head of Mercedes car with flashing lights.
A Thai military police officer was lucky not to be killed or seriously injured as he was riding as motorcycle escort for a high ranking military officer in central Bangkok on Wednesday afternoon. The motorcycle officer was riding ahead of black mercedes sedan when he ran directly into a taxi that moved across his path as he turned on the road. Shocking footage of the incident shows the military officer flying off his motorbike into the air.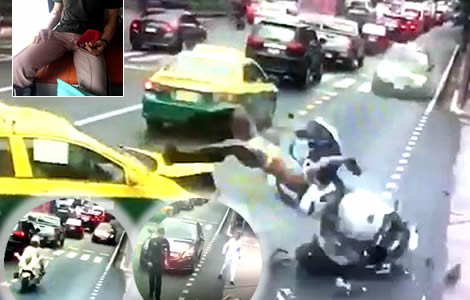 A member of Thailand's military, riding escort duty, was lucky on Wednesday afternoon when he emerged with only minor injuries after what looked like a shocking accident in central Bangkok.
Motorcycle escort officer lead the way for a black mercedes carrying a high ranking officer
The motorcycle wave traveling along a main road in downtown Bangkok at speed ahead of black mercedes which he was escorting. It is reported that the mercedes was ferrying a senior high ranking officer. Video footage of the incident shows the motorbike rider actually taking flight out of view when his motorbike collided with a taxi at speed without any chance to brake or slow down.
Collision with Bangkok taxi cab
The motorbike collided with a yellow and green Bangkok taxi as it turned into the Khet Pom Prap Sattru Phai centre in the heart of the city. The incident occurred at 1.22 pm and was recorded on nearby cameras. The collision shows the military officer flying off his bike and landing away from the camera's view. Officers from the black mercedes, with lights flashing, emerged quickly to check on him and radio for help.
Military police officer was given medical attention but declared not seriously injured
The military police officer was given medical attention by support volunteers working with the Ruam Katnayu foundation. He was later moved to hospital but quickly discharged later on Wednesday. His injuries were relatively minor. Pictures have emerged of the military officer looking fit and healthy in his motorcycle boots with some small bandages on his right arm
The driver of the taxi later emerged from his vehicle. The Thai man is reported to have been questioned by Thai police in relation to the accident.
VIPs, police and military escorts common in Bangkok
It is a common sight in Bangkok and some other urban centers to see a large range of high ranking Thai officials, visiting VIPs and members of the Thai royal family on the roads being given military or police escorts. In Bangkok, traffic can one be stopped for up to twenty minutes to allow a clear route for a VIP convoy including support cars and motorcycle escorts.