UK tabloids have been reporting the story of the baby's abduction in Phuket as Thai police investigate a complaint filed by her mother. On Friday, they sought to interview the father and husband of the UK Thai former supermodel. It follows a dramatic high noon intervention on the outskirts of Phuket which saw the 25-year-old woman blocked from leaving her car as a number of men assisted her husband to take custody of her infant daughter.
Thai police in Phuket are reviewing the facts surrounding the taking of a 16-month-old baby on Friday from UK Thai actress and TV star, Selina Pearce. It is reported that Ms Pearce's husband orchestrated the action for which he gave advance notice to officers at the police station in Phuket City. The actress has lodged a complaint with the police and local authorities following the sudden sequence of events which saw her imprisoned in her car. She explained that her marriage to her husband, a wealthy Bangkok property developer, was problematic. This caused her some time ago to flee Bangkok taking her baby with her while blocking her husband's calls on her phone.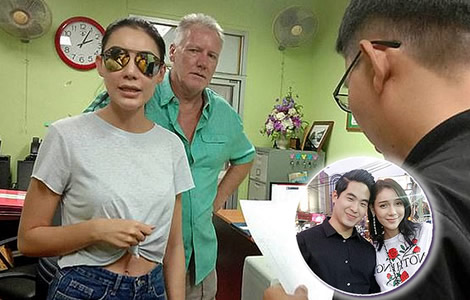 Thai police in Phuket are reported to be investigating the dramatic intervention staged by a Thai father at midday on the outskirts of the city last Friday. The reported 'abduction' has made headlines around the world and involved UK Thai actress and former model Selina Pearce whose daughter Ayla was snatched from her car in what appears to be a well planned legal move by her husband Ditsadetch Kanokwiriyasanti who is a Bangkok property developer. Selina Pearce is a former supermodel and well-known actress in Thailand working for top TV stations Channel 3 and Channel 8.
Thai police in Phuket investigating the matter
Speaking to the Phuket News in Phuket on Friday, Lieutenant Colonel Sakchai of the Royal Thai police in Phuket City explained that he was still examining the evidence in the matter and that he intended next to interview the father of the child. 'Next, I have to speak with Mr Ditsadetch for his statement. I am continuing that part of the investigation right now.'  The senior police officer said he could not confirm, at that point, whether Mr Ditsadetch, the UK Thai woman's husband and the orchestrator of the incident, would face any legal charges. 'I need to be clear with all the facts first,' he said.
Well executed operation by Bangkok based property developer to retrieve his daughter from TV actress mum who moved to Phuket
It has now emerged that prior to the operation to retrieve or snatch the 16-month-old baby from her actress mother, a lawyer for Mr Ditsadetch arrived at the main police station in Phuket and issued a formal statement to police officers there. It read: 'I came to the police station on July 12 2019, at 00.30pm, to inform that on July 12 2019, at midday, Mr Ditsadetch Kanokwiriyasanti took his daughter named Ayla Kanokwiriyasanti who came to Phuket with her mother Ms Selina Pearce, back to Bangkok because he is worried that the girl will not be well treated. I have informed this as evidence.'
The lawyer, reported to be from Bangkok, then remained at the police station in the centre of Phuket where the distraught and anxious mother arrived shortly afterwards to make her complaint.
Dramatic incident at high noon on the outskirts of Phuket outside a popular restaurant
The dramatic incident occurred just after midday at a well-known restaurant known as Kanom Jeen situated on the outskirts of Phuket in the Saphan Hin area. Ms Pearce filed a complaint at Phuket City Centre police station and also a further statement at the Damrongdhama Center immediately after her daughter was taken. This is a Thai institution for resolving disputes which also acts as an ombudsman in relation to actions of official authorities or third parties.
Channel 3 and 8 TV actress requested authorities to intervene – 'obviously against the law'
In her statement, Ms Pearce requested that authorities intervene in the matter. 'The action is obviously against the law, so I want relevant officials to help me. The action happened at Kanomjean Saphan Hin restaurant. I will inform police afterwards,' Ms Pearce said. 'I guaranteed that all the story I informed to Damrongdhama Center Phuket is true, and I am responsible for all story above.'
UK tabloids report abduction of baby from TV star mother – 'Don't take my daughter away!'
The UK Thai actress then gave a number of media interviews where she gave a first-hand account of the abduction of her daughter from her care on Friday. These have been picked up by the mass-selling UK tabloids The Mirror and Daily Mail. The incident occurred while the TV star was reversing her car. Her daughter was in the back seat in the hands of a nanny. Ms Pearce found her car was blocked and noticed a man in a white shirt pointing at her. In their reports, the mother's words to the men abducting her wailing daughter were: 'Don't take my daughter away!'.
Man with a black shirt held her door open and imprisoned her in her car as her baby was taken
She explained that a man wearing a black shirt approached her and pulled open the door of her car. The young woman could not get out and neither could she activate the central locking on the doors. Simultaneously another man opened the back door and wrestled the baby from the nanny's arms.
Ms Pearce then noticed her husband at the scene
At some point, the UK Thai woman noticed that her husband Ditsadetch Kanokwiriyasanti was at the scene. She explains that she was then prevented from reaching her husband by a group of men. Ms Pearce also suggests that there were two police officers present. She observed her husband with their daughter in his hands while walking away. He exclaimed to her, 'See you at the police station'.
When the anxious mother arrived at Phuket City Police station she became aware that her husband was not there except for his lawyer.
Star disclosed that she took the baby to Phuket and blocked her phone 'to spend time by myself'
Ms Pearce gave the media the full background and context to last Friday's dramatic event on the street to several media outlets. She explained that she had made a move from Bangkok to Phuket recently without informing her husband who is a wealthy man. 'A week passed, and he contacted my father because I had blocked his phone number to spend time by myself,' she said.
Concerned husband flew from Bangkok, met her father for three hours to get his daughter back
The actress explained how her concerned husband took a flight to Phuket to meet her father. She said that both men had a discussion for three hours about the possibility of her daughter Ayla returning to her father. She underlined that she had told her husband that he could see his daughter at any time. 'I have never stopped him from seeing her, but I just need some time to be by myself and think about getting back together.'
Relationship between the UK Thai star and her husband was problematic says wife and mother
Ms Pearce pointed out that her relationship with her husband was problematic but that she had not stopped him from visiting his daughter. 'I never stopped him from seeing her, plus he also knows where my house is,' she revealed. 'I have never stopped him from seeing her, but I just need some time to be by myself and think about getting back together.'
Always took care of her daughter except when her own mum was sick says working mum
The young mother, model and actress says that she has always taken care of her 16-month old daughter except for a spell when her own mother was seriously ill in hospital and at that time her husband was responsible for the child. She described how at his home Mr Ditsadetch has housekeepers who can care for the little girl. 'In Phuket, I have to hire a babysitter to take care of her because I have to work.'
'Not on the same page' as her husband and now facing a legal battle to get guardianship
The young woman told reporters she is simply 'not on the same page' as her husband.
Ms Pearce has now concluded that she will have to make an appeal to the Thai courts to get little Ayla back.  She may be facing a legal battle to gain legal guardianship over her daughter.