Turley caused political controversy in Northern Ireland when local politicians questioned why the violent and highly dangerous offender was granted compassionate leave from prison after which he failed to return. He has already been extradited once back to Northern Ireland from a foreign jurisdiction.
Thai police this week announced the arrest of a highly dangerous fugitive in Bangkok on the run for British police authorities. 37-year-old Jonathan Turley once launched a frenzied knife attack on a man in Northern Ireland for mistaking his scarf for a towel. In April last year, the Irishman had to be removed from a Belfast court and taken to the cells after he became uncontrollable while mocking and insulting the female judge trying his case.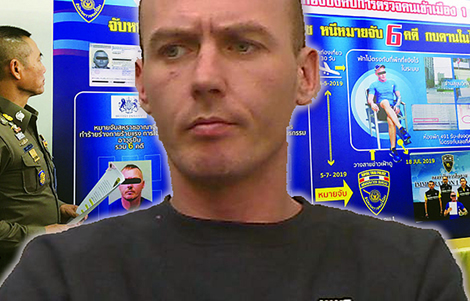 Thailand's Immigration chief Police Lieutenant General Sompong Chingdunag on Friday briefed the press after the apprehension of an Irishman wanted in Northern Ireland in relation to a string of criminal charges including robbery and assault.
37-year-old Jonathan Turley is known to be a violent and dangerous criminal who is well used to being on the run for the Police Service of Northern Ireland in Belfast. Turley is originally for East Belfast in Northern Ireland.
Irishman launched a tirade of verbal insults at a female judge in a Belfast courtroom
In April last year, Turley had to be restrained in a courtroom in Belfast after he launched a verbal tirade of insults against the judge Ms Amanda Brady accompanied by offensive hand gestures. He was taken from the courts kicking and screaming to the cells below in the courthouse where his anger had still not abated when police locked him up.
Highest risk category of offender – experts
Criminal experts in Northern Ireland have gone on record before a court there to give evidence that Turley is the highest risk category for offenders in the British criminal system. Northern Ireland is a province in Ireland which is still part of the UK although it has a now dormant devolved government.
Thai police this week did an excellent job in removing this dangerous man from the kingdom.
Stabbed a man 5 times in a frenzied knife attack for mistakenly using his scarf as a towel
Turley once stabbed a man 5 times in a frenzied attack when the unfortunate individual mistook his scarf for a towel and wiped his hair with it. The victim received serious injuries to the upper body. Turley was later jailed for the incident in May 2008.
Long history of evading the police and justice
The Northern Irishman also has a record of evading police and absconding from court charges. He has already been extradited once before. This was from the Republic of Ireland where he fled in May 2015 after being arraigned for assault charges. Turley was later arrested on foot of a European arrest warrant but waived his right to fight the extradition in the High Court in Dublin and surrendered himself instead to police from Belfast.
The offender has also sparked political outrage from politicians in Northern Ireland who have questioned prison authorities in the jurisdiction after news emerged the violent offender was let out of jail on compassionate leave and then later absconded.
Domestic violence and convictions
The Irishman also has a conviction of domestic violence against his former partner in Northern Ireland and mother of his son. In May 2017, Turley was jailed for 22 months for the assault and kidnapping of his girlfriend or partner but was released early on a licence from prison.
British embassy requested his arrest
His arrest in Bangkok this week came at the behest of the British embassy. Turley is wanted in Belfast on charges committed between 2015 and 2018. Thailand's Immigration police supremo told journalists that Mr Turley was a tricky character to arrest. He had changed his address in Bangkok and northern Thailand several times to stay ahead of the police.
Love of Muay Thai led Thai police to the hardman
They eventually nabbed him after learning that he had an interest in Muay Thai which is quite popular in the UK and Ireland. Thai police were then able to track the Northern Irish fugitive and hardman to a condo in Bangkok on Soi 58 where he was taken into custody. The Irishman had been living there with his Thai girlfriend.
Arrangements are now being made to have this violent and dangerous offender sent back to Northern Ireland to face justice.