Police arrested the Thai man in the northeastern province of Sisaket before 2 pm on Monday as he attempted to rob a gold shop. Police are still unsure of his story and the real motive behind the act. Could it have been love?
A broken-hearted Thai man sacrificed his liberty for love on Monday afternoon after his girlfriend gave him the boot. He is now in the jail cells at the police station in central Sisaket and will soon be on his way to Thai prison.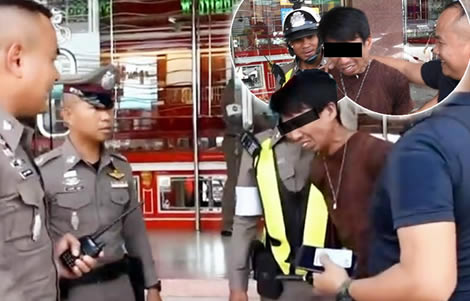 On Monday, a lovesick Thai man was arrested in Sisaket province after he deliberately set out to have himself incarcerated by Thai police. The 41-year-old identified by Thai police as Mr Worawee had earlier rowed with his Thai girlfriend. The woman told the Thai man that she wanted him out of her life. He decided that he would do just that.
His answer was to rob a gold shop in the centre of Sisaket and let police apprehend him. A sure ticket to a Thai prison. It did not disappoint.
Incident occurred on Monday at 1.30pm
The police in downtown Sisaket were notified of an attempted robbery at 1.30pm on Monday afternoon. The investigating officer on duty was a woman, Lieutenant Saranang Sirimontri.
Mr Wowrawee told police that he was so dejected at being spurned by his girlfriend that he decided that this would be his fate. He said that he had deliberately parked his motorbike in a visible position in front of a well known gold shop so that police would have no problem identifying him.
He knew that they could do so this tracing his motorbike registration details He entered the shop with the goal of being arrested.
Salesperson in shop noticed the Tai man parking his motorbike and was already on guard against  him
Mr Worawee entered the gold shop and met 24-year-old Parnnika, an experienced salesperson at the establishment. She had noticed the  Thai man parking his motorbike in front of the shop. 
She thought him an unlikely customer and as soon as he asked to see a 2 baht piece of gold, she locked the doors of the establishment remotely. While in the shop, the man had pretended to be making a phone call to his girlfriend about the purchase. He then made his move and tried to exit the shop but the door was firmly locked.
Raider given the option to leave quietly
The sales assistant told the man that she would not report the matter to the police if he gave back the gold and went on his way. However, Mr Woranee held his ground and the gold necklace awaiting the arrival of Thai police to apprehend him.
Traffic policeman arrived at the shop and arrested Mr Worawee for attempted robbery
It was not long before a traffic policeman arrived at the shop. Police have investigated the matter and interviewed Mr Wowadee at length. They are not entirely convinced of his motive and believe he still had a firm intention to rob the gold shop.
He is being detained as legal proceedings are processed against him for attempted robbery of the gold from the shop. It looks like he will get his wish and spend a decent interval in prison.