The incident was the second reported in a week involving gangs. Last week a student in the San Sai Luang area was attacked by local young people known as the 'Black Pigeon' gang. The violence has caused concern to be voiced for the safety of foreigners and tourists in the city late at night and in the early hours.
8 young Thai men, mainly from hill tribes, were arrested in Chiang Mai on Monday night and Tuesday morning to be charged with the brutal assault and killing of a 33-year-old new father in the early hours of Sunday morning last.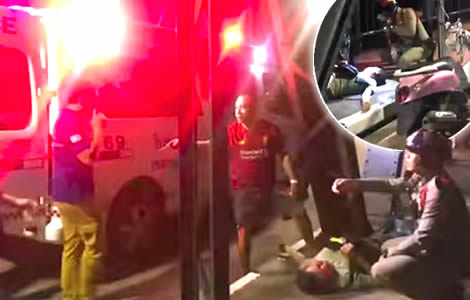 Concern has been expressed about gang violence in Chiang Mai and for the safety of tourists and locals alike following the death of the Thai man viciously attacked on a bridge in the centre of Chiang Mai at 4 am last Sunday.
Earlier attacks on a student in San Sai Luang
It was the second attack in the space of a week with members of a local group called the Black Pidgeon gang being arrested days prior by police in the famed northern city following another physical attack on a student in the San Sai Luang district.
Two men in their thirties crossing a city bridge
Sunday morning's incident was more serious and developed after two men, 33-year-old Komwut Pichawong and his friend 32-year-old Anupap Aksornsophanaphan crossed what is known as the iron bridge in Chiang Mai in the early hours of September 28th. 
Party of 8 local young people
There they encountered a party of 8 local young people reported to be between 15 and 20 years of age. It is understood that a verbal row between the men and the youth group took place which led to the violent attack. 
In the course of the fracas, Mr Komwut found himself unable to rise from the ground at the footpath at the side of the bridge. He was nevertheless pounced upon by the younger Thais who took turns in stomping on his prostate body. The injuries were very serious.
33-year-old man died from internal injuries after being taken to hospital by rescue services
Discovered and rescued at the scene by a police patrol, Mr Komwut later died in hospital from internal injuries suffered in the attack including a ruptured spleen and liver. His friend 32-year-old Mr Anupap had managed to flee.
Young men told police that they were provoked
The young people are reported to be from local hill tribes. They told police that they were provoked into attacking the men 
Thai police in Chiang Mai announced the arrest of 6 young men on Monday night and 2 more on Tuesday morning. They were charged with jointly injuring another person causing death under Thailand's criminal code.