Police on Wednesday detained girlfriend of 39 years Withun Sitabut with whom he went on a romantic excursion to Ko Samet spending money freely on a luxury hotel and shopping while his former benefactor's body lay decomposing in the fridge of her home. It is understood that Ms Wannee was tortured before she died to allow the killer to gain access to her bank accounts and property by coercing her passwords from her. 
Thai police announced the arrest on Thursday afternoon of the main suspect in the murder of 58-year-old Wannee Jiracharoenying at her home in the Chom Thong district of Chiang Mai sometime between October 10th and October 18th last. Her body was found stuffed into a running refrigerator with both hands and legs bound and a plastic bag over her head last Sunday by horrified Thai police officers searching the property after the wealthy woman was reported as missing by her brother.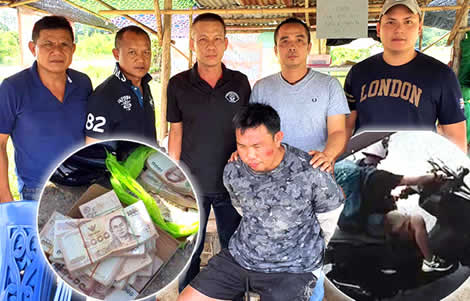 The prime suspect in the shocking murder of 58-year-old Wannee Jiracharoenying has been arrested by a team of Thai Crime Suppression Division police officers on a road in Nakhon Sawan province in central Thailand. The fugitive who is the subject of an arrest warrant for robbery linked with the murder the Thai woman issued by a court in Chiang Mai was found riding a new motorbike without plates which he had just purchased earlier in the Muang district of the province.
Thai public revolted at the nature and gruesome circumstances of Ms Wannee's murder
The murder of Ms Wanee has sparked outrage among the public in Thailand revolted at the circumstances surrounding the death of the woman known for her good works and generous nature, particularly in Chiang Mai. Her body was found on Sunday at her residence in the Chom Thong area of the province where she maintained a  property although she was from the Bang Phli area of Samut Prakan province near Bangkok.
Arrested by a police team after 2 pm on Thursday
His arrest occurred at 2 pm on Thursday after police were alerted that the prime suspect in the murder had purchased a new motorbike, black in colour, for ฿160,000 at a local store. A special team was sent to the area to track the most wanted man in Thailand down.
On Thursday afternoon when finally apprehended by the crack police team Mr Withun was found to be carrying ฿1.2 million in cash believed to be funds from one of Ms Wannee's bank accounts as well as a gold necklace weighing 5 baht.
Police seized the property as evidence
Police seized the money and property including the new motorbike as evidence in the extensive case.
CSD police engaged in the manhunt for the man had learned that on Wednesday, the suspect was in the western province of Kanchanaburi but had travelled on to Suphan Buri province and then to Nakhon Sawan.
Head of the Crime Suppression Division reported the capture of the suspect to the police chief
The Head of the Crime Suppression Division reported the arrest on Thursday afternoon to Thailand's Chief of Police General Chakthip Chaijinda who had ordered the huge manhunt to track the suspected murderer down at all costs.
The suspect was taken to the headquarters of police division 5.
Body found in a decomposed state with hands and legs bound as well as a plastic bag over her head
Mrs Wannee's body was found in a decomposed state with her hands and legs bound in a running standup fridge which had been overturned and filled with cement. It was found still running at her home in Chom Thong, Chaing Mai on Sunday only hours after her brother Worapan reported her missing. It is thought that she was murdered sometime between the 10th October and 18th October.
39-year-old Withun was seen driving Ms Wannee's white BMW and withdrawing  money from ATM points across Thailand
The escapades of 39-year-old Withun were quickly identified by police. The man was seen driving the victim's BMW car and using her ATM card to pillage her bank accounts. Mr Withun had met Ms Wannee when he drove her and nuns from the local temple to dhamma practice and she had taken him into her circle of friends and gave him work as her driver.
The woman, a successful estate developer, was aware that he was a man hard-pressed by personal debt
Used the victim's mobile phone to mislead her friends and family while spending her money
Police identified him as the prime suspect when they discovered that he had used her mobile phone to send misleading messages to a woman on the 16th October and was pictured at ATM points across Thailand from Chiang Mai to Lamphun province or Lampang Province to Rayong.
Arrest of suspect's girlfriend named as 'Nam'
On Wednesday, police reported the arrest of a girlfriend of Mr Withun in Chiang Mai after she arrived off a plane at the city's airport. Named only as Nam, the woman had earlier been on a holiday with Mr Withun to Ko Samet in Rayong province.
Booked into a luxury hotel on Ko Samet
It is understood that the couple had flown together from Chiang Mai to Bangkok and rented a car to take them to Rayong and onto the holiday island. On Ko Samet, the couple checked into a luxury hotel and went shopping together.
Further reading:
Thai woman tortured, murdered by driver who plundered ฿40 million from her bank accounts