Withun Sitabut has been charged with the murder and torture of 58-year-old Wanne Jiracharoenying, a crime for which the death sentence is mandatory. The woman was killed so that the killer could access her bank account and ultimately withdraw ฿1.7 million of which he only spent ฿500,000 including the purchase of a 5 baht gold necklace recovered by police and a ฿160,000 new motorbike he had only been riding for hours when he was finally hunted down by Crime Suppression Division police on Thursday afternoon.
Police on Saturday staged a crime reenactment of the torture and murder of a kind hearted 58-year old Thai woman by her evil and sadistic murderer Withun Sitabut whose abominable actions against the woman began on Friday, October 11th with a friendly knock on her window.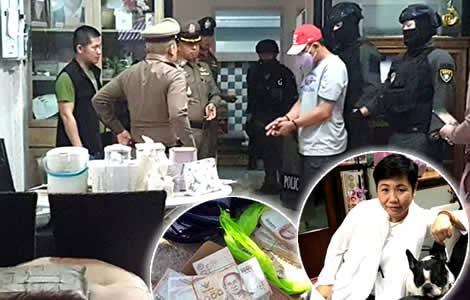 There were angry outburst on Saturday in the Chong Thong district of Chiang Mai as Thai police ran the gauntlet of members of the public who came out to vent their disgust and loathing at the suspect in the murder of 58-year-old Wannee Jiracharoenying who was cold-bloodedly murdered and tortured for her money by the killer's own admission on October 11th last.
Calls for the execution of Withun Sitabut on Saturday
Many among the crowd called openly for the death penalty to be imposed and carried out by authorities on the accused, a call that would have been made even louder if they heard the disturbing and chilling details given to police as this despicable man recounted his vile actions on Friday the 11th October when he launched his attack on the woman.
He called to her home and knocked on the poor woman's window to get her to open her door.  She did but it was not to her driver but a grim reaper.
Asked the wealthy businesswoman for a loan of ฿500,000 – she refused him as an astute woman
It has emerged that the public van driver had been taken into Ms Wannee's confidence earlier. She had given him a job as her driver and aware that he was a man hounded by debt. He had requested a loan, a lifeline of ฿500,000 from the generous woman renowned for her charity to good causes and love for it.
Being also an astute businesswoman, she turned down the request from the debt-ridden acquaintance who tried to take advantage of her friendship.
It may have been a wise business decision but to a monster like 39-year old Withun Sitabut, it may have helped him justify his subsequent evil actions.
Kitchen confession of a monster
In the kitchen of the substantial commercial property in Chiang Mai, Mr Withun began to take police officers through his appalling crime. On that Friday, it started with the knock on Ms Wannee's window. 
When the unfortunate woman answered, she was greeted with a hail of punches, quickly overpowered and found herself in the clutches and at the mercy of a man implacable to human feeling, driven by greed.
Ms Wannee was tortured by her 39-year-old driver
She was tortured by Withun Sitabut.
The police on Saturday did not give details except to say that she was beaten viciously and repeatedly so that the unfortunate woman divulged to her attacker where she kept her valuables. This was the information given by the Deputy Chief of Chiang Mai police on Saturday, Police Colonel Sukhon Sri-arun.
Earlier reports suggested that police had already evidence to suggest how Ms Wannee was tortured.
On Saturday, her murderer admitted that he forced the woman, who had befriended him and given him employment, into divulging her ATM card password to him.
Bound her hands and feet, placed ducting on her mouth
After the unfortunate woman had given up access to her bank account, the killer bound both her hands and feet and placed ducting tape over her mouth. He then removed the CCTV system from the property.
 'The suspect then went out to test the ATM to withdraw cash. After getting money, he returned to the building and went to the second floor to ransack it, but did not get any valuables,' Police Colonel Sukhon revealed today. 'He later smoked a cigarette before going downstairs to check the victim's pulse and saw that it was weak. He then used a plastic bag to cover her head and used adhesive tape to tie around it.'
Ms Wannee's body was then stuffed into a running fridge fallen on its side where it was found badly decomposed by police last Sunday.
Wealthy woman died for ฿1.7 million
Police have revealed that Ms Wannee died for ฿1.7 million taken from her bank accounts in repeated ATM withdrawals throughout Thailand.
Earlier reports had suggested ฿40 million. When police arrested Mr Withun on a newly acquired motorbike in Nakhon Sawan province on Thursday, he was found with ฿1.2 million and a 5 baht gold necklace.
Flew off on a holiday with his girlfriend
The murdering thief, a married man with children, also made time to fly off on a holiday to Bangkok and on to Ko Samet, off Rayong, with his girlfriend named as Nam who police officers detained last Monday after she returned to Chiang Mai alone.
The couple had stayed in a luxury hotel on the island and went shopping with Ms Wannee's money.
Body only found by police last Sunday
Ms Wannee's body was only found by police last Sunday on October 27th when police searched her home in Chiang Mai following a missing person's report from her brother. Ms Wannee's permanent residence was in the Bang Phli district of Samut Prakan province.
Tried to mislead police on the phone to his wife and frame a third party suggesting a contract killing
The evil mentality of this killer can be seen from an attempt he made while on the telephone with his wife suggesting that he had been paid ฿300,000 by a third party to carry out the killing as a contract killer.
He admitted to police this week that this was designed to mislead possibly in the hope of convicting someone else for this most egregious of crimes and escape the execution chamber.
Charged with murder and torture of the victim
Police have charged Withun Sitabut with the murder including the torture of the 58-year-old woman which carried a mandatory death sentence. He is also charged with a string of other offences including robbery and the concealment of a body.
Public support for the death penalty is high, an outrageous crime like this tells us why
Thailand, last June, carried out its first execution in over 9 years without notice at Bang Kwang Prison.
The move came as a shock to human rights activists as it banished any notion that the penalty had been de facto abolished in Thailand.
Opinion polls show strong support for the measure among the Thai public following a series of notorious murder and outrages which have disturbed and angered ordinary people.
This dark and horrendous crime must surely be near the top of that list.
Further reading:
Evil fridge murder suspect hunted down by police in Nakhon Sawan and brought into custody