The three inmates who made a daring escape from the Pattaya Provincial Court cells on Monday were back in custody with 48 hours on Wednesday after police tracked them down in the western Thai province of Sa Kaeo on the border with Cambodia. It is understood that the intense heat had played a factor in their capture as they made their way on foot through farmland in their bid to escape Thai authorities and justice.
The three fugitives who spectacularly escaped from custody at the Pattaya Provincial Court holding cells on Monday in chains have been captured in the western province of Sa Kaeo as they attempted to reach the Thai Cambodian border. As Thai police closed in on the American drug dealer 39-year-old Bart Allen Helmus, he turned his gun on his 31-year-old wife who was pregnant and then turned the gun on himself sustaining serious injuries.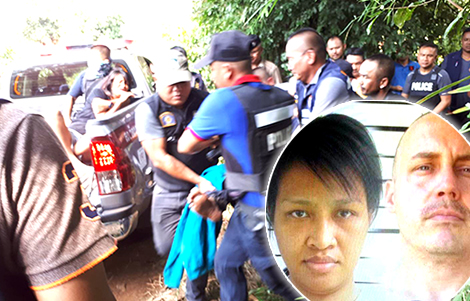 The three fugitives involved in shocking prison escape on Monday from the Pattaya Provincial Court have been captured. This followed a dramatic standoff between police and American fugitive Bart Allen Helmus.
Escape left a police officer seriously injured
The three escapees who seriously injured a court police officer on Monday afternoon were the subject of an intense manhunt mounted by security forces who yesterday recovered the Isuzu pickup they had used in the escape and arrested two suspects believed to have assisted them. The suspects were identified by police as another couple named as Max and On.
Police reported that a security guards saw a man who appeared to be in his thirties park the Isuzu and place a steel saw inside it. The man was later collected by a motorbike driven by a Thai woman.
Found in the centre of Sa Kaeo province
The dangerous three inmates were found in the Sa Kaeo province in the districts of Watthana Nakhon and Khao Chakan. The border is adjacent to Cambodia where the three escaped prison inmates are believed to have been heading.
Thai drug dealer negotiated his surrender to police through relatives by mobile phone
It is understood that the breakthrough for police came when Thai drug dealer 41-year-old Noi Thon Nintet made contact with authorities through his family by mobile phone to negotiate his surrender. 
This was revealed by an assistant to the Thai national police chief, Lieutenant General Satawat Hirunburana who was speaking in a local radio service interview about the capture of the escapees.
Mr Noi later emerged from a sugar cane plantation between the districts of Watthana Nakhon and Khao Chakhan in the western Thai province.
Area 1 km wide surrounded by police
This led police to surround an area about 1 km wide from where the Thai man and surrendered to flush out the two remaining fugitives 39-year-old Bart Allen Helmus and his 31-year-old Thai wife Sirinapha Wisetrit. 
It is reported that the heat had become unbearable for the trio as they struggled to make their way forward and that Mr Helmus had become highly excited.
American man's Thai wife 3 months pregnant
His Thai wife, Sirinipha Wisetrit is also reported to have been 3 months pregnant. It was not long before police found the couple but then matters took another sensational turn.
Shot the Thai woman and turned the gun on himself
Police Lieutenant General Satawat then revealed that the couple were quickly captured as the net closed on them but not before Mr Helmus had used his weapon to first shoot his wife and then turn it on himself. The senior police officer stressed that security forces had not discharged their weapons in the incident.
Wife wounded but husband is in a serious condition
It is reported that Ms Sirinipha was not seriously wounded after being shot by her husband. However, he sustained serious injuries and was rushed to Khaochakhan Hospital where he is reported to be in critical condition.
Authorities are said to be anxious to question the jailbreakers in Sa Kaeo before they are returned to Pattaya.
Authorities want to know if the trio were helped
All three were facing drug trafficking charges for dealing with large quantities of illicit drugs and faced the possibility of the death penalty. 
The appalling and vicious attack on the Thai police officer in the court holding cells on Monday afternoon will also leave all three facing charges of attempted murder even though it was the American man who repeatedly stabbed the police officer leaving him with critical injuries.
This is also a death penalty offence and the circumstances have compounded matters legally for the three inmates.
Bought at an extremely high price
Police will be intent on trying to find out what assistance was given to the gang that allowed the audacious escape from custody of the three inmates, still in chains, leading to an altogether truncated and frustratingly short period of freedom for the trio bought at an extremely high price.
Further reading:
American drug gangster escapes from custody in Pattaya with Thai wife in armed prison break
American inmate in a coma after shooting in Sa Kaeo

+ American inmate, drug dealer in coma after shooting himself when police surrounded him and his Thai wife in Sa Kaeo – escapees only 35 km from border.https://www.thaiexaminer.com/thai-news-foreigners/2019/11/07/bart-allen-helmus-coma-american-inmate-prison-escape-thai-wife-police-sa-kaeo-gun-drug-dealer/James Morris reports from Sa Kaeo province

Posted by ThaiExaminer.com on Thursday, November 7, 2019