A kind hearted Thai woman set out to help a street dog and found the animal being prepared as food by a Cambodian man last weekend. The construction site worker had carefully slaughtered the dog with a cut to the neck and was preparing the dog for consumption as food when Thai police discovered him. He was arrested and is facing animal cruelty and other charges following the horrific incident.
A kind Thai woman was upbeat and busy last Saturday on her mission to help stray dogs in Thailand's Chonburi province. However her mood turned to horror when she stumbled upon a gruesome and shocking sight. Searching for a female dog she had wished to take for treatment, she found a Cambodia construction worker instead preparing the dead dog for dinner.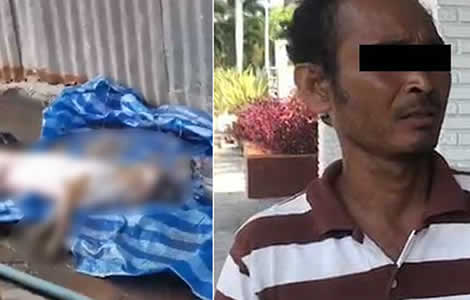 On Saturday an animal enthusiast who tends to Thailand's street dogs in Chonburi province made a startling and chilling discovery. While searching for a female dog known on the streets and who needed to be neutered, she discovered a Cambodian national preparing the dog for dinner. The abominable act led a group of dog lovers to later gather and proceed to Laem Chabang Police Station where Thai police were called upon to investigate.
Female dog had been slaughtered
The shocking incident was confirmed this week by Thai Police Captain Bunlai Iniam at the police station. He said that his officers were notified that a Cambodian construction worker in the area had been observed preparing to cook the dog as food. Thai police found a pot full of boiling water on a plastic covering beside a dead female dog. The dog had been apparently slaughtered by the man. It had an extended incision cut under its head in the area of the neck. Thai police discovered the Cambodian man had been pouring boiling hot water on the dog's body in order to remove its hair.
Cambodian man worked at the construction near where the dog was found by Thai police
The Cambodian man was named as Brek Nori. He worked on a nearby construction site adjacent to where the killing took place. He was arrested by the police officers at the scene and taken to Laem Chabang police for questioning. The body of the dog was also removed from the scene to be used by police as evidence.
48 year old Thai woman had been looking for the female dog to take it to a vet for treatment
The discovery of the gruesome sight was made by 48 year old Thai woman, Yada Phokaew. She and friends often bring food to soi dogs or street dogs in the vicinity. On Saturday last, the day she found the female dog being prepared for dinner, she had brought along a cage in which she was planning to transport the animal to a veterinary surgeon in order to have the dog neutered. She had looked extensively in the area for the dog before happening upon the Cambodian man's activities. She was horrified when she found the Cambodian worker pouring the boiling water on the dog. She proceeded to take photos before teaming up with others to alert the police.
Cambodian admitted killing the dog to Thai police because he was angry it had killed his chickens
The Cambodian man admitted to Thai police that he had used a knife to kill the dog by stabbing it in the neck. He told investigating officers that he was angered by the dog as the animal had killed many of his chickens. He had killed the dog and brought it back to the construction site. He was preparing the body of the animal for consumption.
It was reported that Thai police have decided to prosecute Mr Nori for animal cruelty and other offences related to killing of the dog.
Up to 1 million Cambodians work in Thailand
There are reported to be up to 1 million Cambodian nationals working in Thailand. Until a government crackdown by the Thai government since the military junta came to power in 2014, many used to work illegally. However, today most Cambodian workers are regularized with proper documentation. Many workers on Thailand's construction sites today are Cambodian migrants. The demand in Thailand for Cambodian migrant labour keeps rising as Thailand's economy expands and its ageing workforce can no longer supply enough people to work in Thai industry or work which involves manual labor. Thailand has an official unemployment rate of less than 1%. It is the lowest in the world. However, in reality, the unemployment rate is zero as jobs in Thailand are plentiful.
Cambodian workers migrate to Thailand for work as wages and living standards are higher
Living standards in the kingdom are substantially better than those in Cambodia, a country destroyed by the communist regime of Pol Pot in the 1970s and from which it has barely recovered. The country is currently ruled by strong man Hun Sen and there is concern about human rights and corruption in the country. Thailand's industrial and construction sectors operate in a very competitive environment and employ Cambodian nationals to control costs and keep wage costs in Thailand lower. Since the program to regularize migrant workers began, Thailand's immigration police have continued to crack down hard on illegal workers from Myanmar, Cambodia and Laos with regular sweeps to keep the number of illegal workers living in Thailand to what authorities term a zero level. All migrants workers must now be documented and regularized to prevent abuses and human trafficking.