At a sideline meeting this weekend, the Malaysian Prime Minister Mahathir Bin Mohamad was in no doubt that the ASEAN bloc was now being targeted by the US administration with a hostile trade policy designed to 'bully' individual countries into negotiating better access for US exporters and trade. He warned that ASEAN unity was the only answer even if it meant closer Chinese ties.
Intense efforts are being made behind the scenes to negotiate some announcement at the ASEAN Summit on Monday to demonstrate that the RCEP, the biggest free trade agreement in the world is about to become a reality. The Indian prime minister is reported to be coming under intense pressure to sign his country up to the pact.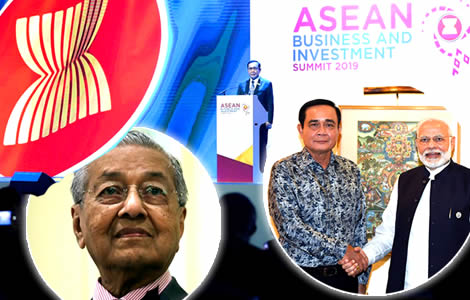 It is looking more likely now that some announcement will be made on Monday at the ASEAN summit concerning the Regional Comprehensive Economic Partnership deal after 7 years of negotiation.
Last-minute issues raised by India will be sidelined as the summit pushes to take a step forward on the project which aims to create the largest free trade area in the world between ASEAN nations and China, India, Japan, Australian, South Korea and New Zealand.
Ambitious RCEP trade pact may see up to 90% of duties waived on trade within the bloc
However, this may not be the ambitious package dropping duties on 90% of trade between the 16 countries that looked likely some weeks ago. It is understood that India had negotiated a time lag and other concessions to protect its markets from cheap Chinese competition over a range of periods from 10 to 20 years while the final framework may also be left to be finalised in the coming months.
Trade pact now being seen as a Chinese project
It is also emerging that the free trade pact is being seen as a win for China drawing it closer to nations in the Asia Pacific while the United States pursues an increasingly aggressive negotiation strategy which is now targeting countries in ASEAN itself such as Thailand and Malaysia.
US pursuing bilateral agreements following Japanese deal in September, India is next
The US is still pursuing its bilateral approach with countries in the region and is believed to be particularly interested in concluding a trade deal with India.
In September, it announced an ambitious trade deal with Japan while in 2017 and 2018, the Trump administration renegotiated an existing trade deal in place with South Korea since 2007 which came into force at the beginning of the year.
Indian PM Modi under pressure in Bangkok
Meanwhile, Indian Prime Minister Modi who is attending the ASEAN summit will be under pressure to see an RCEP deal announced but is also facing stiff public pressure back home where many in India see the deal as a ruse of the Chinese to gain access to its domestic markets which will ultimately decimate less competitive Indian industrial concerns and farmers.
Indian service industries stand to gain from the RECEP with wider access to Asian markets
It is thought that the Indian leader is balancing popular antipathy at home for the pact with concerns that a failure to reach some sort of agreement may see his country left out of the project altogether just as it is reaching fruition. India has vast services industry which stands to strongly benefit from the trade pact.
Trade expert believes a deal can be done
As the summit got underway on Saturday, the Bangkok Post, Thailand's leading English speaking newspaper, quoted Juan Sebastian Cortes-Sanchez of the Asian Trade Centre in Singapore, a research group: 'I don't think we can expect a complete, crisp agreement, with all the tariff schedules and information, and all the chapters completed. But we would expect them to sign something so that they can move forward with it.'
American trade delegation led by Wilbur Ross
An American trade delegation is at the summit led by Commerce Secretary Wilbur Ross. It may not be clear yet but it will be soon even with the niceties of diplomacy being observed, that recent trade moves against both Thailand and Malaysia, as well as other ASEAN countries, are opening shots as the US seeks to hammer out a better deal and market access for US goods and exporters to ASEAN economies on a bilateral trade basis.
Malaysian leader critical of the US and American President's trade policy towards his country
On Saturday, the Malaysian prime minister criticised American moves to disrupt exports of palm oil to the United States from Malaysia. He warned that the moves will lead to countermeasures from the Asian country.
He appeared to be in no doubt that ASEAN has now become the focus of trade hostility from the United States government and in particular the US President, Donald Trump.
Bullied unless ASEAN speaks with one voice
He observed that ASEAN needed to be united in resisting such moves and indicated that the Regional Comprehensive Economic Partnership even though it is backed by China, was a step in that direction.
ASEAN nations will be bullied by the US unless they speak with one voice – Malaysian PM
'ASEAN is quite a big market for the whole world. We don't want to go into a trade war,' the veteran prime minister known to be wary also of China's influence, said. 'But sometimes when they're unnice to us, we have to be unnice to them.'
He also indicated that things may only change if there were to be a change in Washington and a new US leader. 'We should have one voice. If you go it alone, you will be bullied,' he concluded.
ASEAN needs the United States to counter the growing military might of China in the region
The problems for ASEAN is the security situation.
Ultimately, the block with a population of over 600 million people, lies in close proximity to China, which in recent years has been rearming its military and flexing its economic muscles with its belt and road initiative.
The US delegation at the ASEAN summit this week was rebuffed when it, under National Security adviser Robert C. O' Brien, called for the meeting to robustly take on China over South China Sea tensions in the region.
The bloc and Asia Pacific countries are being left with a clear message from this United States administration. American support in the area now comes at a price and that price is a better deal for US exporters.
Tempting not to pay the price in the short term
It will be tempting for ASEAN and Asian pacific neighbours not to pay up and pursue the global consensus in pursuit of increased GDP.
Many will be counting on a change of policy at some point in Washington viewing Trump's trade strategy as both dangerous and misguided.
It may be a gamble worth taking in the short or even medium-term but in the long run, there could be a high price to be particularly if Mr Modi's grass-root supporters have more sense they are credited for and the RCEP does turn out to be a Chinese trojan horse.
Further reading:
US coming to the ASEAN summit to talk business and trade as India threatens historic pact