The two prison escapees are both being treated in the intensive care under guard at Sa Kaeo's Crown Prince Hospital. It comes as the third escapee appeared in court in Pattaya on Friday. Up to 10 members of the Thai man's extended family are understood to be facing criminal charges in connection with the violent breakout.
It is understood that the American drug dealer and prison escapee Bart Allen Helmus is being kept alive at the hospital treating him in Sa Kaeo with a ventilator. It comes as some local Thai media outlets on Wednesday reported that the man had already died after his heart was understood to have stopped a number of times as doctors operated on him when he was first brought in by police and rescue services.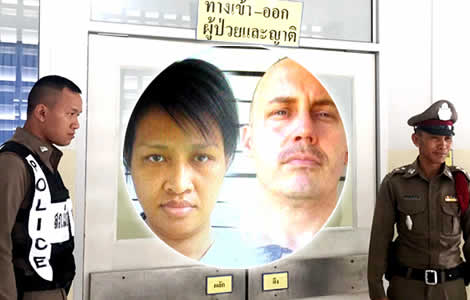 A doctor at Sa Kaeo's Prince Hospital has confirmed that the American inmate from Kentucky, who escaped last Monday and was reported by various local Thai media outlets on Wednesday as having died is still clinging on to life. 
It is understood Mr Helmus cannot breathe and is being kept alive with the assistance of a ventilator and expert care given by medical personnel at the hospital.
Helmus cannot breathe without a ventilator and has suffered traumatic brain injuries
The man is believed to have suffered catastrophic brain injuries from a bullet fired by his own hand into the right temple of the brain on the afternoon of his final standoff with police. Doctors confirmed on Thursday that the bullet was lodged in the brain.
The medical process involves the insertion of an endotracheal tube into the body through the patient's mouth and its connection to a ventilator to keep the body breathing.
Hospital said on Thursday that American was still alive although in a coma and on life support
Dr Phuwadon Kittiwattana, the medical director of Sa Kaeo's Prince Hospital confirmed the status of the man on Thursday.
There are also unconfirmed reports that Thai authorities have been in contact with the US Embassy in Bangkok concerning the man's current medical status as he continues to be treated in intensive care.
Concern for Mr Helmus's wife who is also in intensive care suffering from internal bleeding
Doctors are also expressing concern for Mr Helmus's Thai wife, 31-year-old Sirinapha Wisetrit, who is reported to have suffered from gunshot injuries after Mr Helmus attempted to take both their lives in a murder-suicide pact at the climax to last Wednesday showdown with police in a sugar plantation in rural Sa Kaeo.
Doctors have said the woman is suffering from internal bleeding and is being closely monitored by her medical team. They also confirmed that contrary to press reports after the prison escape, she is not pregnant.
It is understood that Mr Helmus held his wife's head next to his as he attempted to kill them both and that one of two bullets fired grazed her forehead in the climactic moment at approximately 3 pm on Wednesday when he fired two shots using his 9 mm automatic pistol.
Escaped Thai inmate appears in court on Friday
In the meantime, on Friday the third escapee 41-year-old Noi Thon Nintet, appeared before the Provincial Court in Pattaya which approved an extension of his detention period by police for a further 12 day as their investigation into the spectacular prison escape continues.
Key player in organising the breakout
It is understood that Mr Noi was the key player in organising the escape of the trio with the help of up to 10 members of his extended family who provided the resources and support as the three escapees very nearly made it to the Cambodian border.
Their plan was foiled after police managed to intercept the fifth and final escape vehicle, a Toyota SUV left in Sa Kaeo which was meant to take them into the neighbouring kingdom of Cambodia.
Helmus and his Thai wife met Mr Noi at court 
It is understood that the American Bart Allen Helmus and his Thai wife had befriended Mr Noi during their court appearances in Pattaya as the legal proceedings against them went through their stages.
 Although Mr Noi's was a separate legal case, the three accused faced serious drug dealing charges which potentially carried a sentence of life imprisonment or the death penalty.
It is understood that police in Pattaya viewed both men as serious drug dealers.
Mr Noi and his family members are now facing weighty charges in connection with the breakout and the attempted murder of the Provincial Court police officer stabbed by Mr Helmus during the frantic breakout from the court building.
Further reading:
American inmate in a coma after shooting himself when police surrounded him and his Thai wife