Cost of intensive care treatment runs at ฿130,000 per day placing intolerable financial strain on the boy's mother and family in addition to the worry over Daniel's acute condition which includes brain swelling, kidney damage and a range of other disorders caused by the near drowning incident during which he suffered cardiac arrest rendering him unresponsive for 10 minutes after being taken from a swimming pool.
10-year-old Ukrainian boy Daniel Andreiev who was involved in a near-drowning incident in Phuket on May 2nd last suffering cardiac arrest and found unresponsive for 10 minutes by emergency services, has been transferred from Phuket to Bangkok by Medevac flight with doctors in the capital reported to be being more optimistic about his prospects as his mother together with a support group in Phuket and around the world have rallied to his support and raised ฿3 million to cover his medical bills.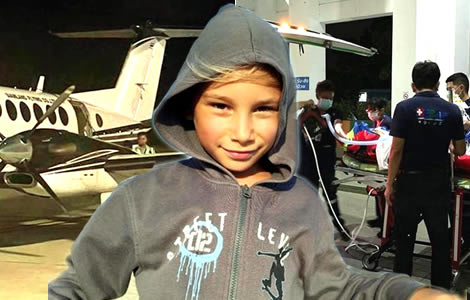 The family of a 10-year-old Ukrainian boy who drowned in Phuket on May 2nd while diving at a swimming pool was airlifted days ago to Bangkok following a successful fundraising appeal launched for him by his family with the support of the community in Phuket and Ukraine as well as well-wishers from around the world.
On Monday, it was reported that Daniel Andreiev was still in a coma after being airlifted by emergency medevac flight from Vachira Hospital in Phuket to Bangkok's Samitivej Hospital which has more resources to deal with his condition which doctors in Phuket last week, in a negative assessment, said includes swelling of the brain and possible stem damage.
Doctors in Bangkok appear more optimistic about the prognosis for Daniel but they are still examining his condition carefully at Samitivej Hospital 
On Tuesday, the family told reporters that the doctors in Bangkok were more sanguine about the prospects for Daniel as they expressed gratitude for the goodwill and support that has been shown for him.
However, his mother Ms Liudmyla Andreieva, who has been spearheading efforts for her son, said it was too early for doctors to give a specific prognosis for Daniel.
She indicated several positive medical developments but said that as of now, his brain was still not responding.
She said that the family were awaiting the outcome of a crucial conference during the week of doctors involved in her son's case.
'His body is starting to maintain mid-level parameters without external assistance. Nutrient absorption has quadrupled. Lab tests show no signs of viral or bacterial infection, thus the antibiotic treatment is about to be stopped. Heart and blood pressure remain within normal levels, but the brain does not respond yet. On Wednesday, there will be another meeting of the board of his doctors to share their conclusions and forecasts,' she disclosed.
Support groups of Thais, Ukrainians, Russians and helpers from all over the world rally in support of Daniel whose father is still in war-torn Ukraine
The support group which has rallied behind the young Ukrainian boy in Phuket includes Ukrainians, Russians and Thais in what has become an international fundraising effort to do everything possible for Daniel who was pulled out of a swimming pool last week and remained unresponsive for 10 minutes as an emergency rescue team battled to save is life.
If you are interested in helping the young man, you can donate in Thailand to the account listed below or click the link below to see how you can help from abroad.
Account number: 264-4-690-857
Bank name: Bangkok Bank
Account holder: Liudmyla Andreieva
It is understood that Ms Liudmyla Andreieva came to Phuket with her young son and daughter just after the Russian invasion of Ukraine in February 2022.
The activists behind the fundraising drive also had a message last weekend for anyone supporting the campaign to help the young Ukrainian boy.
They said every little helps in their quest to bring the boy back home to his family.
Daniel's life was saved when his sister came across his body floating in a swimming pool on May 2nd last after he had been seen earlier diving there
'At this present time, one might argue that their voice and support are not significant enough to make a change. This is not true. Every baht, dollar, ruble or hryvnia that goes into the mother's account, every social media share and every news report re-inspires our faith in people and the kindness of the world, as well as increases Danya's chances of coming back home. We extend our heartfelt thanks to you for that,' the statement said.
The young boy survived the drowning incident when his sister noticed his lifeless body floating in the swimming pool on Tuesday, May 2nd last.
It is not known what caused the boy's condition or reported cardiac arrest but it is known that he was seen earlier by his family diving into the pool.
Vachira Hospital later confirmed that he was suffering from brain swelling, metabolic disturbance, kidney damage and other adverse conditions caused by respiratory failure and cardiac arrest caused by the near-drowning incident. 
Resuscitated and moved to Phuket's Vachira Hospital
He was resuscitated by rescuers even after failing to breathe for 10 minutes and rushed to the Vachira Hospital on the island where he was placed on a ventilator and life support machinery.
The group revealed that the insurance coverage that the Ukrainian family had did not even extend to the first day at the Vachira Hospital in Phuket run by the government.
So far, ฿3 million has been raised for Daniel but to put this in perspective, the campaign group highlight that one day in intensive care treatment in Thailand costs ฿130,000.
The group says the Ukrainian family needs the support of the community that has so far rallied to its cause and others worldwide so that Daniel has a shot at recovery.
Further reading:
Ukrainian boy placed on life support after cardiac arrest at a Phuket swimming pool on Tuesday
Wife and mother from Northern Ireland flies to Thailand after tragic death of her husband
Boat smash in Phuket leaves two Russian children, a boy and girl, dead with 22 tourists hospitalised
Death of schoolboy playing football from lightning strike in Surat Thani leaves father distraught in grief
Horrific death of truck driver at Sri Racha port crushed by 32-ton container being investigated
Tragic death of a beauty queen and two others in a road accident near Khon Kaen University is a loss
Police investigate Ukrainian teacher's death after a hit and run traffic incident in Sa Kaeo province
Thai man killed by smartphone and head sockets left connected to the mains while lying in bed after football
Danish man killed in parachute jump as Russian drowns off Patong Bay on a tragic Saturday morning in the sun
Young woman killed in a moment as pickup driver opens his door on a quiet Chonburi road last Friday
82-year-old French man killed in Phuket when his motorbike was crushed by an out of control ATV