The Aussie is believed to have been staying in Phuket and published video clips of the raid where he admitted to being afraid as Thai police suspected marijuana use in his hotel bedroom as they searched. He was released about 10 hours later and despite the euphoria at that moment, he went online to warn other young Australians to stay clear of drugs in Thailand.
An Australian rap star was detained by Thai police on Saturday morning when they appear to have raided his hotel bedroom after social media posts showed him partying with women and using drug bongs. The highly successful ChillinIt420 was held at a local police station believed to be in Phuket for quite a few hours before he was eventually released. The incident comes at a time when marijuana is still explicitly illegal in Thailand despite growing calls to liberalise the substance and its legalisation for medical use.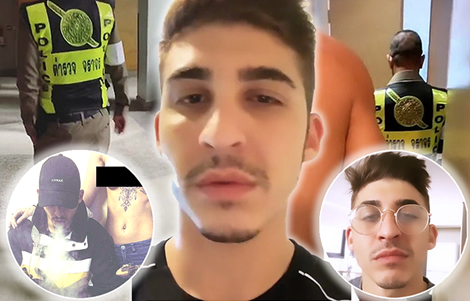 A highly talented, up and coming rapper from Australia had a close shave with the law in Thailand on Saturday when Thai police raided his hotel bedroom and took him into custody. It has not been clarified where the incident took place but it appears that the Australian star 'ChillinIt420' was partying somewhere in Phuket when there was a knock on the door from the police.
ChillinIt420 is Blake James from Sydney in Australia
The young twenty-something star does not yet have a record deal but he is one of a new breed of emerging stars and his music is pretty cool. His latest track 'Freedom' neatly sums the philosophy of the young star and his followers who appear to have made a breakthrough in Australia this year with already completed sold-out tours and millions of stream downloads. ChilliIt420's real name is Mr Blake James from Sydney in Australia. On Saturday morning his Instagram page with over 170,000 followers showed the scene as a number of Thai police officers raided his hotel room and later took the rapper away with a friend.
Social media posts show the star using drug bongs with scantily clad women while in Thailand
The music star should not have been so surprised. In the days before, his social media accounts featured pictures of him with semi-naked young women while consuming marijuana from bongs. The drug is still illegal in Thailand and can cause those in possession of it serious trouble with Thai authorities.
Running account of the Thai police raid: 'They think they can smell weed from our room'
The rapper gave a running account of the raid and expressed his fears to his fan base that things might just turn nasty for him. ''They think they can smell weed from our room. I'm low key stressing. Pray for ya boy right now,' he said in one video clip. This was followed by another communication as Thai police officers professionally and methodically began to comb his room searching for illegal drugs. The police team were in communication with their base using personal radio or walkie talkies.
Panicked update to fans after many hours hiatus from a police station – 'f**ked' 
A later message posted by the rapper from a Thai police station told his followers that he was 'f**ked' following a hiatus of quite a few hours. The rapper was indeed taken into custody but he appears to have copped a lucky break somewhere along with the line. 
Star and friends euphoric after his release
As his friends arrived at the local police station they met him as he emerged a free man with his friend. While the initial response of the group was one of euphoria and celebration even cheekily knocking on a glass window of the station to beckon the arresting officer, the rap star later wisely posted a warning about the incident to his fans. One of his friends also summarised the situation: 'That was a f**king close call bro.'
Aussie star warns fans not to mess about with drugs in Thailand after 'f**king close call'
When back at his hotel, ChillinIt420 messaged his fan base: 'What a f**king experience. I just want to say thank you so much to my boys, so many people messaged me,' Mr James said. 'That was a humbling experience, don't f**k around in other countries. They full kicked our door in, it was f**ked up'.  Well, maybe that's poetic licence, videos from the scene of the raid show the police going about their business in an orderly manner. However, videos from the scene do show a damaged hotel room door.
Marijuana is still a controlled substance and is illegal for recreational use in the kingdom
The rapper was right to highlight the danger of the situation. There have been quite a few Australians jailed in Thailand for drugs. It is a country that is currently implementing a legal marijuana regime strictly for those in need of the drug for medicinal purposes but authorities have stressed that it will not be legalised for widespread recreational use.
Current Thai public health minster campaigned on more liberal marihuana use in Thailand
The current Thai Public Health Minster Anutin Charnvirakul is overseeing the introduction of medical cannabis in the country which is already a difficult process as Thai authorities try to keep control over the substance while also making it available to all genuine patients who need it. The Minister and leader of the Bhumjaithai Party campaigned in the March election to make marijuana more widely available for medical and personal use by allowing families to cultivate the crop.
President of the Narcotic Control Board accused foreigners in Thailand of pushing for legalisation 
However, on Thursday the President of the International Narcotics Control Board in Thailand, Viroj Sumyai warned against liberalising the law on cannabis use for recreational purposes. He accused foreigners in Thailand of campaigning for such an outcome and said it would cause complications for Thailand both internationally and internally on the country's public health system as Thailand could face sanctions for breaching the 1971 Single Convention on Narcotic Drugs.
Thailand has lodged a complaint against US and Canadian moves on marijuana use
Mr Viroj revealed that Thailand had already lodged a complaint against Canada and the United States for violating the convention as these countries have in part already allowed recreational marijuana use contrary to the treaty.
Rapper should respect the law and put away the bongs while holidaying in Thailand
For rapper star Chillinit 420, it would be best if he puts away his bongs while in Thailand because, for now, the law views marijuana or cannabis as a controlled substance. The culture and regime in Thailand is still starkly different from western countries and already one young Australian knows how things can easily go wrong for western party men who play fast and loose with Thai drug laws.
Australian DJ given life imprisonment in 2016 for 61 ecstasy pills and is still in bang Kwan
Australian DJ Jake Mastroianni is currently serving a long prison sentence in the notorious Bang Kwan prison in Bangkok having been jailed or life by a Thai court in 2016 after 61 ecstasy pills were found by police in Pattaya at an apartment he shared with his girlfriend. An ABC TV special in Australia relating the story heard this from a lawyer in Bangkok acting on the Australian's behalf: 'The police were given information that led them to the girlfriend's apartment and Jake was there when they raided the apartment.' 
Rapper from Oz is highly talented
It would be a pity if the highly talented and entertaining Chillinit420 were to become embroiled in a similar turn of events. For Thai Examiner hip hop or music fans, check out the music and the latest track from this young artist here:
Freedom by Chillinit420 who made news in Thailand this week
Further reading:
Foreigners dealing or even using drugs in Thailand are ill advised
Players in Thailand getting ready to challenge for a slice of the medical cannabis trade as new legal era nears
UK doctor and Canadian face ultimate price for smuggling ฿2.5 billion cannabis oil out of Thailand
A young Swedish man imprisoned for Life in Thailand facing a harsh reality as mum also suffers
Aussie rapper in police raid looking for drugs

+ Up and coming Australian rapper ChillinIt420 had a close call on Saturday night when Thai police raided his hotel room following online posts showing scantily dressed women and marijuana drug use.https://www.thaiexaminer.com/thai-news-foreigners/2019/08/11/young-australian-rapper-star-chillinit420-hotel-thai-police-marijuana-use-thailand/Carla Boonkong reports from Phuket

Posted by ThaiExaminer.com on Sunday, August 11, 2019