The 45-year-old electrical engineer died from coronary heart disease failure. He attended at his hospital hours earlier but was sent home by doctors who said his condition was linked to stomach ulcers. On Friday, his wife lodged a complaint with the Criminal Suppression Division of the Royal Thai Police against the medical facility and doctors involved claiming recklessness.
A Thai woman claims that the reckless behaviour of a private hospital led to the death of her husband who presented at the medical facility last Sunday only to be sent home to die later that night from cardiac arrest.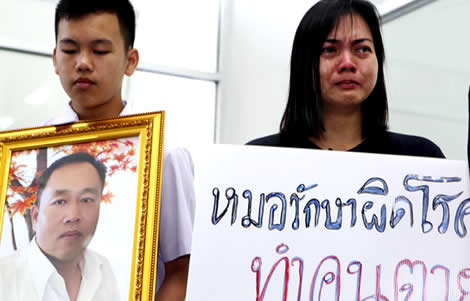 On Friday, a visibly upset Thai woman and her son lodged a police complaint in Bangkok with the Thai Police Crime Suppression Division against a private hospital in the city that had treated her husband last Sunday after he attended at the facility complaining of heart symptoms. The hospital released him within hours.
Died later that night before an ambulance arrived
The man died later that night. His widow, 38-year-old Kingkan Muenharn used the occasion to also protest at the hospital's treatment and held a poster which said: 'Doctor's misdiagnosis killed him' in Thai while her son carried a portrait of her husband and the boy's father.
Electrical engineer visited the hospital on Sunday 
In her complaint and statement to police officers, she outlined how her deceased husband, 45-year-old Supachai Athiphak who worked as an electrical engineer, reported to the hospital on Sunday after developing chest pains together with a weakness in his left arm. He also told doctors that he was experiencing acute tiredness and finding it difficult at other times to breathe.
Man was examined and put under observation
The man was given a preliminary examination and doctors concluded that his symptoms were caused by stomach ulcers. They kept him at the hospital for approximately an hour to further observe his condition. He was then released even though the husband and father still claimed to be experiencing the same symptoms.
At home, the man's condition deteriorated late that night and he went into cardiac arrest. An emergency ambulance was called but Mr Supachai had passed away before it reached his home.
Autopsy at Thammasat Hospital in Rangsit
The body was sent for an autopsy at Thammasat University Hospital in Rangsit in Pathum Thani province north of Bangkok. The autopsy result was that the 45-year old man had died from coronary heart disease or chronic deterioration of heart arteries to pump blood and oxygen.
Died from coronary heart disease
Coronary heart disease can be treated with medication by doctors. This is usually followed by lifestyle changes to reduce cholesterol and a build-up of plaque. In an emergency situation such as that experienced by Mr Supachai, to prevent a heart attack, doctors can use balloon angioplasty to treat the patient in a 2-hour operation to remove blockages in the heart artery. This can, however, fail to work for a limited number of patients which then requires open-heart surgery to be carried out.
Told to wait a week for husband's medical records
The Thai man's wife, Ms Kingkan, has blamed the private hospital for being reckless and negligent in treating her husband and has also complained that she was told that it would take one week to release her husband's medical records due to internal hospital processes.
Further reading:
Deputy Public Health Minister leaves expats confused with 'over 50s' visa insurance press comments
Thailand's health service the sixth best in the world according to new world healthcare index
Thai Ministry of Health brings in tiered pricing for medical services to foreigners and tourists
Elite doctors at Siriraj reveal that the 'mystery' illness that killed a Thai TV star was a rare but lethal form of TB
Thai woman dies from a female mosquito bite as deaths and infections from dengue spike