Progress is being made on the burdensome T28 and T30 regulations as key government aide Kobsak Pootrakool appears to have taken up the issue. The outcome could also lead a simpler and more user-friendly 90-day reporting facility.
There was further good news this week on the controversial TM28 and TM30 reporting regulations that have upset long-stay foreigners and workers in Thailand. An app will be ready in two to three months for those still required to fill the forms which would also make the 90-day reporting process far simpler. It has also been revealed that certain visa types are now exempt altogether from TM 28 reporting while the deputy secretary-general at the Office of the Prime Minister is in talks with ministers and officials in key government departments notably the Ministry of Tourism in an effort to put the controversy to bed. He has promised to resolve the issue within 2 months.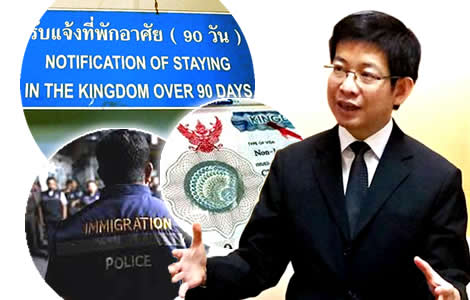 Last week, the deputy assistant government secretary and senior immigration police officers revealed that a new app for expats and foreigners in Thailand covering 90-day reporting and the controversial T28 and T30 reporting requirements will be up and running in two to three months. He has also promised that it will be easy to use with just four clicks on a smartphone.
Mr Kobsak is the government point man on the issue
Kobsak Pootrakool is becoming the point man for the government at a senior level as more foreign representative bodies come out and warn of the damage being caused by the issue not only as an impediment to positive inward investment decisions and tourism but also to Thailand's reputation as a place to do business.
The deputy secretary-general to the prime minister told an audience in Bangkok on Tuesday: 'We made the decision last Friday. Within two to three months, life will be much easier.'
Making it easier for foreign workers
This followed a government inward investment package designed by the Board of Trade and being promoted by Deputy Prime Somkid Jatusripitak being unveiled and approved by the Thai cabinet on September 10th last. This proposal also included plans to make immigration procedures easier for foreign workers of companies associated with foreign entities. The TM30 and TM28 forms were highlighted as a problem that needed to be addressed.
Last week, it was also announced that the TM6 arrival and departures form was being abolished completely following a high-level meeting by senior officials including Mr Kobsak on Friday 13th September.
Discussions with Tourism Ministry on TM30 and T28
It now appears that Mr Kobsak has also had discussions with the Ministry of Tourism and Sports on the controversial immigration forms. It is becoming clear that there is a strong overlap between tourism and the activities of long-stay foreigners in Thailand. Obviously, these foreigners are important to the domestic tourism trade but it is feared that the controversy generated over the forms may also be having a cooling effect on incoming tourism particularly from western countries. 
Mr Kobsak is reported to be engaged in a range of high-level consultations and has promised to resolve the issue within the next two months.
Positive news on T28  – foreign workers now exempt
There has already been positive movement on the T28 form. On Monday September 9th, the day before the cabinet meeting to approve the inward investment package for foreign firms, the immigration bureau announced a decision to exclude long-stay foreigners on certain visa types to do with working or investment activity from the T28 24 hour reporting regulation which requires foreign visa holders to notify their movements if travelling to another province for a period of over 24 hours.
This requirement has now been removed for foreigners staying in Thailand on non-immigrant B visas, investment visas, education visas and visas for skilled craftsmen or specialist workers.
Confirmed by Immigration police chief in Phuket
This was subsequently confirmed in a notice posted at all immigration centres on Friday 13th but caused some confusion.
Last week, Chief Colonel Kathathorn Kumthieng of Phuket Immigration Centre gave a briefing to the Phuket News, the local newspaper in Phuket on the issue. 'During the visit to Thailand, for purposes of tourism, sports, business, investments, education, practising of skilled craftsmen or specialists, aliens are not required to notify the competent official in case of moving their residence,' he said. 'These people are now exempt from having to file a TM28 reporting their whereabouts.'
TM30 is filed the property owner, not the foreign visa holder as reports of less stringency surface
The controversial TM30 form remains in place but the immigration chief points out that the onus to fill out this form lies with the property owner, not the foreign visa holder. In the case of hotels, they already have in an established and working practice of keeping and filing records with police for guest registrations.
It is clear that there is some movement on this issue with many foreigners reporting a less stringent attitude at local immigration offices.
Nevertheless, there is still confusion not least about how foreigners became responsible for the duty of landlords to file the TM30 form in the first place. The new exemptions announced on September 9th in relation to T28 is, of course, a welcome move.
The immigration police chief in Phuket was asked last week when they would come into force. 'They are active now,' he replied.
Further reading:
TM6 arrivals and departure forms scrapped by the government in move to ease red tape for visitors
Changes to TM30, an easier visa and work permit system approved by Thai cabinet yesterday for foreign workers
Bangkok Immigration boss indicates easier TM30 reporting as an option, asks for understanding
Unit suggests that TM30 reporting be scrapped to make doing business in Thailand easier as Chambers weigh in
Thai expats launch website to campaign for easier immigration reporting rules for visa holders