People all over Thailand regularly sent 23-year-old Ms Jiraporn money online for iPhone offers that were bogus. She was arrested by police in the Sai Mai area of Bangkok at the weekend at a restaurant she had opened. The Thai woman faces charges of fraud and violating the Computer Crime Act.
A 23-year-old Thai woman named 'Beer' was behind bars over the weekend after 4 years defrauding online customers into sending her money for half price iPhones s that never existed. Her simple money for beer scheme was crashed when a newfound acquaintance went to the police after having qualms about the use of her account to receive ฿50,000 which she was asked to withdraw and send to another account.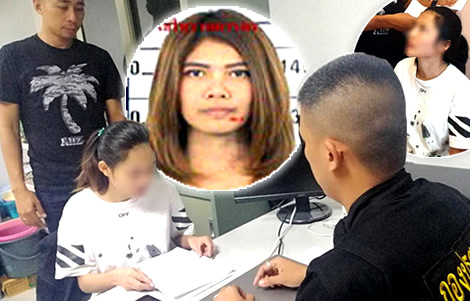 A 23-year-old Roiet woman's 4 years of fraudulent living came to an abrupt end over the weekend when police arrived at a restaurant she had opened in the Sai Mai district of Bangkok and identified her as a person named in three arrest warrants.
50% off the latest iPhones
The Thai woman known as Mrs Jiraporn nicknamed Fong or Beer was making money by deceiving trusting people online into believing they were purchasing expensive iPhones at discounts of up to 50%. Beer's money-making racket was simple. She would convince the buyers on the internet to send the money to her account and would then cut them off and disappear.
Constantly on the move using third party bank accounts to keep the police at arm's length
Police told the media over the weekend that the woman moved address constantly to stay one step ahead of them and a growing number of arrest warrants. She achieved this by using third party bank accounts to receive money for her fraudulent online sales.
Specialised in the sale of iPhones 
Her scheme relied on advertising the Apple iPhone as such phones retain their value and are not often sold at a discount, unlike Android phones in the market which are frequently the subject of price discounts as new models and features are introduced. Hence Beer's online offer was a seductive one.
Report by one friend triggered her downfall
The woman's downfall occurred last Friday when a recent acquaintance reported the woman to the police after being requested by her to allow the use of her bank account ostensibly to allow the fraudster's family upcountry to send her money needed for her rent. 
The new friend thought the request a bit premature from a person who she had only known for a few months but acquiesced last week to help out.
฿50,000 arrive into her friends account for Beer
Then towards the end of the week, nearly ฿50,000 was transferred into her account. When she asked Ms Jiraporn what she should do with the money, she was asked to withdraw it in cash and then transfer it to another account of a person not known to her. 
After following Beer's instructions, the acquaintance began to entertain doubts that something nefarious was afoot and decided to report the matter to the police as a precaution.
Thai police began an immediate probe and found three arrest warrants for the Roiet woman
The police were happy to receive the suspicious new friend's report on Friday the 4th of October last and quickly launched an investigation. They soon discovered that Ms Jiraporn was the subject of three arrest warrants including one from Thonburi Court and two warrants held at Bang Kun Tian and Dusit police stations. All the warrants specified fraud and violations of the Computer Crime Act which prohibits the publication or dissemination of false information online, in this case, the fraudulent iPhone sale offers.
Used the money to live and gamble
Police moved fast over the weekend to take the woman into custody. She was handed over for detention at Dusit Police station in Bangkok where criminal proceedings have been commenced against her.
It appears from initial interviews between the woman and police officers that she used the money she received for day to day living expenses including a penchant for gambling.
Further reading:
Man arrested in ฿500 million cryptocurrency fraud in Bangkok. Scam targeted Asian countries
Husband and wife arrested in Chiang Mai for fraud over crazy car finance offer that went horribly wrong
Nigerian and Thai wife arrested by police after online romance fraud costs woman ฿1.5 million