The incident occurred on Wednesday and the young man who looked to be in his twenties had to be controlled by security personnel and forcibly removed from the aircraft. However, for some reason, authorities have not revealed his identity as they examine his motivations and contemplate possible charges.
A young western man could be facing up to 7 years in prison as Thai authorities take an increasingly serious view of an incident that occurred last Wednesday in Chiang Mai when he dramatically and violently opened an emergency exit of an aircraft as it taxied for takeoff on a flight to Bangkok.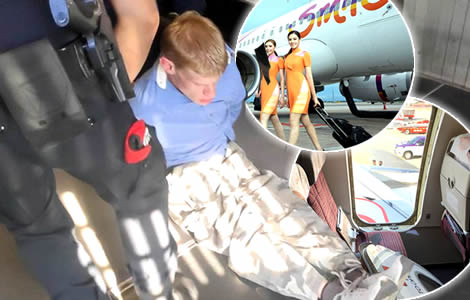 Authorities are trying to understand what the young man's intentions were when he jumped up from his seat after passengers had been seated and the plane was already in motion. He forcefully opened the exit on the left-wing of the airplane. The door came free and an emergency chute was launched.
The captain of the flight halted the takeoff and radioed for help from security. The foreign man was then forcibly removed from the flight.
The investigation being conducted follows a formal complaint from the airline over the incident.
Circumstances have sparked concern, criminal charges being considered
Police are also involved in the probe into Wednesday's outlandish behaviour by the young westerner which seems to have sparked the concern of authorities.
Section 232 of Thailand's criminal code makes it an offence to interfere with any mode of transport which may make it a danger to other people.
The maximum prison sentence that can be imposed for the violation of the law is up to seven years. It is also being reported that officials are looking at a possible breach of the Air Navigation Act.
Man's actions caused panic on the flight
The incident on Wednesday caused panic and alarm in the aircraft. The passenger's actions were dramatic as he violently pulled the door of the Airbus A32o open. Some passengers told authorities that the young man appeared to be drunk.
Airport security who quickly arrived onto the plane had to use force to grapple with and hold him down on the floor of the plane before he was restrained and then removed. He was taken into custody by police at Chiang Mai International Airport.
Airline reported having lost ฿600,000
The loss to the Thai Smile airline as a result of the 'crazy' behaviour of the foreigner amounts to ฿600,000. The actions by the young passenger caused flight WE 169 to eventually take off as 5 pm on Wednesday, 1 hour and twenty minutes late.
Statement for Thai Smile
On Wednesday, the airline issued a statement outlining the event and apologised to the passengers inconvenienced.
 'After the aircraft door had been successfully closed there was a wait for a taxi to take off. A foreign male passenger ran to open the emergency exit door next to the left-wing of the plane. The incident caused the emergency door to be opened entirely and an emergency slide unfolded.'
Further reading:
Police in Chiang Mai reported to be looking at new legal action against UK man freed on phone theft
Bizarre antics of hippie western foreigners in Chiang Mai draws attention online and on TV news
Please follow and like us: