The execution of the 46-year-old man on Wednesday morning was followed by the delivery of a death certificate to the home his sister in Singapore, Ms Leelavathy Suppiah. His family, in the hours before his death, besieged the Singaporean President with up to dozen communications but failed to halt the execution process which saw their beloved relative hanged at the gallows in Changi Prison. Campaigners for the abolition of the death penalty in Singapore and human rights groups are pointing to the execution as a miscarriage of justice which raises disturbing questions about the legal regime in the city-state with the executed man having been convicted on an extremely tenuous conspiracy charge before a court without a jury and presided over by one judge.
Singapore, on Wednesday morning, executed a 46-year-old drug addict who was convicted in 2018 of conspiracy to traffic just over 1 kg of cannabis or marijuana before the High Court in the city-state which resumed its harsh and increasingly controversial regime of capital punishment in March 2022 making this the 12th execution to take place since then. The execution of the man who the High Court accepted had never seen, handled or controlled the drugs as a primary mover in the plot, has outraged human rights activists who say that Tangaraju Suppiah went to his death for simply being in regular contact with two known traffickers who never faced a capital charge linked with the alleged plot with a case against one of them subsequently dismissed by the courts.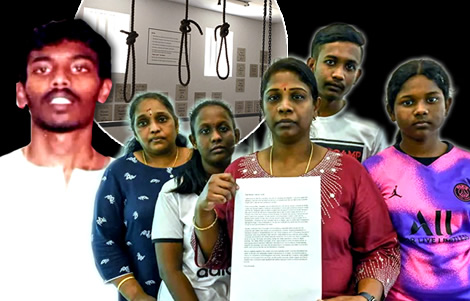 46-year-old Singaporean Tangaraju Suppiah was hanged in Singapore on Wednesday morning at 6 am and his family were informed of his death together with a death certificate from the Singapore Prison Service shortly afterwards.
The sentence was carried out at the notorious Changi Prison where just hours previously the condemned prisoner was given a tour of the gallows area by prison staff who explained to him the procedures and details of how he was to die.
Tangaraju was in high spirits just before he went to his death as his plight and that of his family galvanised worldwide opinion and efforts to save him
Earlier his sister, Ms Leelavathy Suppiah told reporters that her brother still retained some hope and was reportedly in high spirits even hours before he was taken to his death.
Mr Suppiah was convicted before Singapore's High Court in 2018 for aiding and abetting the importation of a consignment of over 1 kg of cannabis or 2 pounds of the drug based on a conspiracy charge.
No evidence was presented to the court that he was actively involved in either drug dealing or trafficking or that he had ever seen the drug consignment he was condemned to die over
In fact, the court proceedings confirmed the opposite was the case but under Singapore's colonial-era law and before a court with just one presiding judge and no jury, the then 41-year-old was convicted and the death sentence handed down.
Judge ruled the charge of 'conspiracy' against the executed man proven beyond a reasonable doubt on what activists call 'shockingly thin' grounds
Mr Justice Hoo Sheau Peng who presided over the High Court trial insisted that 'the charge against the accused had been proved beyond a reasonable doubt' based on Mr Suppiah's telephone contacts with two people on a second mobile he had hidden from police as a drug addict, who were actually involved in the importation of the drug consignment.
Both of these people never faced a capital charge concerning the drugs while charges against one of the accused were subsequently dropped by authorities. 
Meanwhile, Mr Suppiah's sentence was upheld in 2019 by Singapore's Court of Appeal.
On Tuesday, a last-ditch attempt to have a legal review of the condemned man's case was thrown out by a court in Singapore without even hearing an oral argument.
12th person to hang since March 2022
His was the first execution by Singaporean authorities in six months and comes after the city-state resumed carrying out the death penalty by hanging in March 2022.
Mr Suppiah was the 12th person to be executed since then.
His execution drew unprecedented calls on Singapore not to carry out the penalty with pleas for both the United Nations and the European Union who maintain offices there for clemency in this case.
An appeal to Singapore's first female President, Halimah Yacob, a former lawyer elected in 2017, also failed.
Hardline statement issued by Singapore's Central Narcotics Bureau (CNB) drew attention to the executed man's telephone contact with traffickers 
A statement from Singapore's Central Narcotics Bureau (CNB) raised concerns further after it confirmed that the basis for the conviction and execution was the fact that the executed man was found to be in telephone contact with those involved in drug trafficking the cannabis consignment or 'abetting the trafficking of more than one kilogram of cannabis'.
'Tangaraju was accorded full due process under the law and had access to legal counsel throughout the process,' the statement declared while justifying it based on 'Singapore's comprehensive harm prevention strategy.'
The execution has been roundly condemned by Amnesty International in Singapore who questioned the police investigatory process behind the prosecution's case which sent him to his death.
'Tangaraju's conviction relied mainly on statements from his police interrogation, taken without a lawyer and interpreter present and the testimony of his two co-accused, one of which had his charges dismissed,' the human rights non-governmental organisation (NGO) said.
Justice collective in Singapore which campaigned to save Mr Suppiah identified 'serious problems' with his conviction hours before his death by hanging
Another body, the Transformative Justice Collective (TJC), an organisation formed in the city-state to reform its judicial system which is based on India's colonial era legal framework which was imported into Singapore before its independence, raised what it called 'serious problems' with this case.
The Transformative Justice Collective (TJC) is committed to seeking the abolition of the death penalty in Singapore as its first step on the road to judicial reform in the country.
It described the case presented in court against the executed man as 'shockingly thin'.
'The case against Tangaraju is largely circumstantial and based on inferences,' the group proclaimed in a statement. 'He never touched the cannabis he was accused of attempting to traffic. He was tied to the offence by two phone numbers found on the mobile phones of two men arrested by the CNB, one of which had been used to coordinate the cannabis delivery.'
Case throws Singapore into negative light among ASEAN peers after Malaysia reformed its death penalty and Thailand's legalisation of cannabis
The execution of Mr Suppiah has also been thrown into stark relief by judicial reforms in neighbouring Malaysia which has scaled back the extent of its death penalty regime and Thailand which has fully legalised cannabis by deleting it as an illegal or scheduled narcotic although a licence is required to import the drug into the country but even this has become a less serious offence.
The three countries are members of the ASEAN community which is working towards improving human rights as a key goal and one which is progressively being encouraged by external investors.
Before his death on Wednesday, international business tycoon Richard Branson also called on Singapore to suspend the death sentence on Mr Suppiah while the family sent dozens of letters to the Singaporean president believing that as a woman, she would intervene in the matter right up to the last minute.
Activist Kirsten Han, who had long campaigned on the case, told Al Jazeera that despite comments in court by the High Court judge in the trial that the defendant had accepted the evidence presented against him, she was convinced he failed to understand the basis of the case and that this was a contributory factor to his death on Wednesday morning.
'Tangaraju said his English is not that good, he wanted an interpreter but he couldn't get one. Then he's really disadvantaged because if he can't properly understand the police statement that was read back to him, how could he make any amendments?'
Distressing details about Tangaraju's state of mind and familial interactions in the days leading up to his death including a macabre prison tradition
In the hours after the man's execution, distressing personal details emerged such as a last-minute change of heart by the prisoner to allow a last photo shoot with his close family and to look at old album photographs of happier times, something he admitted had made him yearn again to be back in the bosom of his family.
He also fretted about having gained 10 kg in the last four months, something a prison guard had warned him about as it may have caused problems with the execution process.
'Maybe if I'm heavier, it'll take me longer to go?' he wrote in a social media communication.
However, he died after having had a final last meal with his family who brought him chicken biryani rice, ice cream soda and sweets.
The executed man also participated in macabre tradition at Changi Prison which death row prisoners at the facility have confirmed they find disturbing.
He was given an allowance to buy fellow prisoners on death row treats before his demise and ordered fish burgers, puff pies and soft drinks.
Further reading:
Singaporean faces execution on Wednesday by hanging over 1 kg of cannabis he never handled
Killer sentenced to death for the 2nd time for the murder of a woman 7 months after being paroled
Scotswoman to appeal dropping of death sentence on brother in law and two hired hitmen by court in Phrae
Death sentence for murderous trio who executed a loving Thai wife and her UK husband in Phrae
Death sentence imposed on school boss who murdered a 2-year-old boy in a gold shop robbery in January
Convictions of Burmese Koh Tao murderers and death sentences upheld by Thai Supreme Court
Australian man pleads for help for his son and Thai wife sentenced to death for failed drug trafficking plot at sea
93% of Thai people want to see the death penalty put to use to curb shocking murders and drug gangs