On Thursday, Thai police announced the arrest of a 30-year-old drug trafficker believed to be working with a gang in the Bang Bua Thong area in Nonthaburi distributing drugs into local districts in Bangkok. The man was apprehended by officers wet and shivering after jumping into a local river to avoid arrest following a high-speed chase. His truck as carrying 137 kg of crystal methamphetamine and ketamine.
Thai drug dealers have adopted a new tactic and upped the ante in the ongoing, high stakes cat and mouse game between them and the Royal Thai Police. They have begun using emergency rescue vehicles and ambulances to evade police checkpoints and controls.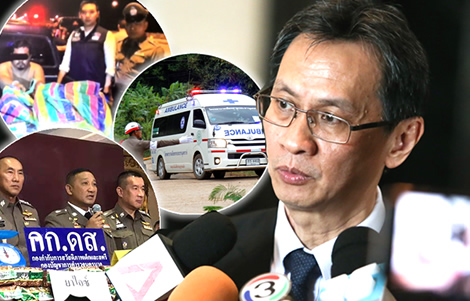 Crafty drug dealers in Thailand's northern Phayao province who resorted to using an ambulance from a local rescue service to transport their contraband on the roads with impunity were stopped in their tracks when they were finally flagged down and arrested this week by Narcotic Control Board police and local officers from Dok Khamtai police station.
They were using the ambulance to transport a large quantity of amphetamine and methamphetamine through the province. 7 suspects were arrested.
Two men were also arrested by local police transporting 600,000 methamphetamine pills to Chiang Mai in another emergency vehicle.
7 such cases detected so far – warning on Friday from the Head of the Office of the Narcotic Control Board
The revelation came on Friday from the secretary-general of the Office of Narcotics Control Board, Niyom Termsrisuk when he revealed that seven different cases so far had been identified and linked with the use of emergency response vehicles. 'We have arrested 21 culprits and seized 1,351,837 amphetamine pills, 601 kilograms of methamphetamine and 80 kilograms of ketamine,' he revealed.
He told reporters that there is a clear trend showing an escalation in the tactic. 'Some drug smugglers are using emergency cars or ambulances with the emblem of a rescue foundation or a government agency to avoid being checked by officers at checkpoints,' Mr Niyom told the press. 'According to statistics, there have been seven drug cases in which these kinds of vehicles were involved.'
Worrying implications and dilemma for police
The drugs suppression chief highlighted that this tactic has worrying implications. 'These illegal actions will affect the overall facilitation in emergency cases for which ambulances and rescue cars are very necessary,' he told the press. 
It leaves police facing a dilemma every time one of these vehicles raises suspicion and will require a coordinated solution
Police announce arrest in Suphan Buri province
On Thursday, Deputy National Police Chief Police General Suchart Theerasawat revealed that police had intercepted a significant drug shipment being moved in a pickup truck in Suphan Buri Province.
Pickup truck stopped late on Monday night
The arrest and seizure began late on Monday night, the 7th October when a pickup truck was hailed down by police who requested permission to search it. The driver attempted to escape by heading off at speed. The 30-year-old man named as Kittipong Kachadpai stopped the vehicle on a bridge in the Bang Pla Ma area of the province and jumped into the Tha Chin River below.
Man arrested at 2.45 am following river jump
Police in pursuit with reinforcements began a search for the man and later found him soaked, hiding beneath one of the pillars of the bridge structure. The dramatic incident began at 11.30 pm and ended with the man's arrest at 2.45 am on October 8th.
Police searched the pickup vehicle and found 132 kg of crystal methamphetamine and 5kg of ketamine. The drugs were packaged as tea products.
Courier linked with Bang Bua Thong drugs network in Nonthaburi supplying drugs into Bangkok
The arrest is linked to police investigations and intelligence which indicated that drugs were being supplied from the Bang Bua Thong district in Nonthaburi to local districts in Bangkok such as Wutthakat and Taling Chan.
The 20-year-old suspect, who appears to have had no prior criminal history, has been charged with the possession of narcotics with intent to sell. He was detained by police who are initiating criminal proceeding against him.
Further reading:
Pattaya police break up a drugs network operating in four provinces with a haul worth ฿100 million
UK drug dealers living it up in Thailand to be deported back to the UK after arrests in Pattaya
Thai drug dealers go high tech with online social media accounts the key mode of distribution
Senior Uthai Thani police officer arrested on Bangkok bound bus with 200,000 meths pills