Road rage incident on Wednesday night in the Muang area of Chonburi province saw the Italian taken to hospital by an emergency rescue unit in pain after his arm was broken by a hammer wielding Thai man. The attacker, a Thai car driver, had stopped in front of the 40 year old Italian while out riding his motorbike on the road with his Thai girlfriend. The Thai man appeared intoxicated but amazingly, accused the Italian of driving drunk. It appears that the unfortunate Italian man had earlier suffered a broken leg and was driving his motorbike extra slowly on the road. His Thai girlfriend bravely beat off the attacker with his leg crutch.
A Thai man viciously attacked an Italian motorcyclist on Wednesday night with a hammer as he negotiated his way along a road in Chonburi's Muang area on Wednesday night with his Thai girl girlfriend. The Italian man was recovering from an earlier injury which caused him to be riding the motorbike with a broken leg. The attack left the Italian man reeling in pain with a reported broken arm after being hit by his assailant with the hammer. Meanwhile, a UK man in Koh Samui is asking the UK public for help after he developed a fluid on the brain condition following a hit and run accident on the beautiful southern island also while riding a motorbike.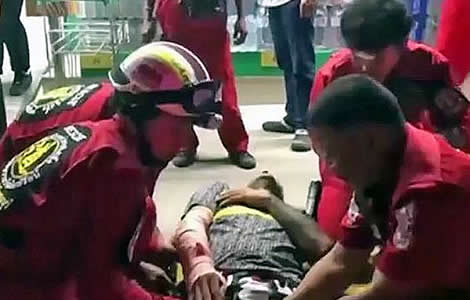 Thai police are searching for a Thai man who viciously attacked an Italian man riding his motorbike on Wednesday night in Chonburi province. The incident occurred in the province's muang district.
40 year old Denti Samuele had been exercising caution as he rode his motorbike having earlier suffered an injury on the motorbike which resulted in the Italian man breaking his leg. He was having difficulty maneuvering the motorbike with his broken leg. This meant that he had to drive his motorbike at low speed. He was accompanied on the motorbike by his 25 year old Thai girlfriend, Paritra Klaewklangsue, who was riding pillion.
Car stopped in front of Italian's motorbike on the road and intoxicated Thai man emerged
The Italian man's girlfriend briefed police in the incident. She told them that a car had begun following the couple as their made their way along the road. It was a Honda model. The couple had been trying to keep out of the car's way but it suddenly stopped in front of their path.
The Italian and his girlfriend were shocked to see a Thai man get out of the car with a hammer. She said he appeared to be drunk. He upbraided the Italian man for his driving on the road saying that he must be drunk. He then hit the unfortunate man on the right harm breaking it and leaving the man tormented with pain. An emergency response team had to be called to remove the Italian man from the scene.
Thai girlfriend fought the attacker with her boyfriend's leg crutch
The attack only came to a halt thought the bravery of the Italian's Thai girlfriend who beat the attacker off with her boyfriend's crutch. The Thai man then ran back to his car and left the scene. Thai police are now scouring CCTV footage from the area in order to find the attacker.
Danger of motorbikes in Thailand for foreigners as family of UK man in Koh Samui seek help
The story again illustrates the danger of motorbikes on Thai roads although in this case, it was road rage which provoked the incident. It comes as a 31 year old UK man, Liam Workman, who had set out to Thailand at the end of 2018 from the UK midlands now finds himself battling for his life after another motorbike accident on the beautiful Thai southern island of Koh Samui.
Desperate family members are trying to raise £3,000 or  ฿125,000 to bring him back to Staffordshire in the UK where doctors can treat him for fluid on the brain. He had earlier been released from a Thai hospital and was recuperating in a Thailand with his sister when his condition began to deteriorate. His family are pleading with the UK public to assist the man who they say needs 'advanced treatment' that he can only get at home in the United Kingdom.
End of Thai dream for young UK man who set off at the end of 2018 with high hopes
It spells the end of a dream for the young man who set out at the end of December last year with a one way plane ticket and seeking a 'new life' in Thailand. His family have told the media that although Liam had travel insurance, it was voided because he had not booked a return flight as would be customary on a holiday and also by the fact that he had broken the law in Thailand by riding a motorbike with a valid licence.
Most travel insurance policies for travel to Thailand are very limited and unreliable
Most travel insurance packages are quite limited in their coverage and are certainly only designed for short excursions or holidays to foreign countries. Any foreigner traveling to Thailand and planning on an extended stay must have proper health insurance and even then, it must be qualified to cover their stay in Thailand including any risky occupations or travel plans. Thai hospitals, because of their charter and Buddhist tradition, will not refuse treatment to foreigners in an emergency situation but a medical bill will be presented. The costs will certainly be lower than western levels but significant enough to be beyond the ability to pay of must young travelers to Thailand without the support of parents or  substantial income or assets.
UK man stayed in Bangkok and traveled to Thailand before his accident in Koh Samui
An enthusiastic Liam Workman set off for Thailand in late December last year. He posted videos before he left on what he hoped would be a positive life changing journey. He stayed in Bangkok for brief spell and even traveled to the north of Thailand. The accident which befell him in Koh Samui was while he was out on the island riding a low powered moped motorbike. His family believe that he was the victim of a hit and run accident. Mr Workman is from Tamworth in Staffordshire about 14 miles to the north east of Birmingham. The UK man is reported to be from Lichfield nearby and attended the Friary secondary school there.
Following the motorbike accident, Liam was taken to the local hospital where he was treated and discharged. However, Thai doctors there suggested that it would be unwise for him to undertake the long journey by plane back to the UK at that point. He was then joined by his 26 year old sister Paige who tended to him at a local hotel. However, things did not go according to plan. He did not eat or drink much and his condition became worse.
Shocking news about UK motorbike accident victim recovering  Koh Samui after bike crash
Spanking from Koh Samui, his sister told the Birmingham Mail newspaper: 'He deteriorated as a whole, became very confused and delirious and was in pain and so distressed he had to be strapped to the bed,' she revealed. 'They carried out another CT scan which has confirmed Liam now has fluid gathering on his brain, leaving him in a pretty critical position,' she said. Her fear now is that her brother's condition will become so serious that he will require surgical intervention. This is is why the family desperately want to have Liam repatriated back home to the UK.
Italian couple die in Chumphon in another horrific motorcycle accident on Thailand's deadly roads
Distraught UK family praise 17 year old, eldest of 5 brothers – latest motorbike casuality in Thailand
Dane killed in Phuket bike smash had a Thai wife, son and was a respected online anti vaccine campaigner
World Bank report warns Thailand of huge potential economic loss caused by road carnage
Drink driving in Thailand can have the severest of consequences
Thailand's road accident rate still a red light – many factors driving the carnage with no easy fix
Driving in Thailand really is dangerous – Don't do it
Thailand is safe for foreigners who take responsibility as dangers lurk in paradise