Killer appeared upbeat when he arrived at the court on Wednesday. After his arrest in a swoop on his luxury car in January 2020 as he returned home to Lopburi from Singburi by armed police, he told investigators at first he carried out the robbery and killing spree for kicks but police officers suggested that the high-ranking official was under financial pressure and plagued with debts in pursuit of an affluent lifestyle.
There was no mercy for the former director of a children's school in Singburi on Wednesday when the Supreme Court confirmed a death sentence imposed on him in August 2020 by a lower court after the murder of three people during a botched robbery of a gold shop at the Robinson's Department Store and Shopping Centre in Lopburi when three people died at the hands of a masked killer in combat gear who used a pistol with a silencer. Those who died included a two-year-old toddler taking a stroll with his mother, sparking public outrage.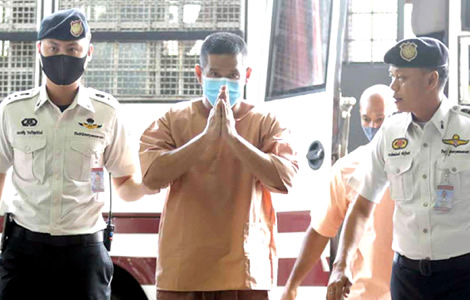 The Thai Supreme Court on Wednesday upheld a death sentence imposed on a former school director at a school in Singburi province after killing three people and wounding four others in a botched gold shop robbery carried out at the Robinson Department Store shopping centre in Lopburi province.
41-year-old Prasittichai Khaokaeo who lived in Lopburi before being jailed in 2020 after his sudden arrest on the way home from work by armed police, arrived at court looking confident and later heard the Supreme Court judgement read out which found no basis for mercy given the nature and circumstances of the crimes he had committed which it described as cold-blooded.
Sentenced to death in August 2020 for murdering three people including two-year-old Panuwich Wongyu in a botched and bloody robbery on January 9th 2020
In August 2020, the former school director was sentenced to death and this was upheld by a Court of Appeal decision on July 20th 2021.
The incident took place on Thursday evening, the 9th of January 2020.
The killer used a sophisticated 9mm pistol fitted with a silencer to carry out the deadly robbery.
The three people who died included two-year-old toddler Panuwich Wongyu who was killed by a stray bullet while the attacker, masked and wearing military-style fatigues, callously gunned down security guard Theerachat Nimma and a beautiful young sales assistant at the gold shop, Thidarat Thongthip.
The court judgment was delivered at courtroom 908 of the Criminal Court at Ratchadapisek Road in Bangkok and in the judgement, the actions of the defendant Mr Prasittichai were described as dangerous and inhumane especially given the condemned man's role as a school director where more would have been expected.
Raider fled on a red and black Yamaha Fino motorbike borrowed from a family member leaving a trail of devastation in his wake for a hidden bag of gold
The raider fled on a red and black Yamaha Fino motorbike which was later discovered to be owned by a family member.
The heartbreak caused to the mother of the young toddler, Ms Wilaiwan Wongyu and the child's father was deeply felt by the public in the province. 
This quickly turned to anger when the killer was revealed to be a school director of a children's school in nearby Singburi province.
The expeditious arrest of Mr Prasittichai on January 22nd 2020 saw then National Police Chief Chakthip Chaijinda applauded by locals when he flew to Lopburi to take part in the interrogation of the then suspect who was the son of a former policeman.
Former school boss was in debt and had a luxury ZM4 BMW car seized by customs over tax irregularities forcing him to pay a large fine for breaking the law
At one point, in conflicting and contradictory testimony to police, he appeared to suggest that he carried out the killing for kicks but police believe that the man who had seen an expensive ZM4 BMW car repossessed at one point by customs and was heavily indebted because of his luxurious lifestyle, may have simply snapped.
His haul of gold from the robbery, estimated to have been worth ฿664,470, was later recovered by police in an outbuilding in one of the family properties where the killer had hidden it in a bag.
The death penalty is still enforced in Thailand following a surprise decision by officials to carry out an execution on June 19th 2018 at Bang Kwang Prison when a 26-year-old who had stabbed a teenager while stealing his smartphone was put to death by lethal injection.
The last execution before that was in 2009.
The prisoner has already been moved to Bang Kwang Prison, the seat of Thailand's death row and execution chamber but, before this, had told a fellow inmate, a white-collared prisoner convicted of a nonviolent crime, that he was confident of being released within 10 years with the possibility of clemency and time off his sentence for good behaviour.
A survey at the time of Thailand's last execution showed that 93% of the public in Thailand still supported the continued use of the death penalty. 
Further reading:
Death penalty upheld for crazed school director who murdered a 2-year-old boy upheld by court
Death sentence imposed on school boss who murdered a 2-year-old boy in a gold shop robbery in January
School director pleads guilty in court to murder and other charges after Lopburi shopping centre massacre
Master of lies and death, the gold shop killer's life, actions and motives probed by police as wife flees
Lopburi child killer is a primary school director who murdered 3 people this month just for kicks
All quiet in Lopburi as fears grow that the gold shop killer may have slipped the police arrest net – media blamed
Mum's heartbreak after 2 year old's murder as police now know the identity of the cruel and evil killer
2-year-old shot dead by gold robber Thursday night as 3 die, 4 injured in mass shooting with silencer gun
Party over for 45 year old composed armed robber who took ฿4 million in Bangkok gold shop raid
Police near closing the ฿9 million gold robbery case in Khon Kaen as the last suspect returns