The Thai woman, who took out the loan from Supitcha Apichatphokhin, attempted to pay the loan back in full, nearly ten years ago but the greedy lender wanted her to pay nearly three times the amount advanced saying she had signed a written guarantee for another loan when the original loan funds were advanced. The money lender's jail sentence for perjury and later conviction of illegal money lending, directly relates to her subsequent decision to initiate legal action against the borrower to repay the larger claim. This week, the money lender ran out of time as Thailand's highest court conclusively ruled that she should serve a two year prison sentence for perjury committed in the case she herself initiated.
A brave Thai woman who borrowed money at an exorbitant interest rate to help her daughter and son in law seek work in South Korea has been vindicated this week before Thailand's Supreme Court. It held up a 2 year jail sentence imposed on the the loan shark who had been earlier been convicted of perjury and sentenced to two years in jail. The money lender is now behind bars and still facing legal action by 42 former borrowers after Thai authorities successfully prosecuted her for illegal money lending and a court imposed a 51 month jail sentence. She is currently appealing that sentence but it could mean even more jail time for the 58 year old.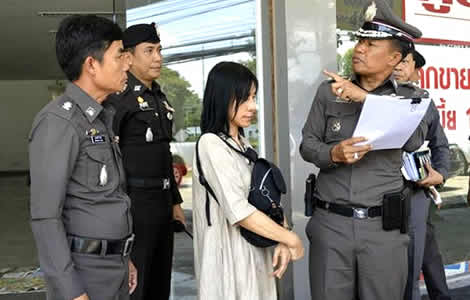 Thailand's Supreme Court upheld a two year prison sentence imposed on a Thai moneylender this week after she was convicted of perjury for her evidence in a case she brought herself against one of her debtors. This culminated in another Supreme Court verdict against her, eight year ago in 2011. In 2011, the Thai Supreme Court court ruled decisively in favor of the debtor in the case. Subsequently, the defendant brought another case against the moneylender and her clerk for perjury during that trial.
Loan shark taken to jail to begin prison sentence and faces further trials and jail time
The 58 year old loan shark, Supitcha Apichatphokhin, from Nakhon Phanom and her 48 year old clerk Panitta Poungphaka, who is no longer an employee of Ms Apichatphokhin, had appealed to the Supreme Court. This week, the employer was taken into custody to serve the prison sentence as her ex employee was acquitted on the charge and then released.
Borrower forgives money lender but is satisfied with the court's decision his week
The debtor in the case was 71 year old Salika Khonchalard. After this week's outcome, she said she forgave the money lender but was satisfied with the outcome: 'What goes around, comes around. I forgive Supitcha as she has to pay for what she did. This case should serve as a cautionary tale for illegal money lenders who take advantage of others to reap benefits.'
Convicted of perjury and charged with illegal money lending after losing legal action against borrower
The final decision of the courts this week on this case is not the end of the legal consequences for Supitcha Apichatphokhin as a result of her actions and lending practices.
As a consequence of the fallout of the previous cases initiated by herself and after her legal suit against Ms Khonchalard was defeated by the 2011 Supreme court verdict, she was charged with illegal money lending offences by Thai authorities.
Loan shark boss sentenced to 51 months in prison but has appealed that sentence
In March, Supitcha Apichatphokhin was found guilty of illegal money lending without the appropriate permission from the Bank of Thailand and for charging exorbitant interest rates in contravention of Thai law. The court sentenced her to 51 months in prison while another employee, Sombat Phromthai, was given an even harsher sentence of 60 months. A third employee was fined. The convicted illegal money lender is currently appealing this sentence while commencing the 2 year prison sentence of perjury.
42 unhappy debtors taking legal action against her and the law may be on their side
It is also reported that in 2017, a lawsuit was filed against the Thai woman, jailed this week, by no less than 42 former debtors in relation to excessive rates of interest charged by her on what have now been termed illegal loans by the highest Thai court.
Greed following a loan to an older woman to help her daughter and son in law led to lender's downfall
The beginning of the downfall of the illegal money lender started when she advanced a loan to Salika Khonchalard 10 years ago. The borrower wished to give money to her daughter and son-in-law who were traveling to find employment in South Korea. This was in 2009. The Thai woman put up three plots of land as security for the loan. The sum to be advanced was ฿580,000.
First indicator for borrower that something was amiss occurred at the the property land registry
The first disappointment and eyebrow raiser for Ms Khonchalard was at the Land Office where the loan was registered against the properties. She was told that she would only receive ฿520,000 from the loan in cash as ฿60,000 was being taken in advance payment on the loan which was to run at a rate of 3% per month in addition to other charges. When the borrower finally collected the cash from Ms Apichatphokhin's office which was at at her motorcycle showroom, she was also asked to sign a guarantee for ฿870,000 in respect of another loan as part of the loan arrangement.
Borrower admitted signing a guarantee for another loan but said she was left with no choice
At the trial in 2011, Salika Khonchalarde explained that she had only signed the guarantee as she was left with no choice as she required the cash from her own loan to be given to her daughter and son in law.
Later the borrower took out a loan at a lower interest rate from the farmers fund to pay off her debts. She was then told by the money lender that her debt against the land assets amounted to ฿1.4 million.
Money lender commenced legal action against the borrower with both parties in dispute
A dispute erupted between the borrower and the money lender at that point. This saw Supitcha Apichatphokhin in due course, issue proceedings against the borrower which culminated in a 2011 Supreme Court decision that the amount owed by the borrower was indeed limited to ฿520,000. The borrower, Ms Khonchalarde, paid the amount owed. She then pressed charges against the loan shark and her clerk for perjury in respect of her evidence during the course of the case.
Thailand's chronic problem with illegal lending
Thailand has chronic problem with illegal money lending which operates at a range of different levels. It can range from casual person to person lending which is a widespread practice, to thousands of Indian money lenders who swarm the country advancing micro loans to small traders in the black economy at outrageous and illegal interest rates. Then there are lenders such as Supitcha Apichatphokhin who take property deeds as collateral for larger loans. Some operate within the boundaries of the law but most are illegal.
Bank of Thailand taking resolute action
Thailand's central bank, the Bank of Thailand, this year has taken steps to wean the country off lending as the cumulative household debt in recent years has begun to rise again to unsustainable levels. It is a key issue facing the new incoming government being formed by newly elected Prime Minister Prayut Chan ocha. The bank has also launched a debt clinic service but this is limited to borrowers of a range of companies licensed and overseen by the Bank of Thailand.
Horror of money lending after man murdered his young family in Bangkok in April
Last month, a small business man in Bangkok killed his wife and two children after the pressure of daily debt collection calls from a loan shark from his once thriving business, installing car alarms and system, drove him and his family to utter despair. He told police that the family had agreed to die together. The man was found alive, gasping from air having slit his throat, in the midst of blood and carnage where police and emergency services found the bodies of his two young children and his faithful wife.
Thailand's large black economy, high property ownership rates and large farming community make fertile ground for illegal money lending merchants
Thailand has a large property owning population and an equally large black economy estimated at up to 50% of all economic activity. This, combined with the fact that up to 40% of Thai people work on the land and many also who own land with variable incomes, creates the perfect market for illegal money lenders such as Supitcha Apichatphokhin.
Practitioners can achieve an 800% return in 10 years
It is a highly lucrative area of business with many practitioners able to multiply their investment by up to 800% in period of ten years. That is one side of the coin, the other side is the hopelessness, despair and heartbreak that leaves others impoverished physically, mentally and spiritually.
Last government acted robustly against the evil menace of illegal loan sharking
It is an evil menace to society that can only be properly addressed when proper financial support systems are put in place to deal with the reality of everyday life in the Thai economy. The last military installed government between 2014 and 2019 had taken practical steps, including more robust law enforcement and schemes to reach lenders in the thrall to the debt merchants. The military and police even launched raids seizing loan documents and land titles and where illegal money lending had been found, handing the documents back to grateful borrowers.
Needs more brave Thai borrowers to stand up for their rights under the law against abuse
The problem for now is that in an economy facing headwinds and with a tightened money supply, many will be forced back into the clutches of the loan sharks. For now, at least one is behind bars because she picked on the wrong borrower. A woman seeking to her help her daughter and son and law but who would not be taken for a fool and pursued her rights according to the law.
Debt means death as a crazed Thai man slaughters his loving wife and children in Bangkok in horror scene
14 wealthy loan sharks taken in by Thai police as money lending menace and debt remain a big problem
Diamond heist thief was a failed Chanthaburi businessman with a chronic gambling habit and debts
The pervasive problem of debt in Thailand and the struggle to survive for those hit by bad fortune
Bright economic outlook for Thailand but the debt nightmare for poorer Thai people must be tackled
Darker side to life in Thailand as some lives are blighted by murder, debt and gambling